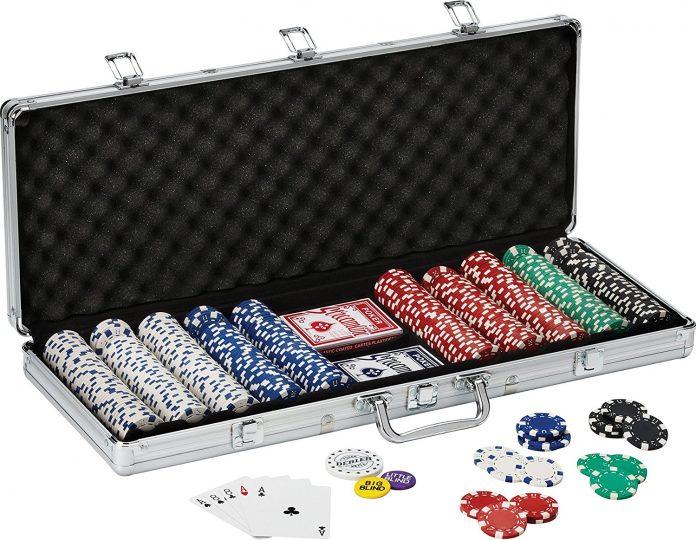 If you're looking for something to give your friendly weekly poker games a lift, a new poker chip set could be the answer. Why fly to Vegas when you can get a casino-style experience in the comfort of your own home with a quality set of chips that brings the gaming floor right to your den. The more realistic your chips look, the better your game will look and feel. It will seem as if you and your friends are seated at a high-stakes table with the right poker chip set. So, here's your guide to the Top 10 on the market.

1. Chips and Games Custom Set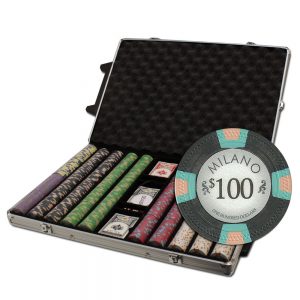 If you're looking for a personal touch for your chip set, this is the one for you. You can have your initials stamped on the chips and you can even choose your preferred color, customizing your set to suit your taste. You'll never have to worry about getting your chips mixed up with your friends' again, and, as an added bonus, you can play with up to six friends with this set. The chips are well-designed and have a weighty feel that mimics the real-world casino chips and will take you right to the Vegas gaming floor.
2. Claysmith Gaming "The Mint" Chip Set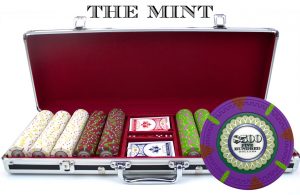 When it comes to poker chips, there is nothing more important than their structure. Because chips have to be stacked on top of each other and then pushed forward, you need them to be virtually flat to eradicate the problem of them falling down. This set has chips has been so well-designed you can push them as you're stacking them and they won't fall over. Even better, the markings around the edges make it easier to count the chips when they're piled up. These poker chips are of excellent quality. They are weighty and made from clay composite just like authentic chips from your favorite casino. Not only are they unique and stylish looking, they also make a very satisfying sound when you move them. They also come in a professional-looking case.
3. LANSCH Set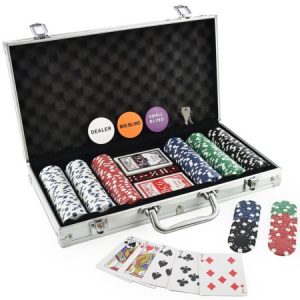 If you're looking for a complete poker playing solution, the LANSCH set comes with 300 chips – ideal for intimate games – as well as everything else necessary to play card games. You get two card decks, device and dealer, and blind buttons. Because it comes in a single well-packed case, you can take your games on the go. And, since the chips have the perfect weight at 11.5 grams, they feel great in the hand.
4. JP Commerce Monte Carlo Clay Set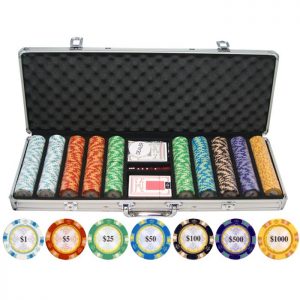 Although plastic and metal chips might last longer, nothing feels quite so good in the hand as a clay chip. The sound and feel of this set transport you straight away to a real-world casino thanks to the heavier weight of 13.5 grams. Because there are 500 poker chips supplied in this case, it's the perfect set for hosting larger group games of up to six players. It comes in a hard-shelled case with a sponge lining, so you can carry your game around with you knowing it's well-protected.
5. Kovot Dice Style Set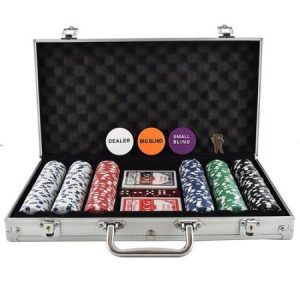 If you prefer to play in small groups or want the ability to play spontaneously anywhere you go, the Kobot Dice style set is the ideal choice. With 300 chips, you can play with three to four people, and because the case is small and compact, it's light and simple to take with you when you're traveling. These chips have a cool dice-style pattern so they look professional and their size and weight just add to their authenticity. It comes with a lightweight and hardy case that is travel-sized.
6. Da Vinci Poker Set
When you're looking for a set of poker chips that looks as much like the real thing as possible but at a price you can afford, this is the set for you. Made out of clay-composite resin, these chips are modified to give them extra weight so they feel like those from a genuine real-world casino. The set comes with 500 chips so even larger groups can play. It includes dice, three dealer buttons and two decks of cards. Perhaps its best feature is the large silver carrying case that has a hardy outside and a padded, soft interior to protect your cards and chips.
7. Bryberry Poker Chips
If you want to play games with your friends, the 1,000 chips in the Bryberry heavyweight set should be quite sufficient to meet your needs. With plenty of heft, these weighty chips are great for professional-style gaming. These high-quality chips boast laser graphics for extra sparkle. And, because they are constructed using casino-quality clay composite, they are very similar in feel to an authentic poker chip. Easy to carry around in a transparent case, this set is perfect for serious gamblers.
8. Fat Cat Chip Set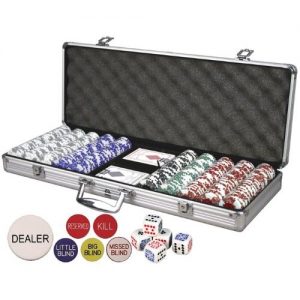 Do you yearn for all things old school? The Fat Cat set is perfect, with its sturdy build and professional weight. With 500 chips, it's ideal for average-sized games, and the set comes complete with the dealer and blind buttons to add extra authenticity to your game. There is a hard-shelled case with a foam-padded lining inside to protect the contents. And, because the set contains everything you need to play a bunch of other games, including accessories and cards, you just need to round up your friends for a game.
9. Trademark Poker Dice Style Set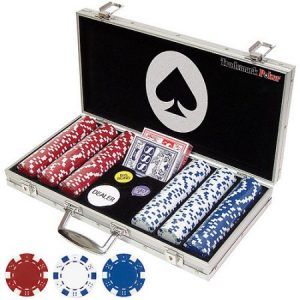 This is one good-looking chip set with a dice-like style that gives the chips an authentic appearance. Made out of composite resin, the set features heavier inserts for extra heft, and they are the ideal diameter for a natural feel. Two card decks, dealer, and blind buttons are also in the set. These chips stack beautifully without falling over and there is a case provided, too, with individual storage zones for easier organization. Thanks to its felt lining, you can be sure your set will be well-protected.
10. GoPlus Chip Set
When affordability is key, the GoPlus set is perfect. With a clay-filled center, these chips are an ideal weight for a more authentic experience and have bright attractive stripes and colors for a more genuine appearance. With 500 chips in the set, you can choose between small- or medium-sized games. It comes with a deck of cards, dice, and dealer buttons for your own home casino in one well-protected aluminum case.
Disclaimer: All images are copyright to their respective owners and are used by USA Online Casino for informational purposes only.