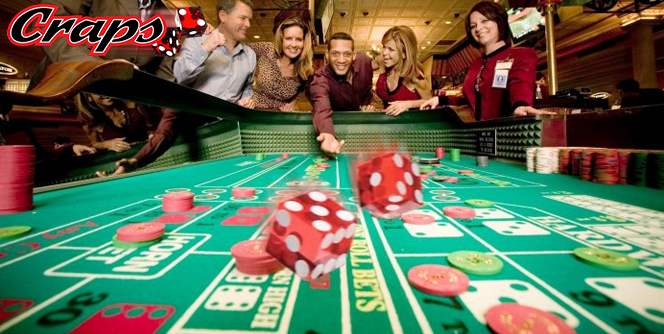 Many players are worried about trying craps simply because there are so many betting options on the table. With thin bars, boxes, and odd-shaped spaces representing different wagers, it isn't surprising some players are too intimidated to roll the dice. Nevertheless, once you understand the basic rules of craps, you'll find it's actually a very exciting game and is surprisingly easy to learn. Here we look at the 10 craps rules you really need to know to be successful at the gaming table.

1. Pass And Don't Pass Lines
If you want to get started playing craps quickly, you can just ignore a lot of the spaces on the table. There are only a handful of bets you really need to know if you want to play at a basic level. Here is your quick summary of the basics:
Before the initial roll of a round (also known as the "come out roll"), you can choose to put chips on the don't pass line or pass line to make a bet.
When you wager on the pass line, you will be a winner if the shooter either rolls an 11 or a 7. You'll lose if he or she rolls 12, 3 or 2, and gain a point if any of the other numbers are rolled.
When you wager on the don't pass line, you'll be a winner if the shooter either rolls a 3 or a 2. You'll tie on a 12 and lose if the dice show 11 or 7. You'll gain a point if any of the other numbers are rolled.
Once a point has been established, your bet will ride on that point number.
If you have a betting point on the pass line, that point number must then be rolled before the 7 to win.
If you have a point on the don't pass line, the 7 must be rolled before your point number to win.
2. Come And Don't Come
Once you've become comfortable with the concept of the don't pass and pass lines, you can move onto the next type of bet – the don't come and come bet.
A come bet has identical rules to the pass line, but it's made following a come-out roll. The don't come bet has identical rules to the don't pass line, but, again, it can only be placed following the come-out roll.
3. The Best Bet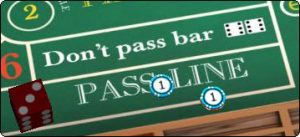 Although there are lots of wagers available to punters when playing craps, the bets with the lowest house edge are Don't Come and Don't Pass. If you want to maximize your chances of success, you should wager on one of these two options.
The house edge on the Pass Line is 1.41 percent, whereas the house edge on the Don't Pass line is 1.36 percent.
The house edge on Come is 1.41 percent, whereas the house edge on Don't Come is 1.36 percent.
As you can see, the house edges of 1.36 percent represent the best value. So, if you're keen to make a profit, this should be your wager.
4. Irritating Other Players
Although the Don't Pass and Don't Come wagers make more sense financially, they put you at risk of annoying other players because you'll be betting against the shooter. This puts you on "the wrong side" and you'll be excluded from the team feeling that allows you to share in the fun and unique atmosphere. Bear this in mind if you're shaving just 0.05 percent from the house's edge.
5. Odds Bets Lower The House Edge
Even though craps has an already low house edge, you can lower it some more by placing the odds side bet. Odds have no house edge and are, in fact, a 50:50 proposition, giving you a payout of 1:1 on your wager. Different casinos offer different odds amounts. However, as you take higher odds, the house edge lowers exponentially. Usually, the odds are limited at either 3-times, 4-times or 5-times odds.
6. Avoid All Other Prop Bets
Although there are lots of potential wagers offered to you in craps and you may be tempted, avoid the prop bets since they have a terrible house edge. While the payouts look huge, the chance of scoring one is tiny. Just don't bother.
7. Prop Bets To Try
If you're determined to have a go at a prop bet, there are a few that might be worth a gamble:
Place 8 and Place 6 – a house edge of 1.52 percent
Lay 10 and Lay 4 – a house edge of 1.67 percent (unless a commission of 5 percent applies)
Lay 9 and Lay 5 – a house edge of 3.23 percent
A Place 9 and Place 5 bet – a house edge of 4.0 percent
8. Superstitions Are Rife
Craps is a very superstitious casino game, and if you don't stick to the traditions, you risk alienating others at the gaming table. Some superstitions to be aware of include:
Never say 7 when sitting at the table.
Never touch a shooter on a winning streak.
When the dice fly off the gaming table, it's unlucky.
Too many punters betting against the shooter spoils the luck of the table.
Dice are either cold or hot, and some punters don't bet for the first couple of rounds until the dice have "warmed up."
Never allow the dice to contact your hands. This nullifies the roll.
A female virgin player (someone who is just starting shooting during the session) are believed to be lucky.
Conversely, a male virgin player is unlucky.
9. Dice Control
Dice control, or controlled shooting, involves throwing the dice identically so the outcome can be influenced. It's believed this helps to avoid rolling a 7. To control the dice, you need to hold them in an identical way each time – often with the threes held in a V-type shape. You then need to throw them in an identical manner each time, remembering they need to be hit against the table's back wall.
10. Best Venue For Craps
If you're heading to Vegas and want to try your hand at craps, The Cromwell on The Strip is the top venue to try. There are $5 bets, as well as 100-times odds – a fantastic combo that gives you a 0.014 percent house edge.
Although the craps rules may look difficult, there's no need to worry about the more complex wagers. Stick with the basics and you've got a great chance of winning. Why not have a try?
Disclaimer: All images are copyright to their respective owners and are used by USA Online Casino for informational purposes only.