In the past, slot games were not given much consideration mainly because they were not at the top of the priority list for many casinos. This was mainly due to casinos making much of their profits from the table games. However, times have changed for the humble slot game.Currently,e slot machines have gained more popularity both in online platforms and for brick and mortar casinos all over the world, and they account for almost 70 percent of the profits generated in these casinos.
This spike of interest in slot machines and games has nudged gaming software developers into taking notice and designing better online slot machines to satisfy this increasing demand, as well as meeting the ever-increasing expectations of the gamers. In these days, slot machines feature very high-quality graphics, animation and sounds, as well as other special game-specific features, all to improve the gaming experience.
Below are ten of the most popular ideas for slot theme games:
1. Patriotism themed slot games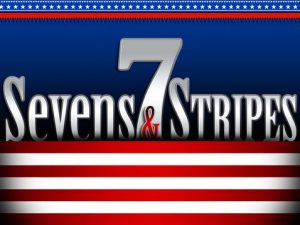 A patriotic-themed slot machine features the red, white and blue of the American flag. An example of an American-themed slot game is the Sevens and Stripes slots.
This game features simple graphics which allow you to concentrate on spinning the reels because they do not distract the player. It makes for a very calming gaming experience.To win big at this game, you must get the Red 7, White 7 and Blue 7 combination which has to appear in that order for you to win the biggest pay-out. With this game, each win automatically triggers a progressive jackpot which means that the jackpot continues to increase the more you play and win.
2. Ancient worlds/ history-themed slot games
Another popular theme for slot games is one that is based on different historical eras. The most popular themes in this category are the Ancient Rome and Ancient Egypt themes; however, these are not the only themes available. Others include themes based on the World Wars, Korean War etc.
An example of a history-themed slot game is the Treasures of Troy slot game. This game's theme is based on the legendary city of Troy. It features a background that is reminiscent of the city of Troy and has impressive soundtracks to boot. Among the symbols featured in the slot game include the Paris of Troy, Achilles' sword and Helen of Troy.
As a player, when you win a game the voice over of Helen will congratulate you on the win, which is surprisingly confidence-boosting.
3. Fantasy-themed slot games
Fantasy-themed slot games are based on fantasy characters, which make up many a story including, but not limited to, Rapunzel, Cinderella, and Snow White etc.One such game is the Dwarfs Gone Wild, which is based on the story of Snow White and the Seven Dwarfs.
This game features high-quality graphics and seven Dwarf characters which represent the dwarfs from the story. These Dwarf characters appear on the reels forming wins with every play.
4. Adventure-themed slot games
Adventure-themed games will have you prospecting for precious stones, looking for that lost treasure of lost civilizations, having adventures in lush green jungles and traveling around the world.
One such adventure-themed slot game is the Jungle Jackpots. This game is inspired by the Jungle Book and features all the favorite characters from the storybook.To win big in the game, you team up with Mowgli as he swings across the screen launching special character bonuses that help boost your winnings.
5. Movie-themed slot games
This is another theme that is very popular in slot games. These games are based on blockbuster movies and usually feature the main characters of the movie, making them a favorite among many players. The game may also feature the main elements and symbols of the movie.
Some of the popular movies that have had games based on them include Tomb Raider, The Hangover, King Kong, and The Lord of the Rings just to name a few.
6. 3D Slots games
The igaming industry has continued to grow with every passing year. As more operators have entered the industry, so has the number of competitors. Thus, more operators have been on the lookout for the games that distinguish them from every other operator in the market. This is where 3D gaming comes in.
3D games are different from the more traditional games in that they have more sophisticated graphics, advanced digital technologies, and dazzling visual effects. The animations of 3D games are very realistic and are clearer than their 2D counterparts.
Some of the 3D slot games available in the market include Ogre Empire, Geppetto's Toy Shop, and Art of the Heist among others.
7. TV Show-themed slot games
Popular TV shows comprise another genre that is very popular in the slot games. These slot games are based on various TV game shows, as well as dramas and even adventure shows.
These TV show-themed slot games make the player feel as though they are part of the TV series, game show or the adventure show. The most popular TV shows that have been used as themes in some slot games include The Price Is Right, Sex and The City, and Jeopardy.
8. Holiday-themed slot games
Everybody loves the holidays. Everybody loves holiday-themed slot games. Slot game software providers know this and have developed many slots in order to tap into this market.
There are many holiday-themed slot games starting with Christmas-themed slot games and including those based on Halloween, Thanksgiving, and the Day of the Dead.
Some examples of holiday-themed slot games include Grim Muerto, Blood Suckers, and A Christmas Carol.
9. DC Comic slot games
These slots are based on popular comic strips and superhero comic books. These are a particular fan favorite because they feature the most popular superheroes including Superman, Batman, and Wonder Woman.
These games feature arguably the best graphics and animations in slot games, apart from 3D slot games. There are very many variations of themes that are available for these games as tastes vary and people tend to only play games whose themes they are attracted to. With the number of superheroes available, it is easy to see why.
10. Celebrity-themed slot games
Celebrity-themed slot games use the likeliness of a celebrity as the main theme of the game. They are different from the TV show-themed games in that while the TV show-themed games focus on the show, celebrity-themed slot games focus on just one particular character.These slots feature celebrities from broadly different fields, from actors to famous musicians and even famous talk show hosts. Some examples of these celebrity-themed slot games include Ellen's Twelve Days of Giveaways, An Evening with Holly Madison, and Elvis the King Lives. We can count here also really famous Playboy slot.
Slots are very popular among many online gamers, as well . This is because themed slots offer the player exciting additional features as well as an engaging environment. With the ever-increasing popularity of themed slot games, software developers continue to explore more themes in a bid to offer more varieties in theme slot games.
The above examples are just a fraction of the themes available that can be used in slot games.
Disclaimer: All images are copyright to their respective owners and are used by USA Online Casino for informational purposes only.