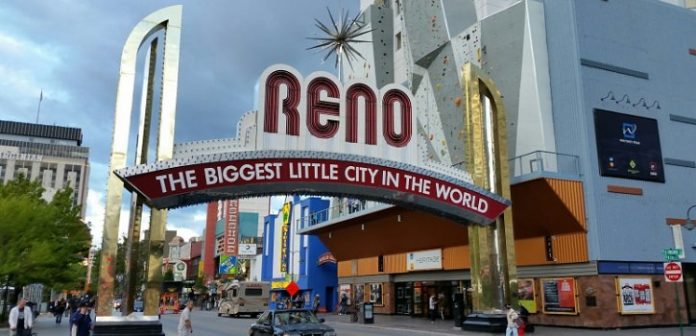 While Las Vegas has had a reputation since the 1940s of being the playground of the stars, where rich and famous folks go to gamble, it is not the only gambling in the area. In fact, there is another place you may want to try if you like to gamble. Many people have decided that Reno is just as much fun as Las Vegas, without all the pretentiousness, crowds, VIP-mindedness and long lines. Reno aficionados say that Reno has all the best parts of Las Vegas, without being Las Vegas. Not sure if Reno is for you? Here are 11 reasons why Reno is better (and cheaper) than Vegas.
A Little About Reno
While Las Vegas is in the heart of the desert in Southern Nevada, Reno is located 7 hours to the Northwest, about 22 miles from Lake Tahoe. Reno became important first as a gold-mining town during the gold rush of the 1850s in the area. It was also known as a railroad hub, bringing goods into the Mountain West. Reno has also managed to diversify its economy, as a transportation hub, then as a gambling destination, and also as a recreation destination. Reno is close to ski resorts in the winter, as well as water sports, hiking and mountain biking in the Lake Tahoe area. This makes Reno, with its cooler climate, a fun place to visit year round. The population of Reno is around 250,000, which makes it big enough to attract entertainment, but small enough to be friendly.
Thinking you might want to take a trip? Here are some reasons Reno rates highly for gamblers.
The Slots Action
If you are a fan of slots – and who is not—there are cheaper slots in Reno by farther than any other city in Nevada, including Vegas. While Las Vegas has a variety of slot machines, which cost you anywhere from a quarter to $100 to $1000 on the VIP slots, Reno has tons of penny slots, everywhere. You can barely walk down the street in Reno without spotting a penny slot machine—they are in bars, casinos, hotels, and restaurants. Sure, you're not going to hit it big on a penny slot and be able to retire, but you might get lucky enough to pay for dinner and a hotel room.
The Shows
Sure, Vegas has the highlighter shows. But Reno can attract great shows as well, at half the price of Vegas shows. Notable acts that have performed in Reno include Stevie Nicks, Lady Antebellum, and Carrie Underwood. Also, while cocktails at a Vegas show will set you back a fortune, the same cocktails can be had in Reno for a third of the price. What's not to love about that?
A Meat Lover's Delight
If you are a vegan (or a vegetarian for that matter), you may want to look someplace else for gambling. There are no long lines for food in Reno, and no VIP 5 star restaurants, however, there are some great places to eat that will make you glad you're a meat lover. There are also restaurants that specialize in greasy spoon hangover cures—if you like that sort of thing. NO judgment here.
There's a Bowling Stadium There
The National Bowling Stadium is for true fans of the game, as well as for people who want to goof around and bowl in a huge bowling alley. There are 78 lanes at the National Bowling Stadium, and the longest video screen in the world to keep score on.
Recreation Comes in Many Forms
Because Reno is located so close to Lake Tahoe, you can hike, fish, ski, or bike during the day, and gamble at night. While Las Vegas is kind of a one-trick-pony town, Reno is not. There are lots of things to do outside if you need to take a break from gambling. Should we mention that one of the tallest mountains in the area is minutes from Reno?
Something for the History Buffs
If you like history, you may want to take a stop or a drive to one of the places where the silver rush was king. The Comstock Lode was one of the largest silver deposits in history and created a huge silver metropolis, called Virginia City. There was so much silver in the Comstock Lode that San Francisco was founded on the riches of the lode. Virginia City is about 30 minutes from Reno, and is a step back in time for history lovers.
The city has a rich history. Samuel Clemens decided his new name was Mark Twain after living and working in Virginia. A legend, regularly passed around the town was that while Twain himself discovered a piece of silver vein, he did not have the gumption to work it, and so someone else eventually laid claim to it.
Virginia City is now home to lovely gift shops, saloons, and those crazy photo booths, well worth a quick visit.
Like to Kayak?
If you are a water person, and you love to kayak, you may want to check out the Truckee River Whitewater Park. The park has 11 different areas for trying out your kayaking skills, as well as a race course. Eleven drop pools and boulder courses are available as well, which means that if you bring a kayak, you can practice year round for free.
Patagonia for Bargain Prices
There are very few Patagonia Outlets in the United States, not to mention worldwide. Patagonia is one of the world's most well-known outfitters. The company has emphasized sustainable development, and free-trade materials, supplies, and equipment. Patagonia began as a serious climbing and outfitting company for adventurers. It still holds true for well-prepared and weathered fleeces, jackets, equipment, sweaters, and backpacker gear for a high price. Want to get some fleeces and gear without paying top-drawer prices for them? You can do that if you go 10 minutes outside of Reno. If you play your cards right, you could get gifts for the whole family unit while you're there. 1005
The Seediness Factor—Decreased
While Las Vegas prides itself on its ritzy, glitzy venues and entertainment, in reality, the town has a seedy side that some of us just are not excited about. Let's face it, at some point, dealing with crude youngsters barely old enough to drink wear thin after a while. You may want to relax by the pool without the bumping beats of DJ-curated EDM. No worries. Reno has you covered. You can skip the addresses for the strip clubs, and gropes from the guys and girls in for a convention. Reno has far more of a family vibe than it does a party vibe. In fact, if you are looking for a place for you and the kids to enjoy—Reno might be the place for you. 1135
Really Good Karaoke
Karaoke. Live karaoke, without the ropes, exorbitant cover charges and lines. Several of the casinos have bars where live karaoke is king, and you can get a bar tab discount if you win. What could be better?
Beautiful Train Ride
Reno is an Amtrak stop. While this doesn't sound like it is a big deal, it is a beautiful ride to Reno from either the East Coast, Midwest, or West Coast. The prices are reasonable, and for people who want to see the scenery from the ground floor, Amtrak makes it easy to have a look at the big beautiful country we live in.
Disclaimer: All images are copyright to their respective owners and are used by USA Online Casino for informational purposes only.