If you are a gamer, then you already know a gaming PC needs a solid graphics card. It's among the most important – and definitely the most expensive – parts of a gaming PC. Whether you are buying a new gaming laptop, upgrading your present gaming rig or building a PC, you will want to ensure you have a capable graphics card.
Basically, graphics processing units, or GPUs, are divided into two broad categories; integrated or discrete. All the discrete GPUs found on the market today are made by two companies: Nvidia and AMD. Nvidia has been the leader in this industry for a long time, but AMD is making its presence felt with its latest high-performing GPUs. A GPU can cost you between $100 and $300. However, if you want to get one that can comfortably handle 4K, then you must be prepared to spend something in the range of $500 to $1,000.
So, what are the best graphics cards? The answer to this question is a bit trickier than it seems. Its performance is the biggest part. But, other factors, such as noise, supplemental software, and the driver experience, all play a huge role in deciding which graphics card to buy. Here are the five best graphics cards on the market:

1. Nvidia GeForce GTX 1070 Ti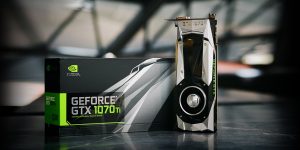 This one makes the best graphics card since it strikes a balance between a reasonable price and a high performance. The GTX 1070 was at the top of its game since its launch. However, it has been displaced by the much faster, even though similar and more affordable GTX 1070 Ti. This one was mostly created to breach the gap between GTX 1070 and GTX 1080 models. However, most reviews actually imply that its performance is quite close to that of the 1080. It contains 8GB of memory, is a dual-slot card, has a more discreetly clocked GPU, and a low-noise cooler. It draws just 180 watts of power, and when it comes to performance, it is able to handle 1080p and 1440p of gaming. The downside of this GPU is that it gets hotter than its previous version (GTX 1070) and has a considerably higher energy draw. It costs $509 on Amazon.
2. Nvidia GeForce GTX 1080 Ti
If you want the fastest graphics card on the market (that isn't a Titan), GeForce GTX 1080 Ti takes the title. Of course, the Titans are much faster, but those cards are only for very deep pockets. The 1080 Ti features an enhanced architecture with tiled-rendering optimization and superior delta color compression. This card hits the 60FPS mark in a lot of modern PC games and, at 4K, with literally no struggles. It handles VR titles with no issue at all. It also has a sophisticated cooling system necessary to keep all your games running properly up to 4K. Its exceptionally greater CUDA-core count and high-speed video memory are the reasons why it is such a powerful graphics card. It is compatible with SLI and supports a wide range of games.
If you have a 4K monitor and you want to play the latest and greatest games at high-frame rates and in full resolution, GTX 1080 Ti is perhaps the best graphics card available. However, be prepared to pay the price for such a high-end card. It costs $956 on Amazon.
3. Nvidia GeForce GTX 1060
This GPU is the leader when it comes to offering performance and value for money. For an affordable amount, it will allow players to enjoy full HD 1080p, and if you overclock it, you can even experience 1440p or 4K gaming. The downside is that it does not support SLI, so you can only use one card, which can be quite limiting. It has excellent features, including an 8GBps memory clock, 1280 stream processors, 6GB memory, and 1 x 6 pin power connectors.
GTX 1060 competes well with AMD Radeon RX 580. It also performs better than AMD Radeon despite having a smaller memory of 6GB GDDR5 against AMD's 8GB. It is also a bit faster in some games, which gives it the value-for-money appeal.
This GPU performs exceptionally well at resolutions of Full HD by continuously producing more than 60fps. The 1060 is more efficient as compared with RX 580 and 480, thus it is the best choice if you are creating a solid gaming rig. You can buy it for $320 at Amazon.
4. Nvidia GeForce GTX 1050
It has excellent eSports performance and a lot of compacts cards are readily available. It has extremely low power consumption and it can play AAA games at medium settings. On the flipside, it only has a 2GB memory capacity. This limits its use and it is relatively more expensive than its AMD counterparts. A memory of 2GB in this day and age is quite low. Ensure that you check the requirements of any new game before deciding to buy this GPU. We all know that graphics cards cost a lot of money. This one is considered to be expensive since it costs slightly more than the RX 560 and RX 460 cards. However, it makes up for that with a smaller size, better performance, and low power consumption. If your budget can allow it, it is worth the value.
It is worth noting that some mid-level gaming laptops, such as the Dell Inspiron 15 Gaming, comes with GTX 1050 with a memory of 4GB instead of the regular 2GB. This could mean that it has a better performance than the normal GTX GPU, especially when it comes to playing AAA games.
5. AMD Radeon RX Vega 56
This is arguably the best graphics card on the market when it comes to Full HD gaming. Tests have shown it has more speed than the Nvidia GTX 1070. Its price is expected to rise because of the Bitcoin mining wave that has swept the world recently. This GPU is definitely in a league of its own in regard to Full HD gaming, especially for monitors with between 144 and 240hz. It also handles demanding games quite well. Players are also treated to a great 1440p gaming experience with this graphics card.
It has amazing features, including a memory of 8GB for HBM2, a memory clock of 800 MHz, a core clock of 1,156 MHz, and a stream processor of 3,584. It competes with Nvidia GeForce GTX 1070 regarding capabilities and price. However, it cannot match GTX 1070's low power consumption. It is a better option than its sister GPU, the Radeon Vega 64, which competes directly with Nvidia's GTX 1080. It costs $799 on Amazon, which is $100 less than its sibling.
Conclusion
There are many graphics cards available on the market that can make shopping for them a daunting experience. However, with this list of the best five graphics cards, you can make the process much easier because you will know what to look for and what benefits each card offers. These five graphics cards that I have discussed above will make your gaming experience enjoyable and give you great value for money. They have high performance, great speed with different games, and offer greater flexibility. The choice is yours to make.
Disclaimer: All images are copyright to their respective owners and are used by USA Online Casino for informational purposes only.