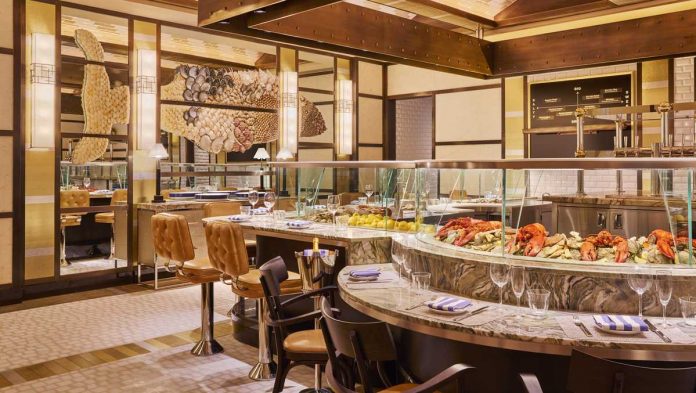 Encore Boston Harbor provides a refreshing, vibrant, and exciting environment to relax, catch up, and enjoy a sumptuous buffet. Encore Boston Harbor is a remarkable and reputable resort and casino in Everett, Massachusetts. The resort is strategically and conveniently located on the borders of Boston City, only 5 miles from the Logan International Airport. The resort is also within a few minutes' drives from Boston's financial hub and is easily accessible.

New restaurant in town
Encore Boston Harbor only recently burst on the scene, and there is a lot of buzz surrounding the magnificent resort. The billion-dollar resort officially opened its doors on 23 June 2019, at an estimated cost of $2.6 billion. The incredible resort is an affiliate of the prestigious Wynn Resorts, a remarkable and successful public corporation located in Nevada.
Massachusetts provides a thriving enabling environment for business entities to establish and grow. The attractive space has created a chance for the emergence of such magnificent projects like the Encore Boston Harbor.
Since its inception, Encore Boston Harbor has received many reviews, with pundits terming it as a top-notch destination for food lovers and gaming enthusiasts. The resort continues to attract thousands of cross-sectional visitors going through its doors daily. The setting of the resort is a combination of several attractive factors, making it a must-visit place in Massachusetts. Barely new on the scene, Encore Boston Harbor continues to excite the thousands of revelers, gamers and food enthusiasts visiting daily.
What is on offer at Encore Boston Harbor?
The architectural design of the integrated resort is both unique and classy, exemplifying a perfect artistic touch. The integration is a combination of several facilities, including a hotel, several retail outlets, a casino, spa, and meeting space. A total of 15 different bars and restaurants spread on the sprawling floors of the magnificent resort. The resort also incorporates some public facilities, inclusive of biker's path, picnic park, majestic viewing desks, and waterfront. People also get the chance to experience waterfront dining and retail, beautiful floral displays, and a performance lawn.
Encore Boston Harbor was designed to be the ultimate center of attraction in Massachusetts. The resort's facilities design brings together entire families and friends, providing a wholesome, thrilling, and exquisite experience.
What sets Encore Boston Harbor apart and has made it such a popular joint for thousands of people are the buffet and casino joint. Gamers are incredibly thrilled with the large variety of casino games available on display. The games come with amazing features, including bonus options and incredible payouts.
Standout facilities at Encore Boston Harbor
Exclusive bars and restaurants, 15 in number, bring out a fantastic experience to the thousands of people visiting. Below is a list of the standout joints that the revelers can expect at the magnificent Encore Boston Harbor;
· Bru- it is an amazing 24-hour coffee shop that has a variety of foodstuffs on offer, inclusive of tea, sandwiches, and ice cream.
· Fratteli- this restaurant specializes in Italian cuisine and covers an incredible 5,200 square foot space.
· Center bar- the restaurant is found in the middle of the Encore. Customers can enjoy a variety of wine, spirits, and beer
· Garden Lounge- this is an upscale bar that overlooks the resort's incredible garden lobby. On offer are different types of wines, beer, and cocktail
· Dunkin'- 24-hour eatery accessible within the casino, offering coffee, sandwiches, and tasty doughnuts.
· Oyster Bar- the restaurant serves several New England flavors, with the favorite variety of seafood. You will be served with the lobster rolls, accompanied by the local craft beer. It is an 80-theatre, relaxing, and refreshing restaurant.
· Rare Steakhouse- this cool restaurant serves high-end, specially prepared meat cuts. The waterfront view and outdoor patio are unique and stand out.
· Sinatra- this is another restaurant that offers exquisite Italian cuisines, prepared by the team of highly qualified chefs.
The finger-licking buffet
The Encore Boston Harbor features some of the most tantalizing and finger-licking buffet on its menu. Visitors have a variety of foodstuffs to settle on when visiting the resort's restaurants. The services offered at the restaurants are top of the art, with customer satisfaction guaranteed.
Customers can look up to the weekend brunch, sensational weekday lunch coming with a variety of meals. The daily dinner services in the restaurants offer customers a chance to sample a mixture of exotic and local cuisines.
The expansive menu and the incredible restaurant-quality have endeared thousands of people to Encore Boston Harbor.
The decadent buffet is a mainstay staple for many of Las Vegas residents. A combination of the buffet with the thousands of a variety of games is an attractive feature.
The buffet features all the regular and typical meals in a buffet, with a new variety of exquisite foods. The buffet usually goes for $38.99 throughout the day- between 12 pm and 10 pm. The arrangement is all-you-can-eat within a set time limit of two hours.
The buffet arrangement
Prepare yourself for a complete set of meals that will leave you satisfied and filled to the brim. The variety of meals on offer will leave you spoilt for choice. Encore Boston Harbor buffet puts your taste buds to the test, satisfying all your wildest imaginations.
The buffet list includes the basic mini salads coming in six different varieties to start you off, including; an array of bread, charcuterie, a make-your-own salad bar, three soups, and three different freshly baked incredible pizzas.
The dessert list includes; finger licking ice cream, a variety of sweets, crème brulees, cookies and cheesecakes. The Asian special corner comes with shumai, dumplings, and wok dishes that are quite a mouthful.
The meat station comes with some of the sweetest tasting meals you can imagine of in a buffet. The meaty list is inclusive of; New York strip steak, tender lamb ribs, cuts of ribeye, and the customer's favorite sausages. Revelers can also indulge in the American-styled section, which has meals including; chicken fried wings, vegetables, your regular potatoes, roasted chicken and lamb Osso Bucco.
The restaurants also employ highly trained and experienced Japanese sushi chefs. On offer are trays of crab legs and shrimp cocktail, a favorite for seafood lovers.
Visitors can also sample the Salvadorian and Brazilian cuisine available on offer at some of the restaurants. Customers can check out the pasta stations that have several options to pick. Steak-rites and clambakes are also on offer for the customers to sample.
Conclusion
Encore Boston Harbor has provided the locals with a variety of exciting options to catch-up, eat, and enjoy. The resort is offering hundreds of the local's employment opportunities, giving them a reliable source of income.
The buffet provided at the restaurants is one of the most attractive features of the Encore Boston Harbor. On offer is a variety of meals that is a mixture of exotic tastes mixed with the local cuisines. The Encore Boston Harbor offers thousands of revelers a feeling of class and uniqueness. The casinos are worth watching out for, providing thousands of games to select.
Encore Boston Harbor is a unique and outstanding resort that continues to attract thousands of people. The resort offers an outright different experience, that is special and out of this world.

Disclaimer: All images are copyright to their respective owners and are used by USA Online Casino for informational purposes only.