Atlantic City was once synonymous with boxing. In addition to its notoriety as a famous East Coast gambling mecca, Atlantic City boxing rings once rang with cheers for Mike Tyson, George Foreman, and Evander Holyfield. After the town fell on hard times amid major casino closures, Atlantic City seems once again poised for a comeback fight. Don't start the knockout count just yet. It's time for Atlantic City to get off the canvas, rise again, and take another swing at the title.

A Brief History of Atlantic City
On a stretch of Atlantic Ocean beachfront made up of mostly marshland and islands, developers founded Atlantic City, New Jersey as a resort town in 1853. The United States Hotel was soon built to house 2,000 guests in 600 rooms. A beach boardwalk was built along the growing town to help keep sand out of the lobbies of hotels and shops. In the 1920s during the Prohibition era, speakeasies offered booze and backroom gambling on the sly. Salt water taffy was invented there in 1883, and the Miss America pageant has been held in Atlantic City since 1921.
The illegal gambling and bar trade of the Prohibition era fueled the corruption of local officials, and led to a Boardwalk Empire, as fictionally chronicled in the HBO television series. And the growing city also left its indelible mark on board games: Monopoly street names were taken entirely from Atlantic City, including the highly-prized Boardwalk property. The city boomed as a popular resort and nightclub destination, but fell into decline. After World War II, the city saw a massive downturn in revenue. A variety of factors contributed to the decline of Atlantic City. The emergence of Las Vegas and other gambling towns, air travel to more exotic ports of call, and the advent of the family car all contributed to waning interest in Atlantic City.
How Casinos and Boxing Merged in Atlantic City
During its decline, Atlantic City became plagued by poverty and crime. Once-desirable hotels were destroyed, and many less desirable properties were converted into low rent housing or nursing homes. In a bid to save the floundering town, New Jersey voters passed a referendum in 1976 which allowed legalized gambling in Atlantic City. Resorts were immediately refurbished, and new mega-casinos sprouted up along the beach boardwalk like crops in spring.
But in order to compete with the big boys in Las Vegas, Atlantic City would need more than just casinos. The city would need a major magnet to pull people away from Vegas. And that magnet was professional boxing. A brash, swaggering ego known as Donald Trump decided to throw his hat in the ring. He planted hotel casinos bearing his name along the Atlantic City Boardwalk, built boxing rings inside them, and paid out exorbitant amounts of cash to pull in the prize fighters.
Along with big time fight promoter Don King, Trump helped draw the major title fights to the rings of Atlantic City.
The famous 91 second title fight between Mike Tyson and Michael Spinks left the boxing world reeling. A huge amount of hype surrounded the game, and it was compared to the Ali-Frazier bout on March 8, 1971 for sheer anticipation. The Boardwalk Hall was packed with nearly 22,000 sports fans, and the rest of the world eagerly watched from their sofas live via pay-per-view television. Trump even flew in celebrities in his private helicopters to attend the event. Promoters say that if they only had a mega stadium like the Superdome, they would have sold that out as well. The 91-second bout was so brief, home viewers had barely cracked open their first beer and grabbed their first slice of pizza before the Big Fight was over. But the boxing boom was just starting.
Slugging It Out
Boxing is not new to Atlantic City. Since 1887, 2,538 professional boxing matches have taken place in the city. The first Atlantic City boxing match saw Willie Clark beat Horace Leeds in four rounds.
Trump took a tried-and-true recipe, and spiced it up with a splash of cash. During the 1980s, a major boxing boom emerged to rival the Vegas entertainment spectacle. Big time boxing legends like Marvelous Marvin Hagler, Larry Holmes, George Forman, Roberto Duran, Michael Spinks, Mike Tyson, and a bounty of other boxers all bobbed and weaved in the Atlantic City rings.
Right about the time gambling was legalized in Atlantic City, the new influx of visitors was rewarded by a huge increase in boxing matches held in the casinos. From the late 70s to the mid-80s, Atlantic City was the biggest fight club in the world. It averaged over 130 boxing matches per year, with a peak of 145 fights in 1985. In 1992, however, George H.W. Bush signed the Professional and Amateur Sports Protection Act (PASPA) into law. This banned states from sports gambling, which was a knockout blow for the Atlantic City fight circuit. The big boxing behemoth was on the ropes.
But in a familiar boom-to-bust pattern, Atlantic City boxing went into another recession. Trump's credit was overextended, and his casinos started closing down. The economic crisis of 2006-2008 didn't help matters at all. Las Vegas started siphoning off all the fight fever once again, and newly-established gaming zones in Pennsylvania, Connecticut, and elsewhere also pulled business away from AC. Half of the city's casinos closed, and total revenue dropped from $5.2 billion is 2006 to $2.7 billion in 2017.
The Taj Mahal Era
In 1983, construction on the Taj Mahal casino resort hotel began in Atlantic City.
When owner James Crosby died in 1986, his entire Resorts International properties were opened up to the possibility of hostile takeover. Donald Trump saw an opportunity and purchased a controlling stake in Resorts International for $79 million in 1987. A power struggle ensued, Trump ended up purchasing the Taj Mahal outright for $273 million. Trump slapped his name on the building (as he does), and the Trump Taj Mahal opened in 1990. With 120,000 square feet of gaming space, it claimed to be the largest casino in the world.
Trump is a better dealmaker than a businessman. Most of his properties end in failure, and he moves on to acquire and ruin other properties. The Trump Taj Mahal was plagued with labor disputes and financial problems. It later became a popular hangout for the Russian mob, and the hotel was fined $10 million by the U.S. Department of Treasury for money-laundering violations. The casino reeled and stumbled against the ropes, and was finally knocked out of business in 2016.
Hard Rock Revival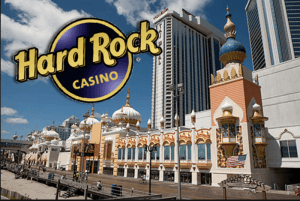 Hard Rock International entered the casino resort industry by opening the Hard Rock Hotel Casino in Las Vegas in 1995. The ever-expanding chain grew from its humble beginnings as a single Hard Rock Café in London in 1971, to the super brand that it is today. Once Hard Rock got into the casino business, the sky was the limit. In 2017, the company purchased the failed Trump Taj Mahal and sunk $500 million into gutting and refurbishing the resort. The property reopened as the Hard Rock Hotel & Casino Atlantic City on June 27, 2018. The hotel's opening was expertly timed, following a repeal of the PASPA act which put a stranglehold on sports gambling. The act was declared unconstitutional by the Supreme Court, which ruled that the Federal Government does not hold authority over the issue, and that it was up to individual states to regulate gambling.
A Fighting Chance
And with that, Hard Rock Casino scheduled a series of boxing matches to inaugurate the new casino and invigorate the atrophied muscle of Atlantic City. Live boxing matches have always pulled live bodies into the casinos, but allowing sports wagering in addition to hosting live matches fuels a massive amount of revenue. HBO televised one of the first new fights in Atlantic City at the Etess Arena at the Hard Rock. Russian Sergey Kovalev battled Canadian Eleider Alvarez in one of the first of many matches planned at the casino.
And from that fight onward, Atlantic City re-entered the boxing ring. Other Atlantic City casinos followed suit, and the fight action came flooding back to town again. Which is fitting enough for this great boxing town. A popular saying among boxers says it all. "When you fought in Atlantic City, you knew you finally made it."
Disclaimer: All images are copyright to their respective owners and are used by USA Online Casino for informational purposes only.