Baby Boomers call it the Polaroid camera. Gen Xers and Millennials call it the instant camera or simply the Instax. The cross-generation appeal of this camera has led to its ever-increasing utilization among all these people. It has also contributed to the production of many versions of the instant camera. This is confusing to party snappers and instant photos enthusiasts. It's very difficult to determine the differences between the cameras.
Before we delve into the best instant cameras, it's important to first discuss the history of the devices.
Instant cameras were largely popular in the 1970s and '80s with those who preferred instant prints after taking snapshots. With the advent of smartphones and other digital cameras in the late 1990s, this preference died a slow death. However, instant cameras have been making a comeback notably from the early 2010s. This is because most people prefer the instant photos that smartphones or digital cameras cannot provide. This is happening on various occasions that feature out-of-the-ordinary experiences, such as retro artistry or party snapping.
The best instant cameras to consider are:

1. Lomography Lomo'Instant Wide
This camera made it on the best instant camera list at a rating of 4/5 on Amazon. It is highly versatile and is ideal for both beginners and seasoned enthusiasts. It comes with a price tag that ranges from $199 to about $239.
Interestingly for color-sensitive people, the camera comes in black, white, Victoria Peak, and Central Park edition. The colors, Victoria Peak and Central Park, are representations of the cities they are in (Hong Kong and New York). They also represent the cultures of those cities.
Further, when buying these cameras, a person has the freedom to acquire supplementary items. Some include lenses, Lomo'Instant wide accessory kit, Lomorello DIY album: wide, Lomography camera strap, or the Lomography light painter. These could come in handy at some point in time.
Properties:
Dimensions are 5.75 x 7.5 x 3.75 inches
Weighs 1.6 pounds
Analog-only type
Optical viewfinder
Built-in IR emitter in the lens cap
Built-in flash
Four AA batteries
Selfie mirror
Sync socket for external flash
Shortcomings:
Some users consider it heavy.
It is expensive for high volume photographers.
2. Fujifilm Instax Mini 9
Users rank the Fujifilm Instax Mini 9 highly. For instance, Walmart buyers rate it at 4.5/5, while users on the consumer's electronics site rate it at 4/5. This is the highest in this category.
This camera retails at a low price of between $45 and $55 depending on the store. Its design is very appealing because of the simple and mobile architecture that makes it very easy to use. It's ideal for anyone who needs to capture moments instantly and wants to spice up a party.
According to Fujifilm, the camera's properties include:
Multicolor Designs — Cobalt Blue, Ice Blue, Flamingo Pink, Lime Green, and Smoky White
Selfie mirror — for checking the framing on the mirror next to the lens
Close-up lens attachment for shooting spaces that are at least 35 centimeters
Shoot and obtain pictures instantly
Automatic brightness adjustment dial, including a flash for indoors and nights, cloudy and shady, sunny and slightly cloudy, and sunny and bright environments
A three-step operation for instant pictures
High-key mode for soft impression pictures
Weighs 10.8 ounces
Shortcoming:
Difficult to make landscape photos
No timer
3. Lomography Lomo'Instant Automat Glass
The Lomography Lomo'Instant Automat Glass is one of the leading instant cameras that delivers everything a person needs. It is ideal for seasoned enthusiasts, but beginners can still buy it for any future use.
The price is at least $189 in most shops, and most users have rated it at 4/5 or 4.5/5. That means it meets the expectations of most users.
Properties:
38-millimeter sharp glass lens for high definition images
30-centimeter focusing distance
Large aperture of f/4.5 for dim conditions where flash light may disrupt the mood
Creative versatility in remote-control selfies, long exposures, or unlimited multiple exposures
Photo stands and Photo clips
Perfect for either portrait or landscape shots
2 x CR2 batteries (2 x 3V)
Long shots of up to 5 meters
Weighs 12.5 ounces and has dimensions of 4.8 x 3.9 x 2.9 inches
Shortcomings:
The selfie mirror feature disappears when users take pictures.
4. Lomography Lomo'Instant
Lomography's Lomo'Instant goes for $79 to $99 and users rate it at 4/5. It is the simpler version of the Lomography Lomo'Instant Wide camera. It is ideal for parties and high-adrenaline environment moments that can be very casual and fun.
Properties:
Dimensions are 3.75 x 5.5 x 2.2 inches
Weighs 13.4 ounces
Yangon, Explorer, Sanremo, black Mumbai, and Oxford editions
Captures 2.4- by 1.8-inch photos
Supports multiple exposures
Adjustable F-stop
Bulb exposure mode
40-centimeter focus
Optical viewfinder
Front mirror for selfies
Shortcomings:
Fixed 1/125-second shutter speed
5. Lomography Lomo'Instant Square
Rated at 4/5 by its users, this camera goes for $199. There is also the Lomo'Instant Square Combo camera that retails at about $240. Both come in pigalle, black, and white shades, which can cater to a wide array of tastes.
Properties:
Dimensions are 4.8 x 6 x 1.7 inches
Weighs 1.1 pounds
Wireless remote
Built-in flash
Multiple exposure support
Automatic exposure
Folding design
Purely analog instant camera
Glass lens
Shortcomings:
The CR2 batteries are difficult to replace.
The viewfinder parallax is tricky to operate.
Instax Square film format is costly.
6. Polaroid Originals OneStep 2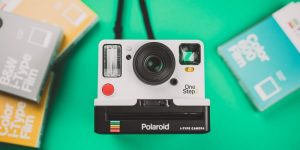 The Polaroid Originals OneStep 2 costs $119 on Amazon and users rate it at 3.5/5. The camera is the first by Polaroid that has been developed to resemble the classic version. It, of course, has a modern touch. It's classy, easy to use, and represents a bygone era when fun and a carefree culture was part of life.
Properties:
106-millimeter lens
Weighs 1 pound
Dimensions are 4.3 x 3.7 x 5.9 inches
Macro, Normal, and Landscape focusing
Built-in flash
Self-timer
Retro design
Produces large, square instant prints on the Polaroid I-Type film
Shortcomings:
7. MiNT InstantFlex TL70 2.0 Instant Film Camera
This camera is the best for advanced photographers who have the skills to expand their creativity beyond the ordinary. It retails at $389 on Amazon and has a 4.5/5 rating.
Properties:
Adjustable aperture range of f/5.6 to f/22
A wide array of shutter time speeds between 1 and 1/500 second
10-second bulb mode shooting
Manual focus and exposure control
Availability of the MiNT InstantFlex TL70 2.0 box set upgrade that has a neutral density (ND) and close-up filters for enhancing images
Waist-level Fresnel Super 5x Brighter viewfinder
62 x 46-millimeter picture size
Weighs 18.52 ounces
Dimensions are 141 x 102 x 80.2 millimeters
Built-in neck strap and tripod mount holder
Shortcomings:
The camera body has a soft leatherette wrap, a brushed chromium metallic frame, and a textured matte black housing.
8. MiNT SLR670-S Instant Film Camera
This camera is for intermediate, advanced shooters or beginners who plan to delve into long-term fun or professional photography. Users have rated it at either 4.5/5 or 5/5. It comes with a price tag of $700.
Properties:
78.74 x 78.74-millimeter picture size
Four-element 116-millimeter f/8 lens
25.4 centimeter to infinity shooting focus
1 to 1/2000 seconds shutter speed range
SLR viewfinder
Manual and auto aperture range of f/8 to f/22
Built-in neck strap holder, tripod mount, and LEC flash
Manual Focus Control
Integrated light meter
Can use batteries in film packs
Dimensional flexibility on folded, closed, and time machine modes
Modal weight range of 20.81 ounces and 0.88 ounces
The MiNT SLR670-S Instant Film Camera is also compatible with the impossible instant films SX-70 and 600. This allows users to capture images with black and white, full color, and color film with colored frame properties.
Shortcomings:
Complex for first-time users
Conclusion
When selecting the best instant camera, it is important to consider the features of a specific device. This includes resolution, image size, pixels, budget, etc. In addition, the camera should suit the users' needs. This might include features, such as use-case environments and magnitude of usage. The instant cameras reviewed here are available to all kinds of users.
Disclaimer: All images are copyright to their respective owners and are used by USA Online Casino for informational purposes only.