It is risky when we talk about superlatives because you leave a lot of room for criticism. For instance, the United States has more than 167,000 miles of highways. Of that, only about 1 percent is included in the Interstate Highway System. So, you can probably appreciate that we can't possibly cover all of them. Besides, drivers have their own criteria for what they think is the perfect road to drive on. Our own list limits itself to two main criteria: historical significance and scenic views.
So, let's look at the best roads to drive in the United States.

Route 66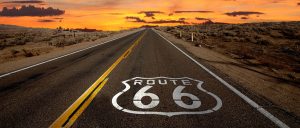 This is perhaps the most famous. In fact, not many people know it has another name—the Will Rogers Highway. This highway was one the original roads, and when you drive it, you will cross eight states in nearly 2,500 miles. This iconic road was once referenced by American novelist John Steinbeck in his novel The Grapes of Wrath as the "Mother Road." It was also branded as "America's Highway." It's been a tradition of sorts to stop by the highway and have your photo taken next to the "Route 66" sign.
Utah Scenic Byway 12
With a name like that, you'd expect a treat in the view, and that's exactly what you get. The road itself stretches for 122 miles, but it's not as long as you would expect it to be. The drive itself is short. It will only take you a little less than two hours as the crow flies. However, be prepared to stop multiple times to admire the scenery. It's not uncommon to see cars parked on the shoulder so the occupants can take photos. You're driving through the hoodoos (tall, thin spired rocks) of the Red Canyon, the Dixie National Forest, Grand Staircase – Escalante National Monument and Boulder Mountain, after all. Take time to get your photo of the famed Red Canyon Tunnel.
Religious Freedom Byway
Think of the drive on this 195-mile stretch along the iconic Potomac River as a pilgrimage. You will be driving the same path our forefathers took as they tried to spread the word about the need to respect other religions. Take time to stop by St. Mary's City, where the first colony in Maryland was formed in the early 1600s. This is where the English Catholics settled. You can also visit St. Ignatius Church, located in Charles County. Founded in 1641, it's considered one of the oldest churches in the United States.
Highway 61
Some would argue the fame and historic significance of the "Blues Highway" rival that of Route 66. This road links New Orleans and Wyoming, Minn. The whole stretch runs for 1,400 miles. The greatest blues musicians, including B.B. King, Charley Patton, Muddy Waters, Robert Nighthawk, Sam Cooke, Jimmy Reed, James Cotton, Junior Parker, and Howlin' Wolf, found themselves living on this stretch at one point. There were also countless legends who traveled along this route as they hopped from bar to bar, sharing their talents with the rest of the world. You will also find infinite references to this highway in songs such as Highway 61 Blues by Sampson Pittman. The song also happens to be the title of the track by Gatemouth Moore.
More than the scenic views, there's a mythology behind this road. According to legend, this is where Robert Johnson was supposed to have met the devil, particularly at the crossroad of Highway 49.
Route 6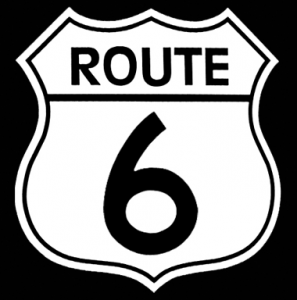 How many times can you claim you've driven on the longest continuous road in the United States? This road stretches from Long Beach, Calif., on the West Coast to Provincetown, Mass. on the East Coast. Along the way, you will cross 14 states and more than 3,200 miles. A lazy coast-to-coast drive with multiple stops along the way will probably take you about three weeks to complete. Among the places of interest you can pass along the way are the Alabama Hills in California; Kinzua Bridge State Park in Pennsylvania; the World's Largest Geodesic Dome in Nebraska; Glenwood Canyon and Loveland Pass in Colorado; and Cape Cod National Seashore in Massachusetts.
Pacific Coast Highway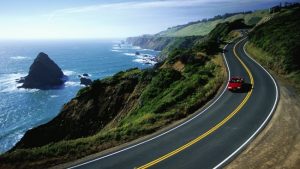 If you have a convertible, this is the perfect time to take the top down. This stretch of around 700 miles connects San Francisco and San Diego. Give or take, you will arrive at your destination in 10 hours if you're not driving like a maniac. Apart from the view of the Pacific Ocean, there are also noteworthy stops along the way that make this trip worthwhile. Of course, the Golden Gate Bridge is a must-see. You can also stop in San Jose and visit the famous (or notorious, whichever way you look at it) Winchester Mystery House. The mansion is said to be haunted and has 165 rooms with several trapdoors and stairs that lead to nowhere.
Stop in Ano Nuevo State Park in San Mateo County and see the elephant seals loitering on the sand. The historic Santa Cruz Beach Boardwalk is also a good place to stop and find yourself transported back in time. The trip won't be complete if you don't take a photo of yourself on the 280-foot-high Bixby Creek Bridge, a concrete marvel that spans 714 feet long.
Overseas Highway
The 113-mile stretch in Florida gained notoriety when it was included in a viral video of being one of the most dangerous roads in America. When you drive across this stretch of road, there's not much to see but the ocean. However, what probably had some people think it's dangerous is the Seven Mile Bridge, which remains one of the longest bridges in the world. Of course, its reputation is unwarranted. The only danger is if you drive through a hurricane when you pass over this bridge. There are probably scarier drives, such as the Mackinac Bridge in Michigan. In pop culture, this is where 2 Fast 2 Furious and Mission Impossible III were filmed.
Monument Valley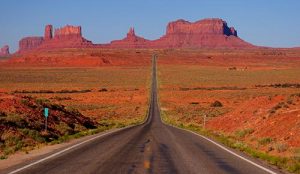 If you are a fan of Spaghetti Westerns and all those John Wayne movies, you will have a chance to get a glimpse of the American West here. Monument Valley connects Utah and Arizona. Take Route 163, and if you are heading south in Utah, you will have a full view of the peaks. Driving the entire route will take you past Phoenix, Flagstaff, the Grand Canyon, Winslow, and Diamond Creek Road. It's in Monument Valley where John Wayne filmed The Searchers in 1956, as well as Stagecoach, which skyrocketed The Duke into superstardom. How the West was Won, with its all-star cast of John Wayne, James Stewart, Debbie Reynolds, Henry Fonda, and Gregory Peck, was also filmed here in 1962.
So, there you have it. Our list of the best roads to drive in the United States based on their scenic views and historical significance. Don't just focus on the destination because the trip itself will be unforgettable. We urge you to take in the scenery when you pass by these routes. Get your camera, or cellphone, ready, sample the native cuisines and talk to the local populace. By doing so, you will remind yourself why America is one of the greatest countries in the world.
Disclaimer: All images are copyright to their respective owners and are used by USA Online Casino for informational purposes only.