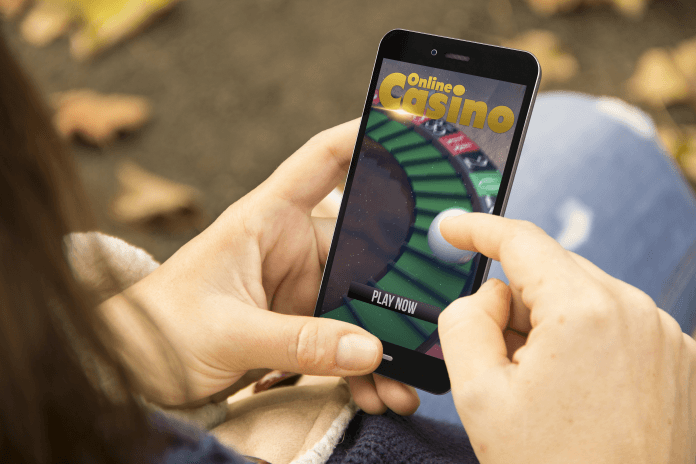 Gambling from mobile devices is becoming incredibly popular and more people are turning to their cell phones to get their gaming fix. Online casinos are recognizing the potential of gamblers on the go. The result is numerous dedicated casino apps and mobile-optimized sites that make it easier and more fun than ever to play slots, table games, and even live dealer games on the move, at any time and in any place. According to Forbes, gambling on mobile devices represents the next generation of e-gaming, so it's no wonder there is such a wealth of online gambling choices.
At the same time, smartphones are constantly improving and developing, with processors and RAM being hugely boosted every year. When it comes to gambling on online games, the choices open to players has never been so impressive. Here is a quick guide to some of the top smartphones for online gambling.

Samsung Galaxy S8 – A Powerful Performing with Gaming Mode Built-In

Release date: April 21, 2017
Price: $724.99
Arguably, Samsung's Galaxy S8 smartphone is the best Android operating system device on the market today. It offers an impressive gameplay experience and performance. Its predecessor, the Galaxy 7, came with some pretty good gaming features. These have been given an overhaul in the latest model, and it now comes with a dedicated "Game Mode" within the settings. This can change the screen mode in order to accommodate any games that cannot support the 18:5:9 aspect ratio, thus opening up a wider range of gaming sites to players. Paired with the excellent visuals (a resolution of 1,440 x 2,960), this tool can ensure the player enjoys an immersive experience, while the invisible home button and the ability to disable notifications ensures your gaming session won't be interrupted. Its quality hardware guarantees an engaging and smooth playing experience. Because the screen is 400 pixels higher than a regular QHD phone, you get a unique visual appearance. Powered by a3,000 mAh battery, this smartphone won't run out of juice while you're in mid-bet, and its ergonomically designed thin body makes it light and easy to carry anywhere. It also boasts a cutting-edge Snapdragon 835 processor with 4GB of RAM and an Adreno 540 GPU for maximum gaming performance.
Samsung Galaxy S7 – A Great Value Option for Gamblers on a Budget
Release date: March 12, 2016
Price: $569.99
If your finances can't quite stretch to the Galaxy S8 with its new Game Mode, you could always opt for its great value younger brother, the Galaxy S7. Although it isn't quite as cutting edge as the S8, it's still impressive and has been future proofed for high-quality gaming. The best cell phone in its class in 2016, the S7 supports Vulkan APIs for excellent graphics and was the first smartphone to do this. It features a Super AMOLED 5.1" display with 577 ppi and QHD resolution so the color representation and detail is second to none. This makes the S7 the perfect choice for games, such as video slots, with their fabulous animations and technologically advanced graphics. The 3,000 mAh battery, just like its newer sibling, is powerful enough to last for a long gambling session and can be charged up to full power in just 90 minutes. It also features an octa-core Snapdragon 820 processor with 4GB of RAM and an Adreno 530 GPU for impressive power. Also, like its more recent relative, it has a Game Tool that allows you to block any notifications to prevent your gambling session from being rudely interrupted.
OnePlus 5: A Flagship Device with Tons of RAM
Release date: June 20, 2017
Price: $479
The OnePlus 5 is the newest flagship device from this manufacturer. This new device packs an impressive Snapdragon 835 processor, just like the Galaxy S8. However, this cell phone boasts 6 to 8GB of RAM, boosting its gaming performance drastically. It also offers a Do Not Disturb mode, so you won't have to worry about notifications coming through at a key moment in your betting. A Dash Charge feature allows your phone to charge just as swiftly as if it wasn't being used while you're mid-game and need an extra battery boost. This model has a 5.5-inch Full HD display for excellent graphics that can perfectly display the latest video slots, and its 3,300 mAh battery is capable of standing up to today's demanding casino sites without using too much power or overheating.
Moto Z Play – A Battery That Goes on Forever
Release date: June 9, 2016
Price: $499.99
Every keen gambler has had the experience of being about to place a key bet and realizing you're virtually out of juice. That'll no longer be a problem with the Moto Z Play. This latest device from the well-known manufacturer Motorola comes equipped with a whopping 3,510 mAh battery, which is optimized still further by a super-efficient processor. Although the display is lower resolution than some of its rivals, the viewing angles and color calibration are still very good. The extra-long battery life that comes in exchange is well worth it. Even better, when the battery does run down, nine hours of charge can be topped up in just a quarter hour thanks to the TurboPower charger! For those who want the freedom to gamble all day no matter where they are without ever having to worry about charging up, the Moto Z Play can be paired with an Incipio offGRID Power Pack, which will equip the phone with an extra 2,260 mAh battery. This smartphone is also super easy to use. It's ideal for beginner gamblers and can be controlled with voice and gestures for extra ease and convenience.
HTC 10 – Super-Responsive for Faster Betting
Release date: April 12, 2016
Price: $319.99
If you're a serious online gambler, you'll be aware of how important it is to avoid input lag, especially when that touch makes all the difference between the jackpot and a loss. Mobile gambling relies on the responsiveness of the phone's sensors, and when it comes to this element, the HTC 10 is ruling the roost. As 2016's flagship device, the 10 model still boasts the lowest touch latency than any other cell phone currently on the market. As well as this excellent feature, it also has an outstanding HD audio output, so you can make the most of the sound effects on today's slot games. It also boasts a super-fast performance thanks to the integrated Quadcore 2.2 GHz Snapdragon 820 processor, as well as 4GB of RAM. As an extra bonus, it has an ergonomic design that fits well into the hand for gambling on the go.
Moto X Force – Super Smooth Performance for Better Gambling
Release date: October 27, 2015
Price: From $249.99
The second Motorola smartphone on this list, the X Force boasts a Snapdragon chipset for greater performance together with an impressive octa-core 3GB of RAM for a perfectly smooth performance, whatever online casino you choose to visit, or how demanding the game. The beautiful QHD AMOLED screen is shatterproof, which is great if you drop your phone in excitement when you win the jackpot (or throw it against the wall when you lose!) It measures 5.4 inches, which is large enough for an immersive gambling experience without being so big it can't be easily held in your hand. Even better, like its sibling the Z Play, it has an enormous capacity battery of 3760 mAh, so you can bet all day without worrying about running out of charge.
Of course, these aren't the only cell phones out there that are perfect for online gambling, but they do represent some of the best options if you want to enjoy your favorite games on the go.
Disclaimer: All images are copyright to their respective owners and are used by USA Online Casino for informational purposes only.