If you have a DVD player (even though they are old), a streaming box, two, or an antenna, you probably have a few remotes hanging around your house. Trying to keep track of all of those remotes is difficult at best and a giant headache at worst. How can you keep track of all of your electronics for your audio-visual life? You can purchase a universal remote. Universal remotes put all of your technology in one place, which makes it easier to find the programs you love. It also means there are a lot fewer remotes to try to keep track of.
There are many universal remotes out there. Which remote is best for you and your needs? We have some suggestions below. Have a look at what we have found, and we are sure you will be able to find the perfect remote for you.
Sony RMVLZ620
The most basic model of universal remote you can buy, Sony's remote provides the bare bones functionality for under $30, and it has a long-running history of simplicity and excellent ease of use. The remote design is vintage, so there is no new technology to learn. The Sony remote has a learning function for relaying information from your old remote to your new remote. Like all old remotes, this remote relies on an infrared line of sight. If you want to upgrade your technology and leap into the next decade, this is not the remote for you. However, if you are one of those individuals who have embraced the trend of retro, and want to focus less on technology rather than more technology, this remote may be perfect.
The Logitech Harmony 650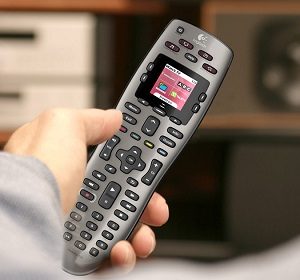 At under $50, it would not seem the Logitech Harmony 650 would be the right remote for all of your expensive electronics. However, this remote can handle anything you throw at it. While it is not the most technically advanced as other, remotes on the list, but it can get the job done. The remote is able to handle multiple boxes and multiple commands without a problem. The buttons are clearly labeled and easy to figure out. You will need a computer to get the remote set up, but then you and your new remote should be all set. One word of caution, if you are looking for the most advanced remote, this one is not for you. However, if all you want is to operate your gear, this one should do fine.
The Logitech Harmony Companion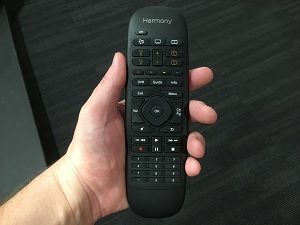 Reviewers have called the Logitech Harmony Companion the best remote if you have a smart home. This is because the Harmony Companion is able to control your house from the comfort of your couch. The remote can control as many as eight devices at one time. These could include lights, smart TVs, all audio-visual equipment, and smart home devices like Alexa or Google. The remote also allows you to customize to fit the needs of your household, even allowing you to control stuff through your phone. Another bonus? The battery lasts a long time.
The remote also gets high marks for the hub feature, which allows you to control everything without a having line of sight, which you always needed to have with infrared remotes. A line of sight is used to control whether or not your equipment got your commands, but no more. It is more expensive than the first remote we previewed, but for many smart homeowners, it is worth the price.
Logitech Harmony Elite
Are you the person who patiently waits in line for the latest technology, no matter how many hours you stand in the rain? We have the perfect remote for you. The Logitech Harmony Elite is the complete remote for a home theater. While it is the most expensive remote on the list, it allows you to control everything in your home theater and your smart home in one place. The Elite model has all of the features of the best-selling Harmony Companion, but it adds a few bells and whistles. First, the Elite offer a full-color touchscreen as a built-in to the remote. This allows you to control everything without needing your phone. In addition, the entire Elite package has the remote, the Harmony Hub, two devices that allow you to control all of your remote functions without line of sight and a charging station—for an always-ready remote experience. Third, this device controls up to 15 devices, which means that you are able to handle all of your boxes and devices in one stop.
Amazon Fire TV Cube
The review on the Fire TV Cube is that it is not as good as the Logitech Harmony systems yet, but if you are a person who streams nearly all of your programming, this may be the universal remote you need. The Cube is a remote for streamers who want to keep their technology for the TV in one place, and use Alexa voice commands to issue control orders for their tech, this may be the device you need. You have the ability with the Cube to control power to your systems, switching the feeds or input, and volume with voice commands, even if you have the TV on. Setup is also simple to complete, even for the technologically challenged.
One large caveat to the Fire Cube. If you have other boxes or devices other than Fire TV, this is not the remote for you. For example, if you have DVR, gaming, boxes for Roku, or a smart TV—you will have to keep their remotes to operate. For some people, this defeats the purpose of the universal remote in the first place. However, if you only have one streaming method, and you want to connect your smart home system to the streaming method, this may be just what you need. Also, there will be some applications you use that will not support voice commands.
What Should I Look For in a Universal Remote?
Therefore, if you are ready to purchase a new universal remote, there are criteria you can look at in order to make a purchase. If you go in as an informed consumer, you will be able to move forward and make a purchase that will make you happy for years to come.
First, you will need to assess the needs of your house. Do you have a smart home, complete with an alarm system and fully integrated wireless capabilities? Do you have multiple streaming boxes, and you do not intend to give them up? Are you attached to your remote the way that it is, and changing is going to be an issue for you? Do you want a remote that operates a on line of sight, or do you want a remote that operates on a radio or wireless frequencies? Is price a factor for you?
When you have given these questions a thought, and you have made some decisions, you are then ready to buy. You should have the ability to shop around, and find the best price for the remote that you want. If you educate yourself about the exact remote that you need, you will be able to purchase a new universal remote with confidence. Good luck and happy shopping!
Disclaimer: All images are copyright to their respective owners and are used by USA Online Casino for informational purposes only.