These days, wireless technology is certainly making its mark. If you use headphones often, you likely know about the convenience and sound quality wireless headphones provide. Several brands offer the features you need to listen to music, watch movies, and complete important tasks for work or school. Here are some of the best wireless headphones on the market, in case you're looking to get a new pair soon.
Sony WH-1000XM3
Sony has been making headphones that have turned into customer favorites for the last three years. The sound is great and there are wireless codecs such as aptX and LDAC tech that cancel outside noise. Sony is also continuing to improve their algorithms for noise cancellation, so it's likely that newer models of headphones will be even more impressive.
The 1000XM3 is the most recent upgrade from the 1000XM2 headphones. Critics say the improvements are minimal, but the device is still better than several competitors, particularly the QC35II from Bose. The Sony headphones have better sound, more effective noise cancellation and additional features like Quick Attention mode. This feature allows you to let in the noise from the outside without having to remove your headphones. This comes in handy when you have to speak with a coworker or family member briefly and need to be able to hear all parts of the conversation. These headphones are also great for traveling, since you'll clearly be able to hear your audio books or music whether you're on land or in the air.
Bose Quiet Comfort 35II
The QC 35 headphones were already pretty good. Then the company decided to update the device with Google Assistant, making the headphones even more practical. The new version of the headphones is identical to the older Quiet Comfort 35s, except for the Google Assistant button. So you still get all the noise cancellation and superb sound quality you need while asking Google for help when you need it. The headphones are also a favorite among users because they're comfortable to wear. The QC35II headphones also have excellent battery life, so you can listen to them during most long flights with no problem. The Bose QuietComfort 35 headphones are also high-quality, and are a more affordable option, especially if you don't mind not having Google Assistant.
Beyerdynamic Amiron Wireless Headphones
These headphones are the best money can buy when it comes to sound. You'll likely hear instruments and lyrics in your favorite songs that you only barely noticed before. However, the headphones are rather bulky and don't have much noise cancellation, which doesn't make them ideal for travel. However, the headphones offer wonderful sound quality, so they may be best suited for listening to your favorite music and movies at your desk.
Audio-Technica ATH-M50xBT
Audio-Technica has long been known for producing headphones that are high quality. The company also makes microphones and accessories for turntables. The release of the ATH-M50xBT headphones were met with excitement by tech enthusiasts, since the sound is studio-quality. And of course, you don't need a cord. The headphones have 45mm drivers and a frequency response range of 15-28,00 Hz. The sound is well-rounded and balanced, so they're great to use if you record music. The battery life is impressive and the headphones also offer Bluetooth connectivity. It's a little difficult to make phone calls using the device since the microphone isn't the strongest. However, most users don't mind since this isn't the primary use of the headphones.
Sennheiser Momentum Wireless
The Momentum wireless headphones from Sennheiser have better sound and a better look than most other similar devices. They can be rather expensive ($300 and up), so many typical music lovers may not purchase them. The headphones have a number of great qualities. In addition to providing wonderful sound, they're durable and comfortable to wear for hours. Since Sennheiser products are made from quality materials, they're likely to last for years.
Plantronics BackBeat Pro 2
The BackBeat Pro 2 headphones are a great choice if you travel often. The headphones have some of the best noise cancellation and hold a charge for hours. They also cost less than many of the other popular headphones on the market, such as Bose, Sony, and Beats. BackBeat headphones automatically turn off when you're not wearing them, which helps the battery to last longer. The headphones are also comfortable and give you the ability to pair two devices simultaneously.
AKG N60NC
These headphones are between $100 and $300, depending on the features you want, but the sound quality is worth more. The noise cancellation feature is on par with the more expensive headphones. The headphones fit directly on the ear and have large round speakers, so they may be uncomfortable after a few hours of wear. However, if you only use them for a few hours each day, they could be a worthwhile purchase.
Jabra Move Wireless Headphones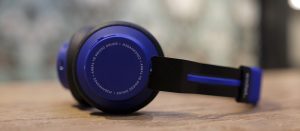 If you're looking for a good pair of wireless headphones under $100, Jabra Move has what you need. These Bluetooth headphones are high-quality regardless of their price point and they have an edgy design that may fit your personal style. Whether you want to make phone calls, listen to audio books or listen to your playlist, this device is pretty reliable.
Microsoft Surface Headphones
These headphones from Microsoft are impressive and offer a warm and balanced sound. You can hear bass in the headphones pretty well, which enhances your music experience no matter what you're listening to. However, it may be harder to hear lower and medium frequencies, and some users think this takes away from the listening experience. Microsoft Surface headphones have an active noise cancellation feature that functions well and it is easy to control. The headphones are around $300 and many users say they are worth the price.
B&O Play by Bang and Olufsen
B&O Play headphones have been voted to have the best sound quality. The device has 40mm electro-dynamic drivers to give you a sound that is rich and balanced with lots of clarity. The headphones can either be used wirelessly or with a cord. The sound quality is still intact with Bluetooth connectivity. The battery life is great as well, so you can listen for about 19 hours straight before having to recharge. Bang & Olufsen is known for its detail to design and H4, and the headphones live up to customer expectations. The headphones have a sturdy design and are sleek and modern. The device is made of metal, and the headband and ear pads are covered with lambskin leather. These headphones don't have noise cancellation, unfortunately, but they do eliminate sound pretty effectively.
Jaybird X4
Jaybird X4 headphones have been voted the best device for working out. The headphones are small and fit comfortably inside the ears, so you can hear your favorite motivational music while you're working out. These headphones are durable and designed for heavy exercise. They are a welcomed upgrade from the X3 device. The buds fit comfortably and securely in your ear. The headphones also have Speed Cinch, which allows you to loosen or tighten the cord depending on the intensity of your workout.
Disclaimer: All images are copyright to their respective owners and are used by USA Online Casino for informational purposes only.