If you think of where you would find a casino, your first thoughts will probably be in Monaco, Las Vegas or Macau. However, there are some amazing casinos out there that are in much less obvious locations. From the weird to the wonderful, this Top 10 list comprises some of the unique spots to place a wager in the world.

1. North Cadbury Court, United Kingdom
With a quaint location in the small town of Yeovil in southwest England, North Cadbury Court was once a medieval manor during the 1300s. Today, it is a historical events space and venue, with 21 hotel bedrooms, a beautiful dining hall that seats 96 diners, and a ballroom large enough to accommodate as many as 150 people at once. However, the most recent addition to this heritage property is the basement casino that was once a wine cellar. This low-ceilinged space only has the capacity for 30 players, but it boasts a roulette wheel, a blackjack table, and even its own poker room. As one of the smallest casinos in the world, the North Cadbury Court venue is run by locals who act as croupiers. But, if you want to use the casino, you have to rent the entire house.
2. Rivers Casino, Des Plaines, IL, United States
While at initial inspection, the Rivers Casino in Des Plaines, Ill., appears to be ordinary. In fact, there is something a little unusual about its location. Built on a small water pit (or puddle!), this property has deliberately been designed as a riverboat to comply with the state's gambling laws. Constructed in 2011, the Rivers Casino is just a few minutes from Chicago's downtown area and O'Hare International Airport. It boasts more than a thousand different slots and 50 gaming tables, including baccarat, craps, roulette, blackjack, and poker.
3. Desert Cave Hotel, Coober Pedy, Australia
The Desert Cave Hotel lives up to its name. It is in a subterranean environment in the middle of the Outback. Punters can travel underground to play at any of the 16 poker machines and to soak in the peaceful and relaxed atmosphere. Although this is a small venue, it still has its own underground shopping arcade, a games room, and a bar. Since the nearest casino is more than 800 kilometers away, it's no surprise that the locals flock to this unusual resort.
4. Casino Jet Lounge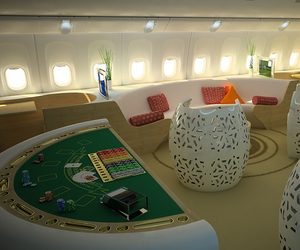 When they say the sky's the limit, they really meant it when it comes to the Casino Jet Lounge. Designed by Designescence and AirJet Designs, this spectacular flying casino can be installed on private jets and airlines, so punters can enjoy placing wagers at 30,000 feet. With its own dedicated bar and gaming tables, this exciting design may be in the concept stage at present, but it's likely to prove a hit when it takes to the sky.
5. X-Train, Las Vegas, United States
Las Vegas is one of the ultimate destinations for any gambler. But, instead of heading to one of the well-known gambling resorts, punters looking for something a little out of the ordinary are sure to enjoy a trip on the X-Train if and when it launches. This one-of-a-kind venue on rails has been in the pipeline for several years but promises visitors a fun-filled five-and-a-half-hour journey between Los Angeles and Las Vegas, with gaming tables, food and drink, and a sports bar.
6. Macau Palace, Macau
Macau is another famous destination that is a hotspot for gamblers. However, those who are looking for a more unusual experience away from the bright lights and hustle and bustle of the heart of the city should head to the Macau Palace. As a floating casino, this gambling barge is the smallest of all of Macau's casinos. It is extremely popular with wager-loving tourists, however. Located in Macau's Outer Harbour along the Avenida de Amizade, the Macau Palace was featured in the 1974 James Bond movie, "The Man with The Gold Gun." Here, you can choose from two blackjack gaming tables, six baccarat tables and two tables for dai-siu and sic bo. Players can also visit the slots room and private games rooms, all of which are a little quieter than the gambling floors of the main casinos.
7. Victory Casino Cruises, Florida, United States
Punters looking for a Vegas-style experience in the heart of Florida's attractions should take a trip with Victory Casino Cruises. Located on a boat that sails out of Port Canaveral, the Victory Casino takes players on five-to-six-hour cruises up and down the Space Coast. The ship is equipped with more than 600 popular slots, as well as 27 table games, including the only live craps and roulette tables in the state. The cruise also features Florida's only sportsbook lounge, which takes bets on MMA, boxing, soccer, baseball, football, hockey, and basketball. While playing, punters can enjoy the buffet and drinks across all four decks, party on the dance floor or watch a show.
8. Resort World, Genting, Malaysia
If you are looking for a casino in a traditional location, you'd better give Resort World in Genting, Malaysia, a miss. It certainly isn't easy to get to. Because it is on top of a mountain, 6,000 feet above sea level, it requires punters to take the skyway cars that roll across the mountains from the capital of Kuala Lumpur. While Resort World is just 45 minutes from the bright lights of the city, this venue, which is surrounded by a 150 million-year-old rainforest, is certainly a breath of fresh air. Offering some of Asia's finest gambling facilities, this impressive resort offers all the facilities anyone could ask for from a casino, as well as a host of other amazing activities, including golf, a spa, world-class shopping, and a theme park.
9. Prairie Knights Casino, North Dakota, United States
When you are truly looking for the remotest location, Prairie Knights Casino in North Dakota really has to take the cake. Located in Fort Yates, the casino itself may be spacious, brightly lit, and huge, but it is set in the heart of a barren and desolate prairie. To get here from the closest airport you have to drive for at least two. However, you can still enjoy spectacular, albeit, isolated views. While there isn't much nightlife to speak of here, you can certainly concentrate fully on your wagers!
10. Virtual Reality Casinos – Anywhere!
Although it may not actually be described as an unusual location, that depends very much on where you're playing. You could take your own casino anywhere with the latest developments in VR (virtual reality) technology. The most cutting-edge modern headsets allow players to be transported with ease between the real world and the virtual one, so they can now gamble from any room of their home while enjoying the experience of playing in a top casino resort anywhere in the world. This is perfect for people who are unable to travel overseas to get their gambling fix. SlotsMillion was the first company to launch a VR casino back in 2015, allowing punters to experience the fully equipped, fully interactive gaming floor for the very first time.
Disclaimer: All images are copyright to their respective owners and are used by USA Online Casino for informational purposes only.