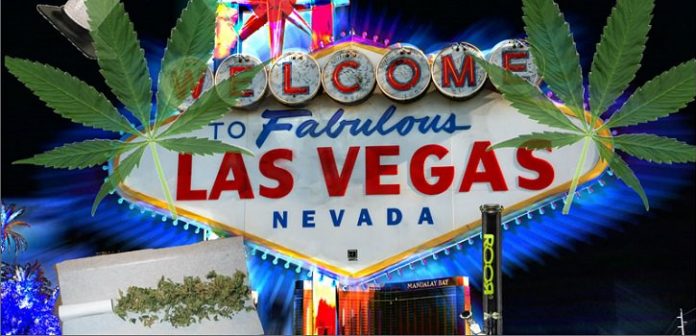 There are a number of rules and regulations that casinos have to adhere to in order to operate legally. Casino owners and staff members must know these policies to stay within the guidelines established by their state. These rules are sometimes put in place to keep gambling patrons safe as well. There are stipulations that casinos must adhere to when testing employees for marijuana use and allowing patrons to use marijuana legally.
Recently, Caesars Entertainment announced that it would not screen employees for marijuana use. However, other casino operators on the Strip may choose not to talk about marijuana use among their workers. Some casinos are continuing drug screening, since the use of marijuana for recreational purposes is still federally illegal.
What Does This Mean?
In November of 2017, the Nevada Gaming Policy committee began reviewing policies concerning the legality of casinos operating in close proximity to medical and recreational cannabis companies. It didn't seem like the committee could decide on a practical way for both types of businesses to coexist. Still, the panel, which consisted of 12 members, did submit a review.
Marijuana Business Daily CEO Cassandra Farrington was asked to give commentary on the reasons that marijuana should be permitted in casinos. Marijuana Business Daily is a news outlet based in Colorado that reports on a variety of cannabis-related issues. Representatives from the Nevada Department of Taxation attended the meeting, as well.
According to the federal government, marijuana is classified as a Schedule 1 drug, in the same category as LSD, ecstasy and heroin. Attorney Brian Barnes explained the government's stance concerning marijuana in casinos. Barnes stated that if these establishments permit the use of cannabis, they are potentially opening themselves up to being asked to host or sponsor marijuana events.
Voters in the state of Nevada approved the use of marijuana for recreational purposes during the election last November. Fifty-four percent of voters were in favor, while 46 percent were not. Under the laws pertaining to recreational marijuana use, cannabis can only be consumed privately, meaning it is not be permitted in casinos.
Nevada Marijuana Laws Are Complicated
The committee for gaming policy in Nevada is comprised of some of the state's most prominent leaders. The group includes Governor Brian Sandoval (R) and the CEO of MGM, Jim Murren. MGM is currently the largest employer in Nevada.
In May of 2017, when Caesars Entertainment announced that it would no longer test potential employees for marijuana use, other casino operators were asked if they would follow suit. However, the answers weren't exactly clear.
MGM Resort released a statement explaining that Nevada law regarding marijuana has a number of implications for employers in the casino industry and other strictly regulated industries. MGM also states that it had reviewed its policies in depth and made changes as necessary.
Richard Velotta, an RJ journalist, wanted clarification on the issue, and asked if this meant that MGM had stopped testing workers for marijuana use. The company responded in a way that did not directly answer the question. MGM referred to the way that Nevada voters have approved recreational marijuana in the November 2016 election. It also reiterated that citizens age 21 and over can consume marijuana legally if they buy the cannabis at a store that is licensed by the state. MGM also stated that individuals are permitted to have up to an ounce of marijuana or 1/8 ounce of concentrated cannabis on their person. This could indicate that MGM is checking to see that these regulations are met, instead of firing or not hiring individuals who use marijuana.
It is still illegal to consume marijuana in a public area in Nevada. But tourists often report that the downtown and Strip areas of Las Vegas smell of marijuana fairly often. This shows that the caveat of being able to use marijuana in private locations is likely not heavily enforced. State law enforcement also notes that administering and reading accurate DUI tests is challenging when it comes to marijuana. This is largely because the tests for marijuana remain underdeveloped in comparison to the test for alcohol. As such, it is possible to get a false positive test result.
What Are the Odds of Approval?
The review from the Nevada Gaming Police Committee probably won't lead to casinos being allowed to have marijuana on their premises. A few months before the review, the committee attempted to quell rumors that gambling and pot use in public arenas would work.
Dr. Tony Alamo, Commission Chairman, stated that the committee is not establishing a policy. Instead, Alamo asserts, the meetings are for the purpose of discussing and interpreting the existing law. Alamo emphasized that marijuana is still illegal under federal law and is still classified as a Schedule 1 drug. When the committee met for the final time, Gov. Sandoval headed the meeting and the 12-member panel. Sandoval recommended that casinos be allowed to host trade shows, conventions and conferences related to the cannabis industry in order to foster lucrative business relationships.
The commission has also instructed casinos to prohibit marijuana use at their resorts. In addition, despite Sandoval's recommendation, the commission instructs casinos to decline requests to host events and conventions related to the cannabis industry. Wynn Resorts has even refused membership to businesspeople in the marijuana industry.
The Marijuana Business Conference and Expo, the world's biggest cannabis-related conference, was held recently at the Las Vegas Convention Center, welcoming over 700 vendors and 10,000 attendees. Even though they offer significant financial benefit for the city, casinos are still banned from hosting these events on their grounds. There are those in favor of allowing casinos to have cannabis on site. Proponents of public marijuana use feel that Las Vegas is the ideal city to transform the public's perception of marijuana.
Further Statements
Las Vegas Sands and Wynn Resorts told the RJ that there won't be any changes in their hiring processes regarding testing for cannabis. The publication also reached out to Boyd Gaming and Station Casinos, but the organization had no comment. The statement from MGM seems to indicate that it would be willing to consider making its hiring mandates concerning marijuana more lenient.
Considering all these factors, it is still illegal to use marijuana while on the job. Caesars even says that employees who are applying for jobs that are connected to the Department of Transportation will be tested for marijuana use. It remains clear that marijuana is still seen as a serious drug. Casino operators across the state of Nevada still don't want much to do with the marijuana debate.
There are other states that are also grappling with the ramifications of legalizing marijuana. It is also important to note that in the state of Colorado, marijuana was legalized in 2012. Colorado also collected more taxes from marijuana cultivation than it did from alcohol sales. Once the cannabis market has matured fully, Nevada can expect to raise about $120 million in marijuana taxes overall. Those who produce marijuana have to pay a wholesale tax of 15%, and this goes to schools in the state. There is another 10% levied tax as well that goes to the "rainy day" fund for the state of Nevada.
Disclaimer: All images are copyright to their respective owners and are used by USA Online Casino for informational purposes only.