In February 2017, on Thursday evening, Shinzo Abe, the prime minister of Japan, was on a plane that landed at Maryland's Andrews Air Force Base. This was Abe's first visit with President Trump. A few hours before the meeting, Sheldon Adelson's plane also landed at Reagan National Airport. Adelson arrived in a Boeing 737 that was big enough for 149 people, and he was flying in from Las Vegas.
Once he arrived, Adelson had a meal with Trump at the White House, Secretary of State Rex Tillerson and Jared Kushner. Adelson, along with his wife Miriam, were some of the biggest contributors to Trump's campaign. The couple wrote $20 million checks and pitched $5 million for festivities associated with Trump's inauguration.
This 2017 trip was arranged for Adelson to meet Shinzo Abe. The two were going to have a conversation about a huge business deal. After several years of debate, Japan finally made the decision to make casinos in the country legal. For over ten years, Adelson and Las Vegas Sands (Adelson's company), have been seeking to build a multi-billion dollar casino resort in Japan. Adelson says that expanding his company to Japan was the "holy grail," since Japan is a largely untapped casino market. Practically every notable casino company in the world is vying for Japan casino licenses. However, there are only a small number of licenses available. The casino companies that get these licenses will be entering a gambling market that is worth up to $25 billion a year. Kahil Philander is an academic who has studied the gambling industry. He says, "This opportunity won't come along again, potentially ever."
Adelson's Association with President Trump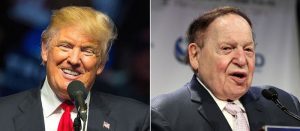 The morning after he dined with Trump at the White House, Adelson went to a breakfast in Washington with Abe. A few American CEOs were also in attendance, as well as two other casino CEOs. The CEO and Adelson brought up the casino issue with Abe, according to someone who was attending the breakfast.
Adelson had the support of Trump, which was impressive, since Trump was now the president of the United States. After the breakfast, Abe met with Trump before heading to Mar-a-Lago for a weekend. Trump and Abe had a meal with Bob Kraft, owner of the Patriots, and played golf at Trump National Jupiter Golf Club with Ernie Els, a South African golfer. During the Mar-a-Lago meeting, Trump brought up Adelson's bid for a casino during a discussion with Abe, according to two individuals who were briefed on the meeting. Japanese executives were shocked by the business proposition.
One of the people briefed on the interaction stated, "It was totally brought up out of the blue. They [the Japanese businesspeople] were a little incredulous that he would be so brazen." Trump told Abe that he should consider granting Las Vegas Sands a license for a casino in Japan. According to the person who received the abridged version of the encounter, "Abe didn't really respond, and said thank you for the information."
Trump mentioned another casino owner during his discussion with Abe as well. The accounts of the discussion are different depending on the source. However, it is believed that Trump talked to Abe about either Wynn Resorts or MGM. These facilities were then run by Steve Wynn, who was the Republic National Committee finance chair at the time. Wynn was also a Trump donor. According to Nikkei, a Japanese newspaper, Trump did mention possibly giving MGM a license. Abe then told an aide at the meeting to write down the names of both casinos. Abe later stated in July 2017 to the Japanese legislature that Trump did not request licenses for the casino companies. However, Abe did not deny that the casinos were discussed.
Trump's Conflict of Interest
President Trump brought up the business interests of one of his donors to a head of state from another country. This is a violation of the norms in terms of expected presidential behavior. Brian Harding from the Center for Strategic and International Studies says, "That should be nowhere near the agenda of senior officials. U.S.-Japan relations are about the security of the Asia-Pacific, China and economic issues."
Despite Trump's lack of etiquette, Adelson informed his shareholders that they should anticipate good news. During an earnings call, Adelson mentioned anonymous insiders were saying that Sands would likely see a payoff for their efforts to get into the Japanese market. Adelson stated, "The estimates by people who know, say they know, whom we believe they know, say that we're in the No.1 pole position."
Adelson's Motive for Campaign Donations
Adelson has donated significantly to the Republican Party for years. He is sometimes thought of as ideological. His desire to have an influence in the U.S's policy to aid Israel is one of the reasons behind his donations. In 2016, Adelson stated, "I'm a one-issue person. That issue is Israel." Trump has delivered on the Israel issue as far as Adelson is concerned. The administration reduced funding to assist refugees from Palestine and did away with the nuclear deal that was made with Iran. Adelson attended the opening of the U.S. embassy in Jerusalem; an attendee said that it seemed Adelson was about to cry tears of joy. Adelson may be a proponent of assisting Israel, but he has used his generous donations to promote self-interest. This was evidenced by Trump's promotion of Sands in Japan. Trump's administration also appointed a casino industry executive to be in a leadership position at the U.S. embassy in Tokyo. It is clear that Adelson has significant influence in the current presidential administration. When he calls, cabinet officials usually attempt to grant his wishes. Adelson has helped his friend's company secure a research deal with the Environmental Protection Agency. The casino magnate has also benefited from the new tax laws Trump has put in place. The laws are in favor of companies like the Las Vegas Sands; the facility will likely see a benefit of about $1.2 billion.
However, Adelson is not always able to influence everything in his favor. He has casinos in Macau that are, ironically, potentially open to Trump's trade battle with China. China controls Macau, which is a former Portuguese colony that is not far from Hong Kong. If China retaliates in the trade war by focusing on Macau, a country where Sands has several lucrative properties, Adelson's bottom line could take a hit. However, there was no evidence as of 2017 that this has happened.
When asked about Adelson, the White House declined to comment. The Japanese Embassy in Washington also declined. Ron Reese, the representative for Sands, refused to answer extremely detailed questions. However, Reese did issue a statement that said in part: "the gaming industry has long sought the opportunity to enter the Japan market. Gaming companies have spent significant resources there are on that effort and Las Vegas Sands is no exception. If our company has an advantage, it would be because of our significant Asian operating experience and our unique convention-based business model. According to Reese, "Any suggestion we are favored for some other reason is not based on the reality of the process in Japan or the integrity of the officials involved in it."
Disclaimer: All images are copyright to their respective owners and are used by USA Online Casino for informational purposes only.