To put it mildly, watching fights have been like a slow death. The sport of boxing has been, well, boring. It is not as if boxing fans are not used to the hype. Small fights are hyped up to be bigger than they are which leads to disappointment for boxing fans— if the fight happens at all. However, this year in boxing looks to be one of those rare years where boxing might actually live up to the hype.
Not sure, which fights are coming up on the calendar? We have the can't-miss fights already crowding the calendar this year, so that you can make sure you are ringside when it happens. Of course, we cannot promise these fights will actually happen, but they are a good bet to take place this year.
The Main Event: Anthony Joshua vs. Deontay Wilder; Deontay Wilder vs. Tyson Fury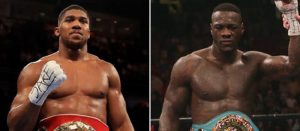 These big fights have all the hallmarks of classic matchups. Of all of these fights, boxing fans are dying to see the matchup between Joshua and Wilder, since these fighters have not met yet. The Joshua-Wilder fight would crown the first undisputed championship belt in a long time in the heavyweight division. Many people believe that the best fight on this card would be a rematch of Fury and Wilder. This is because their last fight was a disputed split draw. Fury rose from the mat in his last fight with Wilder knocking Fury down twice. Fury simply refused to yield. This fight more than any other projected fight on a card promises as much drama and excitement as any boxing movie. The Fury-Wilder fight also had a great clash of styles. Fury is a classic technical fighter and showman, with feints and fancy punches. Wilder is the classic basher who could flatten anyone with devastating blows.
Tyson Fury vs. Oleksandr Usyk
While these two fights would make for a great year in heavyweight boxing, there is another fight that should make the card. Fury vs. Usyk would make for a great technical match, as both fighters are very skilled punchers with the amazing footwork fans love. Usyk has been moving up from the Cruiserweight championship league. No matter how you slice it, any of these fights are going to be the fight of the year, whenever it happens.
Lomachenko vs. Garcia
With these two boxers, the problems start before you even mention the word fight. Miguel Garcia and his former promoter have a lot of bad blood between them, before you through Lomachenko into the mix. Although Garcia is still recovering from the extensive bodywork, he did to move up to welterweight, it is assumed he wants to stay there. Garcia also has one fight under his belt this year alone versus Spence.
With all that being said, however, this match will most likely take place later in the year. Lomachenko and Garcia are both so technically skilled it should mean this fight is not to be missed. Many people argue that Lomachenko is the king of technical fighter, while others say Garcia fights harder than anyone else does and is a masterful counterpuncher.
Keith Thurman vs. Errol Spence, Jr.
As all the fights mentioned, it is possible that this fight will not happen. Thurman is coming back to the welterweight division after almost a two-year absence for hand and elbow surgeries, and already has one fight scheduled early in the year. However, efforts are growing to get these two champions in the ring for a unification fight. Many pundits have said that along with Garcia, Thurman and Spence represent welterweight's best chance for a golden era that has not been seen in decades. What would really make this card special is if it was close to the Garcia-Lomachenko bout, and the two winners would then compete. Such competition in the welterweight division has been a long time in coming.
Alvarez vs. Golovkin (Part III)
We know, we know, this is a fight we have all seen before—twice. It is also true that Golovkin is past his prime, as he is going to by 37 on his next birthday. However, this matchup is undeniably good. Both of their prior matches have come to a draw. While Alvarez is the far better fighter with regard to technical skill, Golvkin has nothing to lose. He knows his days in the ring are numbered. He wants to get one last really good fight in before he retires. In addition, Alvarez just signed a multimillion-dollar contract with streaming up, which means he is contractually obligated to fight to satisfy his contract. Most experts say that while Golovkin cannot outlast Alvarez, he has the capability to knock him out with one punch. Time to start humming the theme from "Rocky."
Inoue vs. Rungvisai
The Inoue-Rungvisai bout is particularly interesting. Both boxers are Asian, and have moved up and down the weight scale, although they usually settle in the flyweight category. Both boxers are Asian—one is Japanese, the other Thai. Both men are very fast, very good technical boxers who are very entertaining. They are also both able to knock out an opponent with one well-placed punch. This is an entertaining draw on the card, because neither boxer is willing to relent. In particular, Rungvisai has the potential to pound an opponent into submission. Although neither of these men have name recognition in the United States yet, it goes without saying this is an exciting match.
One for the Old-Timers: Pacquaio vs. Mayweather (II)
We get it. We may be the only ones who really want to see this fight happen this year, especially since we had to wait a lifetime for the first one. When we finally got to see the first Pacquaio-Mayweather fight, it was not that good. Not worth the wait at all—and it should have been. It is the classic matchup of the finesse boxer with grace and speed vs. the basher.
While both men are approaching midlife, they are both still keen to fight. Pacquaio obviously has the desire to fight, and Mayweather may need to fight to keep up his lifestyle.  Many experts have said that Pacquaio is itching to beat Mayweather, and will not be able to retire in peace until he does. Others have said that there is no way Pacquaio has enough arm strength and staying power to beat Mayweather. In addition, some people just enjoy seeing a train wreck right in front of them from time to time—, which this fight could become. Their last fight was an overhyped, an overdramatized bit of fluff in which Mayweather won by a unanimous decision. While wagerers felt slighted, many also felt there was an audience for another possible matchup. However, neither Pacquaio nor Mayweather has spoken about the possibility of a rematch.
Whether or not either fighter is really willing to climb back into the ring remains to be seen. However, there is no disagreement that Pacquiao is waiting for a meeting to happen. He has been fighting novelty fights or MMA-style fights to prepare himself for something—without damaging his body. If he is not waiting for a Mayweather rematch, what is he waiting for? It remains to be seen whether or not this fight is actually going to happen, or if we will have to wait another four years for these men to step into the ring.
Disclaimer: All images are copyright to their respective owners and are used by USA Online Casino for informational purposes only.