Sure. Celebrities have down time between making movies. Some float on yachts, some party like it's 1999, and others gamble. With all that time and money on their hands, what's a poor celebrity to do?
But sometimes, the thrill of the gambler's rush overwhelms a celebrity, and they spend a lot of their free time in casinos or gambling online. Not all the following celebrities have full-blown gambling addictions, but all of them have been seen regularly spinning the roulette wheel, rolling the dice, or bluffing at the poker table.
These are Hollywood's most notorious gamblers.

Walter Matthau
Baby Boomers might remember Walter Matthau from the Odd Couple in the 60s, but Gen-X knew him from Grumpy Old Men and Dennis the Menace comedies in the 90s.
The classic movie actor excelled in comedic rolls and his career spanned nearly 50 years. But when Walter Matthau wasn't on the screen, he was often seen in sports betting circles and the odd casino.
A New York Times article from 1971 reported that Walter Matthau was a compulsive gambler. He could certainly afford to be, but some of his bets were on the outlandish side.
While filming in Florida, Matthau dropped $183,000 betting on spring training baseball games. Regardless of what that amount of money equals today, it is a huge amount of cash to be betting on something as random as spring training games.
Matthau would also make bets on trivia with his friends, like betting whether they could name the capital of Albania. He liked sports betting the most, but he said he could never pass a craps table in a casino without throwing the dice a few times.
"I think that off-track betting is great for New York," Matthau told the Times. "I mean, it's so democratic – if they keep up off-track betting long enough, everybody in town will be on welfare."
Charlie Sheen
When the "Two and A Half Men" television show actor wasn't on screen, he was on drugs. Lots and lots of drugs. And alcohol, prostitution, and serious gambling. While most people accept that hookers and blow are par for the Hollywood course, Charlie Sheen took excess to whole new levels.
Sheen's ex-wife, Denise Richards, reported that Charlie spent hundreds of thousands of dollars gambling in a single week. His compulsive gambling became another one of his vices, and he was trying them all.
Charlie Sheen was fired from his television series, and he considered his downward spiral. Eventually, he started his own online gambling website. We're not sure, but it was probably called 'Winning!'
It's ok to have a vice, Charlie. You just can't have ALL of them.
Matt Damon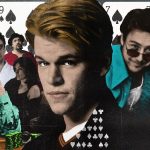 If life imitates art, Matt Damon is a gambling artist. His impressive cinematic career includes gambling-based films like the cult film Rounders (1998) and the Ocean's 11 series.
While honing his poker skills to play a proficient gambler in Rounders, Damon developed a keen interest in playing poker in real life. Soon, he was seen in high-stakes poker rooms and tournaments.
Damon also enjoys playing private games out of the limelight, and he keeps everything low key. Unlike some of the gamblers on this list, Matt Damon was not rowdy and did not disrespect anyone.
His down-to-earth screen persona matches his mellow demeanor off screen. He enjoys a good poker match but wouldn't be considered a gambling addict by any means.
Pamela Anderson
The famed "Baywatch" actress Pamela Anderson let gambling take her a bit too far. During an interview with Ellen Degeneres, Anderson told her that she gambled to the point of huge debts.
In one bout of poker playing, Anderson ended up down $250,000. Her male opponent said he would forgive her debt if he made out with him. And it didn't stop there. In the process of 'paying her debt' she claimed she fell in love and got married.
In Pamela's case, gambling took her to the poorhouse and all the way down the isle to the marriage altar. Hopefully, she got something in the divorce.
Tobey Maguire
Tobey Maguire plays nice guys and superheroes on screen. But off screen, this Hollywood legend has a bad reputation as a gambler. He is famous for losing his temper, being rude to his opponents and casino staff, and generally being a poor sport.
Maguire settled a lawsuit after being involved in an illegal high-stakes poker game. And he wasn't a good sport during those games, according to the game organizers. Maguire reportedly told game organizer Molly Bloom to 'bark like a seal' to receive a tip.
Molly Bloom is an Olympic-class skier who ran a series of high-stakes poker games, which led her to become an FBI target.
Tobey Maguire has stayed out of the public eye since his early gambling scandals, but it remains unknown whether he plays private poker games.
Ben Affleck
No list of notorious Hollywood gamblers would be complete without a nod to Ben Affleck, another bad boy of betting. Ben sticks to blackjack, and apparently likes to count the cards as well.
Card counting isn't technically illegal if you don't use any electronic devices, but it is definitely frowned upon by casinos. By memorizing blackjack odds charts and assigning positive and negative values to each card dealt, a player can effectively 'count the cards' and lower the house edge. After being kicked out of the Hard Rock Casino in Las Vegas for counting cards, Affleck was labeled as a card counter. He claims that he wasn't counting cards, he just happens to be very good at blackjack.
He has also said he has a gambling problem. Several casinos have banned him since Hard Rock, so we may have to agree with Ben's self-diagnosis.
Ray Romano
The star of the sitcom "Everybody Loves Raymond" also loves gambling a bit too much. According to Ray Romano, he had a personal struggle with compulsive gambling, which he called "a little gambling thing."
The Italian American New Yorker was best known for his successful television sitcom, but he also spent his entire youth on the stand-up comedy circuit.
After nine seasons of "Everybody Loves Raymond," Romano hung up his comedic spurs for a spell to dip into his darker side. The idea for a new dramatic series called "Men of a Certain Age" was born. The story tackles the mid-life crises of three middle-aged men who chat over diner food.
Romano decided to give his tv character "a little gambling thing" based on his own experiences rolling the dice and shuffling the cards. The fact that Romano had issues with compulsive gambling gave his tv character more depth – and a darker side.
That's a Wrap
There you have it: the most notorious gamblers in Hollywood. These avid gamblers achieved legendary status due to their over-the-top haunting of casinos and sports bookies in their spare time.
Sometimes, too much money and too much time can lead down the road to ruin, especially when gambling too much. Or maybe famous people need to duplicate their 'reel life' thrills in real life.
There is also the possibility that celebs seek out high-stakes poker rooms and exclusive gambling action to get them away from the crowd. Perhaps the exclusive private poker rooms allow them to take a break from signing autographs and posing for fan selfies.
Disclaimer: All images are copyright of their respective owners and are used by USA Online Casino for informational purposes only.