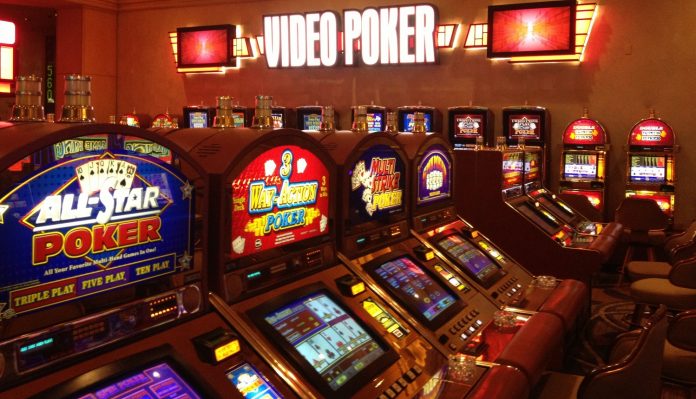 Video poker is rapidly becoming one of the most popular games at online casinos. But, how can you maximize your chances of winning? Unlike some of the other table games, video poker is a game of skill, and there are several strategies you can employ to be more successful. If you want to know how to win at video poker, here are some top tips to boost your bankroll and help you to scoop the jackpot.

The Difference Between Poker and Video Poker
If you're used to playing regular poker with other people, you might find it slightly challenging to adjust to the subtle differences of video poker. The important thing to remember when you play video poker is the game feels different – it's no longer about psychology; it's about hard numbers.
For anyone who is used to playing against other people, it can be a steep learning curve to play against a machine. Machines don't have a tell. While a traditional poker game is just as much about the players as the cards themselves, in video poker, there are mathematics and probabilities to consider.
In a game of "real" poker, you are trying to beat the other players. However, in video poker, that element is taken away, and all you must achieve is a hand that will earn you a payout. It's this basic element that causes many novice video poker players to make mistakes as they try to earn a high score. In fact, there is no shame in winning with a low score in video poker – all you need to do is get that winning hand!
Choose the Right Game
The first step to winning at video poker is to choose the right game. Each game has a different rate of return, and you need to pick the one that gives you the best chance of winning a higher amount of your money back. What you're looking for is a 9/6 Jacks or better paytable.
Always Use Five Coins
Video poker machines allow you to play with five coins to optimize your chances of success. Always use the max bet because not only will you increase the amount you could win, you could also receive a bonus if you get a Royal Flush and have used the maximum wager amount. If you don't have enough money to play with five coins at once, use a lower-denomination machine.
Join the Loyalty Club
Register for a loyalty scheme card and always use it when you play. This will give you the opportunity to take advantage of exclusive promotions that will help you maximize your bankroll. As well as special offers, you'll also earn points every time you play that you can exchange for cash. As you rise through the different status levels of the player's club, you'll also be able to earn more points with each game.
Only Play One or Two Game Types
The various video poker games all use different strategies, and it's difficult to remember them all. Therefore, the best idea is to choose your favorite games and familiarize yourself thoroughly with those strategies well.
Use This Strategy List
A strategy list is a cheat sheet listing the various ways you can win at video poker listed in ranking from best to worst hands. This will help you to decide which cards you need to keep and which you should exchange. This list is only for use in a 9/6 Jacks or Better game:
Full House (or better)
4 to a Royal Flush
Straight three of a kind/flush
4 to a Straight Flush
Two pairs
High pairs
3 to a Royal Flush
4 to a Flush
Low pairs
4 to an outside straight
Two suited face cards
3 to a straight flush
Two unsuited face cards
Suited 10/Jack, 10/Queen or 10/King
One face card
Discard your whole hand
Know the Chances of Winning
While you're playing, remember the following:
The chance of a Royal Flush is around 1:40,000.
Four of a kind happens around once per hour, with a probability of 24 percent.
If you have four cards and discard one, there is a fair chance of receiving one of the same value.
Understand Average Losses
Having realistic expectations is important when playing video poker. You can determine your average losses by multiplying the house end by the wager size by the number of rounds each hour.
Play Demo Games First
Before you start gambling with your money, try practicing with demo games first to familiarize yourself with the strategies. There are software programs you can use to warn you about strategic errors that will help you to hone your skills.
What to Avoid When Playing Video Poker
Video poker can be a lucrative casino choice, However, if you make any of the following errors, you could find that you lose out in the long run. Here are some mistakes to avoid.
Not playing five coins – as has been already stated, the five-coin payout is larger proportionally than the payouts for a smaller bet. Therefore, always bet the max.
Not joining the player club – never make this simple mistake. You'll receive cash back for playing video poker based on the amount you put through the machine. This means you could get cash back up to 1.25 percent, and, as a bonus, the slot club will be free to join. So, why miss out?
Choosing the wrong game – make sure you aren't choosing a lower-paying machine by calculating the expected return before you gamble.
Using the wrong strategy – making even a small mistake in your playing strategy can cause you to lose at least 5 percent from the max return. Always keep your cheat sheet handy.
Failing to bankroll properly – both newcomers and seasoned players make the mistake of playing with too small a bankroll. Make sure you don't start to gamble until you have a bankroll that is at least equal to three royal flushes.
Following hunches – it can be very tempting to follow your heart and not your head, but poker is about numbers and not hunches.
Losing your focus – don't be tempted to play a different video poker game just because it looks cool and flashy. Stick to your strategy or you'll risk failure. Never play a high stake to impress someone else and never play video poker while you've been drinking. You'll never be able to focus properly on the numbers.
Stopping too early – while you won't lose money if you stop playing early, you'll be missing out on winnings you could've made. If you find a great promotion, make sure you take advantage of it since the casino will pull it as soon as it can. If you have the edge, continue playing.
Taking shots at machines out of your bankroll – Everyone occasionally tries a video poker game that is slightly higher than his or her bankroll amount if there is an excellent promotion. However, if you do this too often, you're going to lose and potentially lose big.
Failing to practice – players who jump straight into wagering on video poker without having practiced first are headed to failure. You need to take advantage of the many online tools that are available to guarantee you're honing your strategies and learning as much as possible about the game before you bet. There are pay-table analyzers, calculators, and strategy programs available online that will help you become more consistent, and most casinos offer free demo accounts, so you can familiarize yourself even further with the software.