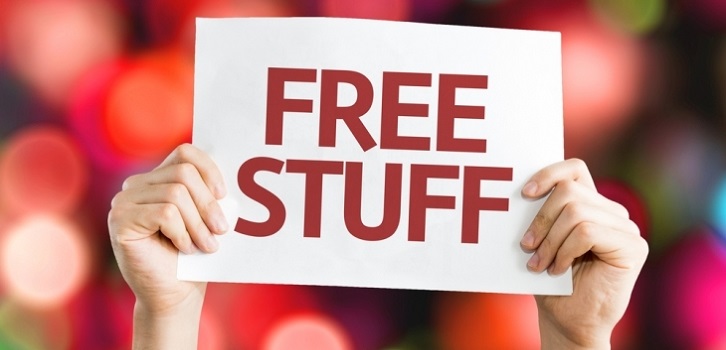 There are lots of expenses in your life each day. You have to shuck out money for gas, food, housing, clothing on a daily basis. People are always looking for ways to get something for free. And why wouldn't they? Finding freebies allows people to save their money—which means they might be able to afford something they really want, such as vacations, early retirement or a large shopping spree. If you want to start saving money, we have some suggestions for you. Keep reading to find out ways to save money by getting free stuff.
Look for Free Stuff in Your Community
There are lots of sites that allow you to check local neighbors in your area who advertise stuff they are giving away. People have scored baby and children's clothing, toys, adult clothing and shoes, furniture, even large items like cars and jewelry—for free. If you are not concerned about the items being used, check out some of these great sites. Craigslist, LetGo, OfferUp and Facebook groups are only some of the places you can go to get great items that you might really love—for nothing.
Get Some Samples
You can get free samples from your local grocery store when you shop during the week. Take advantage of free samples while you shop. Sometimes, those initial free samples come with extra samples for you to take home, so you might want to ask.  You can also get free samples online from large corporations such as Johnson & Johnson, Procter & Gamble and Unilever. These companies will send freebies to you in exchange for reviews of their products. Amazon Prime members are also able to get sample boxes in a ton of categories, review products, and get reimbursed in Amazon credits they can use as money at Amazon.
Loyalty Programs
Lots of local restaurants and businesses have loyalty programs. For example, a local coffee maker has a loyalty card. Every time you buy a coffee, they stamp your card. After 10 coffees, you get a coffee for free. If you join loyalty programs, you may also get freebies and special discounts on your birthday as well. Other freebies from businesses include free gift cards and free merchandise.
Online Surveys with Free Rewards
Many companies offer free rewards if you answer free surveys for them. While most of the survey companies don't offer free stuff, there are lots of companies who will pay you in merchandise or gift cards to rate their products.
Think About That Rewards Credit Card
If you have a rewards credit card, you can redeem those points you've been saving. Depending on the card you have, you can redeem your points you have earned for miles or cash. If you are a business traveler, you may be able to get many points to get hotel flights, hotels, and rental cars. Your card may also allow you to get checked bags free, as well as flight insurance, and airport lounge access. You can also get your cash points in the form of a check or as a credit on your credit card bill.
Freebie Apps
There are apps for freebies as well. Dozens of freebie apps put the savings at your fingertips. For example, some apps will send you points for store visits, viewing new products online and making purchases online as well. Some apps will send you gift cards to reward you for shopping at your favorite stores. In addition, apps from stores will get you freebies from their buy one-get one free program. Many grocery stores give away one freebie a day for their customers. In the course of a year, you could potentially pick up over 300 freebies from your grocery stores in a year.
Free Trials
Companies who want you to buy something are willing to let you sign up for a free trial to try their products, usually for 30 days. There are free trials for a variety of things for meals, coffee and even free TVs or music streaming. Be sure if you are going to do a free trial, you cancel the free trial before you get charged for it.
Get Paid to Watch Videos
Companies will also pay you to play video games, watch promotional videos, take surveys, and download professional apps to try out and rate. You earn points as you play, and you can then redeem them for gift cards you can use. These companies are looking for honest reviews, so the better your review is, the more comprehensive it is, the better your reward will be.
Goodie Boxes
Goodie Boxes such as Daily Goodie Box allow you to get a free box of different kinds of freebies, such as food, health and personal care products, and even products for your dog. Some companies send out a goodie box every month in exchange for your product rating. Usually, these freebies are not sampling size, but close to the size of the real item, you might buy in a store. Be wary though if you are asked to give out your credit card information—most of the good freebie box companies don't ask for a credit card.
Websites that Spread the Word About Freebies
Several websites not only share information on their websites, but they also have freebies on their websites. If you visit free sites, such as Free Stuff Times, and you stay there for a second, a popup appears to offer you free samples. The site also has a space for you to share what you have learned about the product, and whether you like it or not.
Other websites that are informational in nature, ask for your basic information, then fill out surveys for they can figure out which types of products you use daily. You receive freebies in the mail, and rate them on social media and other sites. In some cases, the freebies are small, and basic. However, some members have reported they received great products to rate—for nothing. Who can beat that?
Free Sample Websites
There are several websites you can use to grab some freebies for yourself. Free Samples allows you to go online and grab freebies for everything from cleaning products and coffee samples to free dog food samples. In addition, the website has coupons for free drinks at chain restaurants, grocery store items and even coupons for online stores as well.
Two other freebie sites send you free stuff. One, Freefly organizes their free samples by type, so it is easy to find the stuff you might want to send to your home. The site also has coupons and places to enter sweepstakes to score even more cash. You can sign up via email, but the site doesn't require you to.
Free Stuff has a large number of freebies on their site as well. Consumers like this website because they are notified up front if the company has strings attached to the freebies. The site sorts stuff based on what the products are used for, as well as freebies sorted by the holidays, which makes the site easy to navigate.
With a little ingenuity and record keeping, you can be scoring freebies from all over the place, and greatly reduce your grocery bill, which leaves more time for doing all of those things you love to do, but don't have the money for. You'll be saving so much money—you can take a trip to Vegas.
Disclaimer: All images are copyright to their respective owners and are used by USA Online Casino for informational purposes only.