Clark County, Nevada, where Las Vegas is, handles more applications for marriage licenses than any other county in the country. Which begs the questions, what is so great about getting married in Vegas and how exactly is it done? The fact that the courthouse hours are 8 a.m. until midnight seven days a week probably helps. It is easy to get married here. Couples do not have to wait for a license like in other states and the cost of that license is less than 80 bucks. Some chapels will even provide transportation to the courthouse and back, so you can expeditiously get your paperwork, which is great if you've had too many margaritas at lunch before popping the question. A local Denny's restaurant will even chip in a free Grand Slam breakfast if you're tying the knot after tying one on late at night.

High- and Low-Profile Weddings in Vegas
Some Vegas marriages didn't last, with the record probably going to Jason Alexander and Britney Spears. Their union lasted only 55 hours. Going back a few decades, Frank Sinatra's marriage to Mia Farrow lasted two years. But, getting wed in Sin City does not necessarily mean the union will not be long-lasting. Think about Paul Newman and Joanne Woodward, who were married until Newman died 50 years later. Dorothea Hurley and Jon Bon Jovi got married 27 years ago in Las Vegas and are still married. And, the list goes on.
There are all kinds of chapels that encourage amorous commitment here, too, so don't be discouraged. You'll find the perfect place for your ceremony, and they range from campy, outrageous fun to the seriously opulent. There is an event center that specializes in beautiful, traditional weddings that rivals any fine venue that one would find in any major city. Regardless of the type of chapel you choose, you will find most of them in the downtown area, close to all the action.
Spur-of-The-Moment Weddings
Hey, some people decide they are in love and want to get married on the spot. That's no problem in Las Vegas! City officials make it a snap to get married here, so if you so desire, you can get hitched in the same wedding chapel as your favorite sports or movie star. Signs that proclaim: "Michael Jordan Was Married Here," or something similar, are very common. Quickie weddings are so common, there is even a drive-through wedding window that operates 24/7. We are not kidding. They also offer an option, so you can get married under a fake star-studded sky littered with inspirational quotes written on it while sitting in a pink Cadillac, no less.
If that does not strike your fancy, other options include getting married in the Fast Lane, which is a window where the couple can either drive through or walk to a window that looks like a restaurant take-out window and get married for only $199. Pawn shops are big in Sin City and you can even get married next to one that is featured on television. The city is infamous for Elvis Presley impersonators and you can get one to perform at your wedding or even officiate your ceremony. This is the home of the Graceland Wedding Chapel, where as many as five Elvis impersonators await your arrival. In the "Viva Las Vegas" package, an Elvis Presley lookalike will serve as an escort and march the bride down the aisle. Elvis fans can also opt for the Famous Dueling Elvis Package. It features a lookalike that appears as Elvis did in the early days, dressed in a jumpsuit reminiscent of the period with plenty of gold accessories. If you want to book ahead of time, restaurant reservation site Open Table lets you book a ceremony 24 hours in advance, much like booking a reservation at your favorite restaurant.
If this kind of unconventional wedding is not your cup of tea, you can choose something equally unique but perhaps more tasteful. Have you ever dreamed of getting married while in a small aircraft flying over the Grand Canyon? Arrangements can be made in Vegas. Or maybe an extravagant affair with lots of exotic Hawaiian flowers in a real garden is more your style. You can do that at the Hilton Garden Inn in Las Vegas.
For people who want over-the-top elegance, the International Peace Education Center, known as IPEC, is available on short notice. The planners can get your wedding organized in a 48-hour time frame. That may not seem like a long time, but it seems like an eternity compared with some Las Vegas weddings. To be serious, IPEC can host a sophisticated affair in its elegant ballroom that measures a full 10,000 square feet. This venue features plenty of marble, fine art, and other distinctive features, such as special grand staircases where the bride can make her entrance. Coming with a crowd? No problem. IPEC has nearly almost 50 rooms that can be rented.
Fashion for The Bride and Groom
When you're thinking about how in the world you're going to get married in Vegas on such short notice, thoughts of securing a wedding dress and tuxedo can add to your woes. But, lest you forget, let me remind you. You are in the wedding capital and everything you need will be pretty much available.
Tuxedos and dresses are on offer at some of the chapels if you are in a real hurry. Otherwise, there are places that rent both, such as Renta Dress and Tux. This establishment's claim to fame is that it will have you dressed and ready to walk down the aisle in less than an hour! If you have more time to browse and would like something that you can keep until the next day, the Cosmopolitan has a huge selection of dresses from well-known fashion designers for rent.
Of course, the ring is something a couple will cherish forever. Las Vegas has fine jewelers, such as Tiffany's, that can accommodate any high roller who wants to profess his or her love to a potential life partner. There are many other jewelry stores, too, with eager staff members who will assist you in finding the perfect ring on any budget, no matter how much time you have to shop.
The Finer Side of Vegas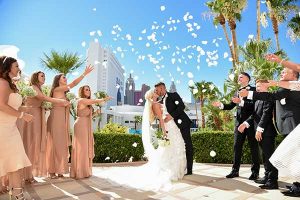 Not everyone loves the idea of booking an Elvis impersonator for his or her wedding. And, for them, Las Vegas has a treasure trove of unique and beautiful venues to choose from. Wedding planners in Las Vegas are very experienced in catering to wealthy clientele, so you will find it easy to find a high-quality planner. More elaborate weddings require more planning, of course. Sometimes you will have to reserve the venue up to one year ahead of time. A five-day package at the upscale Wynn includes wedding bands from Cartier (custom-made, of course), a reception overlooking the lovely golf course and the use of an exquisite ballroom for the after-party.
The infamous Four Seasons boasts a grand staircase where many famous people have stopped to pose for their wedding photos. Whether you imagine yourself there or standing next to a wannabe Elvis, there is no place for a wedding like Las Vegas!
Disclaimer: All images are copyright to their respective owners and are used by USA Online Casino for informational purposes only.