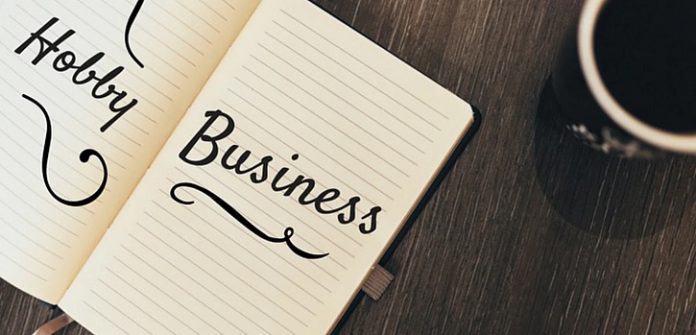 Many people have hobbies that they enjoy doing in order to pass the time. Estimates of people in the United States who have a hobby stand at about 65% of people. This figure is even higher when people who play video games are counted. The most popular hobby in the United States is attending cultural events, such as concerts or arts shows, at 12% of the population. Golf is a close second at 11%. Hunting and jewelry making come in third and fourth at around 8% of the population.
Maybe your hobby is not listed among these hobbies. However, that does not mean that your hobby cannot pay off for you in the end. Many people dream about making their hobby into a full-time business. This would allow people to do what they love all day long and are paid for it. While you can dream all day about quitting your day job and diving full force into your hobby, it is not so easy. You will need to make a plan and follow through with that plan in order to be successful. Without a plan, your hobby will remain just a hobby. Not sure where to start? Keep reading for tips to turn your hobby into a full-time business.
Know What You Want Before You Start
Do you know what you want out of your business? Are you looking to use your hobby as your full-time job because you feel welded to a chair and a desk? Do you feel your job is soul sucking, and you want out as quickly as possible? If so, you will want a different plan for your business than someone who just wants to make some extra cash for expenses or to have more free time. If you want to work your hobby as a full-time job, you may have to work your new business much harder than you work at your current job. Be sure you are prepared to do that.
Also, spend some time thinking about ways to extend into other areas of your hobby that you did not think about previously. For example, if you love to do needlework, you could see your needlework online. You could also sell needlework patterns, so that other needle workers can use the pattern to create your own designs. You also might want to think about opening a needlework shop to sell needlework supplies. Other people might enjoy taking specific needlework classes from you as well, such as cross stitch, needlepoint, or crewel.
Will You Still Enjoy It? And, How Good Are You?
Before you can open a business that is related to your hobby, you will need to think about your future. Are you still going to enjoy the hobby that you love when you have to make sales decisions and meet goals or deadlines? Will you love it as much if you have to deal with angry or overly demanding customers? Are you willing to work your hobby every day, day in and day out—even if you might not feel like it? Finally, can you manage your business' marketing and financial information? You will need to be able to do all of these things before you can make your hobby your job.
In addition, you need to make sure that you are good at your hobby. While this sounds silly, it is grounded in reality. Your relatives may act thrilled to receive your hand-knitted scarf, but they may throw it in the garbage as soon as you leave their house. Take your work to someone who does not know and let him or her analyze your product. If they say that, your work is top-notch, that is great, and you can continue your plans. However, if they say your work is sub-par, you will need to figure out how to make yourself better before you embark on your business venture.
Time to Write a Plan Forward
Not only do you need to make a plan for your hobby, but also you will need to have a business plan. A business plan needs to lay out your mission and vision for your company. What do you want to achieve with your business? You will need to set some goals for your company. These goals should be specific to your business. Goals should be able to be measured. For example, if you want to see your company gain 10 new customers a month, that goal is easy to measure. Make sure that your goals you set for a business can be achieved. If you make goals that are not achievable, you will get discouraged. Give your goals a time, so that you can measure whether or not your goal has been achieved.
Business plans are used for a variety of things. Many businesses use business plans to sell their company to customers as well as financial institutions to get business financing. Business plans can act as the framework for your business.
Marketing Your Business
If you want your business to get off the ground, you need to learn to market your business. This means that you need to be able to learn about small business marketing to help your business find and retain customers. You will need to do a lot of research on your customer base, and what your customers want in your business. You will need to create a social media presence on Twitter, Facebook, and Instagram. Depending on your hobby, you may want to create a blog to increase exposure to what you do and attract customers to your website. You will also need to create a website where customers can go to buy products from you. Customers could also visit your website for more information. You can also make business connections in your community by making contact with clubs and organizations in the community, and talking with other business leaders.
Along with marketing, you need to make some decisions about your brand. What does your company brand look like? If you are able to create a strong brand, customers will be able to recognize it, and they will respond to it when they see it. This means that you will need to make sure your business name and logo is eye-catching. The font should keep in mind the type of hobby you have, and try to make customers remember your logo once they have left your store or website. Your logo should reflect your business and your vision. 1074
Financially Speaking
Before you jump off the cliff and into your own business venture, you will need to make sure that your personal finances are in order first. This means reviewing your credit history and looking for ways to make your credit scores has high as possible. When your personal finances are in order, it will be easier to get credit for your business down the road.
In addition, there are forms you will need to fill out to get your business registered with the government. Businesses in most states cannot operate without a business license and articles of incorporation, if necessary. You will also want to create business accounts at your bank for your business. This is important, as it will keep your business and personal finances separate. You may also want to look at accounting software to get your business up and running.
Disclaimer: All images are copyright to their respective owners and are used by USA Online Casino for informational purposes only.