Craps is a popular choice at any casino, whether it is online or one of brick-and-mortar. However, finding a strategy that helps you to win at craps as often as possible is key to maximizing your winnings and making your gameplay a lot more fun. Although there isn't any single strategy that can guarantee you a win each and every time you join the table, there are many helpful tips that can make sure you win as often as possible. Although craps may seem like a very simple game, it, in fact, can be surprisingly sophisticated. And, unless you adopt the correct strategy, you won't be giving yourself the best chance of beating the house. The key to success at the craps table is learning which bets are possible and which ones should be avoided. The only way to do this is to be aware of the house edge, which is connected to every bet in the game. Here, we look at some of the top strategies that you can employ to help you learn to play like a pro and to increase your bankroll.

The Best Chance of A Win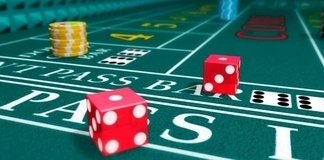 To maximize your chances of winning every time, you should pick the Come/Don't Come or Pass/Don't Pass bets. Any of these four options cut the advantage of the house down to 1.40 percent, and this is as good as it gets in craps. You can also then reduce the house advantage still further by combining one of these four bets with taking or laying odds. Of course, opting for one of these four options every single time you play would be extremely dull, so next, we'll look at some other betting options.
Which Other Bets Are Worth It?
Apart from the four bets already mentioned, there are another four types of bet in craps that will also give you decent odds of being a winner. These are:
• Field 12
• Field 2
• Place 8
• Place 6
Altogether, the eight bets mentioned above are the only ones that are worth wagering on since every other bet comes with a considerably greater house edge and much worse conditions. Take, for example, the Hard-Way 10 or Hard-Way 4 bets – these have a house edge as high as 11 percent. It would be pointless to choose either of these instead of a more favorable bet.
What Do You Need to Know About Come And Pass Bets?
As mentioned above, the Come/Don't Come and Pass/Don't Pass bets represent the best choice when wagering on a game of craps. A Pass bet is most popular because of its low house edge of just 1.41 percent. This low advantage means that the player always wins unless a 2, 3, 2 or 7 was hit after the point by the shooter. The next most popular option is a Come bet. This allows the player to win each time the shooter or player hits an 11 or 7 after making the bet. A Come bet can only be lost if the shooter or player hits a 2, 3, or 12.
What About the Don't Come and Don't Pass Bets?
For punters who would rather be a Wrong Way Bettor, you can play against other players and profit if they are losing. You should opt for a Don't Come wager after the establishment of a point because this will allow you to win if a 2 or 3 is hit following the point. If the 12 is rolled, you will tie. Don't Come bets have a 1.41 percent house advantage and pay even money.
Consider Your Bankroll
Not only do you need to consider which bet you are going to place, you also need to bear your bankroll in mind when you're determining how to win at craps. Knowing the amount of expendable bankroll you have will inform your wagers, and, as a rule of thumb, any player with a limited bankroll should limit the amount that is pressed on the lay or placed odds. Otherwise, you could well end up being out of pocket after just one poor roll.
For players who have a large bankroll at their disposal, it is worth taking advantage of the game's best bet and pressing the table's maximum permitted amount. Since every table has its own limits and rules, it's important to check these out before playing. However, in general, if you want to enjoy more gameplay action, steer clear of prop bets. Lay and Play are the best choices all around. You should always quit while you're winning. Of course, that doesn't necessarily mean that you ought to leave the game the minute you win. However, once your hot streak has ended, you should take some time out. Cash out your wins and leave the game. Carrying on playing puts your profits at risk, which is never a good idea.
An Alternative Strategy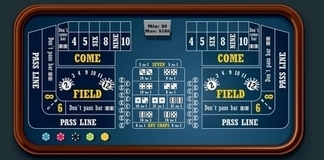 Although many people say that they have a strategy that will enable them to win at craps using some complicated technique, these complex strategies have not been proven to work. There is one simple strategy, however, that can simplify gameplay and help punters to play in a calmer and collected way. It is known as the "Five Count" method. Although the "Five Count" method allows players to minimize their losses when playing craps, it is important to note that the house edge on all bets remains identical.
The point of the "Five Count" method is to prevent the player from losing any money on a bad shooter who sevens out instantly. Instead, it allows players to cash in on best shooters by counting up to five points before beginning to wager. Counting works as follows:
• Count 0 – This is the shooter's first dice roll – the "come out" roll.
• Count 1 – Until the shooter has rolled a point number of 10, 9, 8, 6, 5 or 4, the count stays at 0. Once the point number has been rolled, the count then goes up to 1. If the shooter rolls a 12, 11, 7, 3 or 2, the count stays at 0.
• Counts 2 to 4 – Players count one point for each dice roll following the establishment of the point number until reaching 4, regardless of which number is rolled.
• Count 5 – Once the player reaches count 4, a shooter has to roll the dice and get a point number (10, 9, 8, 6, 5 or 4) one further time for the fifth point to be added. If any of the other numbers are rolled, you stay at 4.
Once you have counted five points, placing a bet becomes possible. Choose either a Come or Pass bet or a Don't Come or Don't Pass bet and avoid all prop bets for the best chance of winning.
Follow these helpful tips, and you're sure to find that you have the best possible chance of maximizing your wins when you next play craps. As long as you stick to one of the four bets with the lowest house edge and make sure to quit while you're winning, you're most likely to walk away from the table with more money than you brought to it.
You might like:
Online Craps Guide
How to Pick the Best Craps System