In recent years, poker has become the most popular game at both real-world and online casinos. However, there are still plenty of other table games to choose from, many of which are equally exciting as poker. Three-card rummy is one such game. Still popular with millions of players worldwide, three-card rummy offers an interesting game playing experience together with good odds for punters.

The Basics of Gameplay
The rummy card game has several versions; however, three-card rummy is one of the easiest to understand and to get to grips with. Played with a classic card deck of 52 cards, all the cards in the deck have been assigned a points value. Luckily, the card values are simple to remember: Aces are valued at 1 point, all numbered cards have a value equal to their own number, and all the face cards have a value of 10 points. You can win the game by having a lower total of points than the dealer.
Placing the Ante Bet
At the start of every hand, the player makes his or her ante bet. There is also another option, which is to place an additional bonus side bet. Both the dealer and the player are dealt a hand, which contains three cards (as you might expect). The hand of the dealer will be placed face down. However, the player will be able to see his or her hand.
Adding Up the Score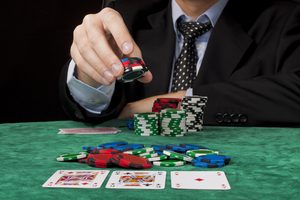 Players can work out the total score of the cards in their hand simply by adding the points value total of the three cards they have been dealt. There are, however, ways that the total score of the hand could be reduced. For example, if you have three cards of a kind (for example, three Kings) or any pairs in your hand, these will add up to zero points. Any runs of a minimum of two consecutive cards also count as zero points if they are in the same suit. For example, if your hand contains two Jacks and an Ace, your hand's value will be just one point. The Ace will have a value of just one and the Jacks are worth a total of zero points since they are a matching pair. A hand that contains three cards with the same value, or three consecutive cards in the same suit, has a value of zero points.
Raising or Folding
Once the player has received his or her hand and has added up its value, he or she can then decide whether he or she wants to raise or fold. Should the player decide to raise his or her bet, he or she must then make another bet that is equal to the ante's size. Should the player decide to fold, the ante bet will be forfeited, and the hand will immediately end.
Should the player decide to raise his or her bet, the hand will then be compared with the hand of the dealer. If the dealer's hand has a value of 20 points or under, it will qualify for the round. If the dealer's hand has a value of more than 20 points, the player will immediately win the hand, receiving even money on his or her ante bet, with the raised bet pushing. Should the dealer's hand qualify, if the player has a hand with a lower value than the dealer, he or she will receive even money on the ante bet. If the values of both the player and the dealer's card tie, they will push. The raise bet will also pay out against any dealer hand that qualifies and has a higher total value than that of the player. However, the odds paid out will differ depending on the strength of the player's hand.
The Classic Payout Table For Three-Card Rummy
The standard table for payouts for Three-Card Rummy is as follows:
• 0 points pays out at 4-1.
• Between 1 and 5 points pay out at 2-1.
• 6 points or over pay out at 1-1.
If a player has made a bonus bet, his or her bonus bet will also pay out should he or she have a hand that has a value of 12 points or under.
These are the payouts for bonus bets:
• A consecutive Ace, 2 and 3 in the same suit pays out at 100-1.
• A hand with a value of 0 points pays out at 24-1.
• A hand with a value of 1- 6 points pays out at 2-1.
• A hand with a value of 7- 10 points pays out at 1-1.
• A hand with a value of 11- 12 points pays out at 4-1.
A Basic Gameplay Strategy For Three-Card Rummy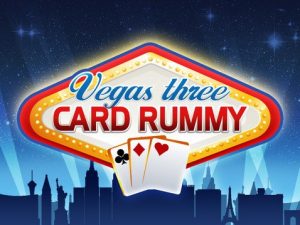 If you are wondering how to play three-card rummy in the best possible way, the good news is that the player strategy is simple for this game. It is a lot less complex to achieve a good result when playing three-card rummy than when playing a complicated card game, such as poker, and there are some simple rules to follow that will ensure you maximize your chances of success.
Put simply, you should follow the dealer's example. If your hand has a total value of 20 points or under, raise your hand, However, if you have a total value of 21 or more points, fold your hand. If you use this strategy, you will find the casino's house edge will be only around 3.23 percent on your ante bet, which is pretty good odds.
Of course, you will still need to decide whether to play a bonus bet. There is no definitive answer to this question, and it may come down to your own personal preferences since there is not much difference between the main game and the bonus bet. One point to bear in mind is that the house edge of a bonus bet is around 3.46 percent, and, therefore, if you'd like to have a chance at hitting an enormous payout, playing the bonus bet is a good idea.
Why Play Three-Card Rummy?
Three-Card Rummy is a good choice of table game for anyone who is looking for ease and simplicity paired with reasonable player odds. Simple to understand, it offers something unusual for players who already enjoy Three-Card Poker, and its playing style is also similar. Although players are required to make some decisions during the game, there is no complexity involved in the strategy, so they can fully relax and enjoy their gameplay without any stress. Even if you find that Three-Card Rummy isn't your favorite game of all time, it still makes a pleasant change from the other more popular offerings from time to time.
Playing Online
You can find games of Three-Card Rummy in both brick-and-mortar casinos and online providers. If you like the idea of trying your hand at this game, it is easy to access and simple to enjoy. Why not give it a go today – you might find that you scoop some great winnings!
Disclaimer: All images are copyright to their respective owners and are used by USA Online Casino for informational purposes only.