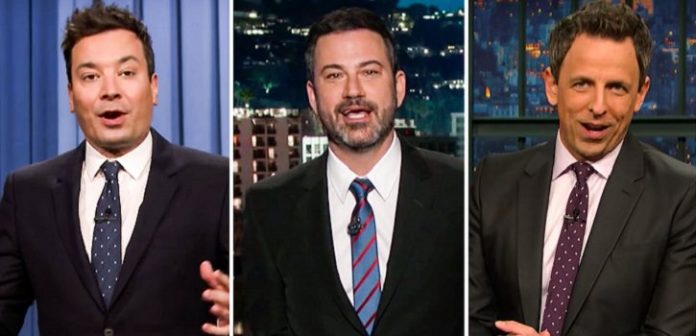 Late night TV is constantly undergoing changes. Several comedians have taken on hosting duties from some of TV's most entertaining shows. Despite the changes, it's clear that talk shows are here to stay. There is no shortage of comedians who can make these talk shows popular. Which comedians are among the best? This list can provide some insight.
Jimmy Fallon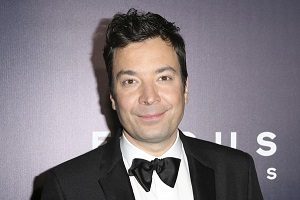 Comedian and actor Jimmy Fallon is the current host of The Tonight Show. He graduated to this hosting position when he took over for Jay Leno. Fallon was previously the host of his own late-night show (the time slot is currently occupied by Seth Meyers). When Jimmy Fallon initially became the new host of The Tonight Show, he was significantly more popular. People were excited to see him take Leno's post and were drawn to his youthful energy.
Since Fallon's introduction into late night TV, he's gotten some competition. Hosts like Stephen Colbert, who took David Letterman's place, is also a favorite among late night viewers. Fallon, an SNL alum, has also gotten criticism for not being political enough on his show. Critics have also stated that he wasn't harsh enough on President Trump. Some criticized him for having President Barack and Michelle Obama as show guests. It's clear that Jimmy Fallon still has a loyal following, but he isn't quite as popular as he was a few years ago.
Samantha Bee
Samantha Bee was previously a correspondent on The Daily Show. She worked on the show longer than any other correspondent. In 2015, she started her own show, Full Frontal with Samantha Bee, after 12 years at The Daily Show. Bee is known for her brash humor, and TBS was happy to make her part of the network. It is projected that Bee will become more popular as her show delivers fresh content. Many of the clips from the show have gone viral and she's gotten lots of critical acclaim. There are a few critics out there who are skeptical about her going the distance, but she doesn't seem to be affected.
Jimmy Kimmel
Jimmy Kimmel's late night show, Jimmy Kimmel Live!, has been on ABC since 2003. He also had a pretty impressive run on The Man Show before getting his late-night gig. Kimmel is one of television's most respected comedians, but he's brought attention to important social issues as well. He's been invited to host the Emmys twice and hosted the 2017 Academy Awards. While Kimmel has definitely proven himself in Hollywood, some feel that his jokes can be "hit or miss," at times. His viral clips often get more attention than his actual show. However, Kimmel does book many guests fans want to see. Many of these guests have also helped him raise money for charitable causes. He's received Emmy and Oscar nominations and has even collaborated with other comedians and celebrities to create hilarious content.
Conan O'Brien
Conon O'Brien is the host of TBS's late night talk show, Conan. He's a lovable guy who is known for his outlandish physical humor and bright red hair. There was also some controversy concerning his exit from The Tonight Show. This led to a huge disagreement between O'Brien and NBC. Many viewers still associate this incident with O'Brien, even though he's obviously moved on professionally. Some Conan fans even argue that the comedian could have made more of a name for himself on The Tonight Show, if he had more time. Now that O'Brien is on cable, he's able to exhibit more creative freedom. He's also held on to his loyal fan base for the most part, and gained new viewers. The show has slightly above-average ratings, and occasionally, O'Brien releases a viral video. It's pretty safe to say that Conan will continue to be a TBS staple for quite some time.
Trevor Noah
Trevor Noah is a South African comedian who took over Jon Stewart's hosting slot on The Daily Show. Most people saw this as a huge challenge, but Noah has been meeting and exceeding expectations. The Daily Show had a reputation for delivery pertinent use with on-point humor, and Noah has continued this tradition. Noah hadn't had much experience with TV when he was hired, so Comedy Central was taking a chance on him. However, it seems like the network made the right choice. Noah's comedic style is noticeably different from Stewart's, which makes it nearly impossible to compare the two. Time will tell if Noah continues to maintain his popularity. After all, most people know him as Jon Stewart's replacement. However, Trevor Noah's off-show interviews, stand-up routines, and viral clips prove that he can hold his own.
Chelsea Handler
Chelsea Handler rose to fame with her late night talk show on E!, entitled Chelsea Lately. It is rumored that Handler was one of the people in the running to replace Leno at The Tonight Show. She was considered because of her stellar work on her E! show, and had a loyal following. Handler's shocking brand of humor was refreshing, since male comics had displayed similar comedic styles for years. However, Jimmy Fallon ended up getting the gig, and Handler went on to host Chelsea, available on Netflix. It's difficult to say whether Handler would have been a better fit for The Tonight Show than Fallon. However, most fans of both comedians would agree that they're generally satisfied with both shows. After all, Handler has the permission to say and do certain things that wouldn't be permitted on network television. Handler's interviewing style is casual and conversational. She makes viewers feel as though she is good friends with each guest. However, she also features many of her real-life celebrity buddies on the show as well.
Seth Meyers
Late Night with Seth Meyers comes on half past midnight. So, viewers who are natural night owls are his most loyal fans. Meyers is an SNL alum like Fallon, and took over Jimmy Fallon's late night show, so that Fallon could host The Tonight Show. Some would argue that Meyers' show is just as funny as Fallon's. According to viewers, Meyers' opening monologue is often the funniest and most entertaining part of the show. The show also has a Weekend Update style, which is a plus for SNL fans. People have also become familiar with Late Night with Seth Meyers through video clips, since the show airs so late at night. Fans of the show say that Meyers would be a great replacement for Fallon if Jimmy ever decided to leave The Tonight Show. Meyers is also known for tackling somewhat taboo political topics that Fallon won't delve into.
John Oliver
Last Week Tonight's host John Oliver initially made a name for himself on The Daily Show, which airs on Comedy Central. He now hosts his own show on HBO. Oliver has been nicknamed the "British Milhouse." While he's got a large following, he's also got some critics. Most of the people who don't care for Oliver have negative things to say about his English accent and physical appearance. This indicates that his relatable style and comedic timing are pretty impressive. John Oliver is known for speaking his mind and highlighting societal issues that many hosts won't touch. He hopes to inspire positive change by doing so. His jokes can be vulgar, but it doesn't change the fact that he's unafraid to speak the truth. His harshness has also been used as a tool to get people to pay attention to important topics. Last Week Tonight is in its fifth season, and will likely be around for quite some time.
Disclaimer: All images are copyright to their respective owners and are used by USA Online Casino for informational purposes only.