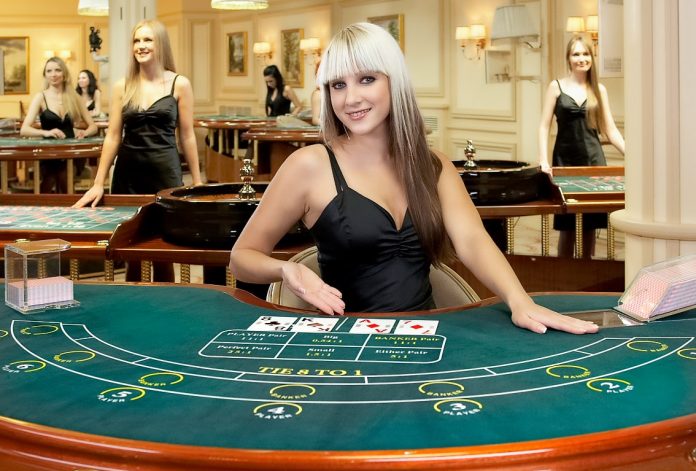 It doesn't seem so long ago that online casinos were a novelty. Nowadays, however, they are very common. Now, punters are looking for more exciting ways to bet online. So, the operators have come up with new and engaging ways of attracting more players to register. One of the most popular offerings from today's online casinos is the opportunity to participate in live dealer games.
The live dealer online casino phenomenon is rapidly becoming more popular as punters realize the thrill and real-world excitement that comes with playing their favorite games in real time with an actual dealer. While this type of casino is a relatively new way of gambling, it is easy to see why it's so popular. It enables players to easily place wagers from their home. This is great news for those who either have no easy access to a brick-and-mortar venue in their area, those who simply feel too intimidated or uncomfortable to go to a real-world casino or even those who are physically unable to participate in real-world gambling. As a bonus, it has been suggested that a live-dealer online casino USA can offer better payback percentages to players than brick-and-mortar premises. Players who use live casinos can expect a high-quality gaming experience, with software developed by leading companies in the industry, such as Realtime Gaming, Microgaming, and Playtech.

Why Are Live Casinos So Popular?
One of the main reasons that live casinos are incredibly popular is that games operate in real time and have an actual human dealer.
Players participate through a console on their device, and live chat is available as a function should they require any support or have a question. The dealer's physical transactions are translated into data that is then used by Optical Character Recognition (OCR) software to allow the player to join in the action seamlessly.
How Do I Know Live Casino Games Are Fair?
Although some people believe that live dealer games must be rigged, this is no more the case in a reputable online casino than in a brick-and-mortar venue. Croupiers and dealers in live gaming rooms must play in line with the standards set for the industry and are fully trained. Whenever a deck of cards is shuffled, it will always be done so the camera can clearly see what is happening. All additional decks and all cards will remain clearly in view. When roulette is played, the wheel and ball will always have a camera on them, so players will have no doubt about the fairness of the game and what the winning number was. Live casinos are also required to keep video footage of every gaming session, so it can be checked and reviewed at any time if there is a request from a player or the regulator of the licensing authority. In addition, live casino games are tested and serviced in the same way as the ones in a brick-and-mortar casino to guarantee there is no bias. Many online casinos also have their gaming logs independently audited monthly, so all players can be confident the games are true and fair every time they play.
How Does a Live Casino Work?
Live casinos employ several staff members to make sure everything runs smoothly on their end. Camera operators, croupiers, pit bosses, and IT managers are all essential team members. The cost of employing these people is usually offset by the cost of running the games virtually, which is considerably lower than running a real-world casino.
There are at least three rooms in any live casino – a live studio, a software room, and an analyst room. Powerful cameras are used to stream the live feed of the game, and several cameras will be in use. For example, during roulette, the table will usually have three cameras offering table shots of the wheel, overhead shots, and a picture-in-picture display. All live casino tables have a Game Control Unit that encodes the broadcast video, as well as the human dealer who handles the game. There is also a monitor that enables the dealer to physically see the online players. Optical Camera Recognition technology is another innovation that has been adopted by the live casino industry. This technology records every detail of the gaming room and streams it to players via their video link. It is this technology, too, that enables players to place wagers via their computer screen console. Thanks to OCR technology, all actions, including the card shuffles, the wheel spins, and hand distributions, make the experience of a live dealer game as similar as possible to those experienced in bricks-and-mortar venues.
How to Play at A Live Casino
When playing at a live casino, there are several stages of the game. First, the dealer is filmed, and the OCR software transforms the image to a live stream that is transmitted to all the participating players. Players will place their wagers, the dealer will ask them for additional information, and then the bets are processed by the casino software. The dealer will announce there can be no further bets and then the game will begin. The results will be captured by the cameras. If players have any questions, they can ask the dealer, who will be able to see, hear, and respond in real time. Players will see the results instantly and winners and losers will be displayed on the screen.
Types of Live Dealer Games
There are three popular casino games that are usually played live at the top online casinos: blackjack, baccarat, and roulette. Sometimes, forms of poker will be played, such as Texas Hold'em and Sic Bo.
Live Roulette
Live roulette is a favorite among players who prefer the feel of a real-world casino. The dealer will greet the players at the live table and give them a set amount of time in which to place their wagers. Once this period has elapsed, the dealer spins the wheel and calls the winning number.
Live Blackjack
Blackjack is possibly the best live game, with some of the best interactions with the dealer. The banter between players and the dealer is often quite witty, and the feeling of satisfaction when you beat the dealer's hand is much better than simply beating the computer.
Live Baccarat
Live baccarat is popular with high rollers and is most commonly played in its Punto Banco form. It is played in the same way as standard baccarat, however, the dealer will take and place the players' bets on the table.
Any player who is looking for a memorable and unique interactive playing experience that brings the reality of a brick-and-mortar casino into your home is sure to love the thrill of live casino games. Not only can you hone your skills while playing, but you can also enjoy chatting with the live dealer for a more engaging experience. There are also several games from which to choose, so whether you prefer blackjack, roulette or baccarat, you'll find a live version to suit you online. Most online casinos even offer the fun of live dealer games through mobile devices, such as tablets and smartphones so you can have all the fun of gambling on the go!
Disclaimer: All images are copyright to their respective owners and are used by USA Online Casino for informational purposes only.