Celebrities are notorious for gambling. You only have to look at Hollywood names like Ben Affleck and Toby Maguire to gauge just how these activities can quickly get out of hand. Athletes and sports stars are no exception when it comes to this either. If you're someone who's perched on enormous piles of cash like these people are, it's easy for a bit of "harmless" gambling to escalate into something more severe. 
On countless occasions, these sports icons have not only had their reputations in the spotlight damaged, but their out-of-control gambling has been detrimental to their relationships, friendships, investments, and cost some of them their life's ambition altogether. In this article, we look at some of the biggest names in the sports world who have put their careers on the line as a result of their compulsive gambling habits.
Wayne Rooney
England's former captain Wayne Rooney has revealed his struggles with gambling to the media over the years. Since he was just 17 and already off to a flying start with his career, the star had managed to run up over £700,000 in football bets. Two years later, he allegedly lost £65,000 in a Manchester casino in less than 2 hours. By the time he reached the ripe age of 25, Rooney had lost almost £1 million to casinos, races, and sportsbooks.
Like many other English soccer players who've also had gambling problems in the past, his staggering losses made headlines and almost ended his sparkling career before it really started. Thankfully he managed to kick the habit, pay all his debts, and went back to kicking balls around the pitch instead. Rooney now acts as an advocate for several gambling awareness campaigns and organizations throughout the UK.  
Floyd Mayweather
Floyd Mayweather's estimated worth is a colossal $560 million, so it's unsurprising that a five-figure bet to him is more like pocket change. One of his most significant gambling moments was when he wagered bets on the Super Bowl XLVIII that collectively totaled up to $13m. Apparently, he bet on the Broncos to win against the Seahawks, with the Broncos facing a heart-wrenching defeat of 43-8. Since 2017, following his last recorded match against Conor McGregor (which he lost), Mayweather was said to have lost over $50 million to gambling that same year.
Many speculate that the only reason he resurfaced from retirement was to recoup back some of his losses. Even if he failed, at least he's still got half a billion to see him through life!  
John Daly
Another lover of casinos and dice-based games is PGA Championship winner John Daly. The American golfer is notorious for his hedonistic lifestyle, but gambling is one pleasure that he's taken too far over the years. His most notable cringe-worthy moment occurred the day he lost a tournament to Tiger Woods in 2006. Even though he was awarded a generous $600,000 for his efforts, rather than a graceful journey home, he decided to make a pit stop in Las Vegas. Here, Daly planted himself in front of a $5,000 slot at the Wynn Casino, only to lose $1.65 million by the time he left the casino.
He's also had a string of similar gambling episodes in the past, but fortunately, he now has his priorities in check and runs a successful clothing brand, cocktail bar, and pizza house. 
Michael Jordan
One of the most humble and well-respected basketball players of all time suffered from a gambling addiction during the 90s. It's said that Michael Jordan stacked up millions in golf bets and casino losses between 1991 and 1993, with one source claiming that he owed him over $1.25 million. He was also said to have been gambling in North Carolina when his debts began to accumulate; a state where it was completely illegal to gamble at the time.
Even though he was never charged initially, news spread of the former NBA star's out-of-character incidents with casinos and run-ins with the law in the years that followed. Eventually, and after the NBA later carried out their own investigations, Jordan retired from professional sports in 1993. Many conspiracy theorists still believe today that his gambling addiction was the reason for throwing away his career. 
Charles Barkley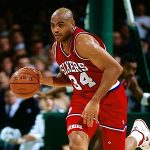 There's no doubt Michael Jordan had a tough time with gambling, but his long-time friend and TNT NBA analyst Charles Barkley has had it even harder. Though he swears he's never been addicted to gambling, his futile attempts at winning money in Las Vegas and Atlantic City would make you believe otherwise. During an interview a few years back, Barkley admitted to losing a million dollars in casinos on 30 different occasions. Though he's also managed to win a million several times, after revealing how much he has spent and lost in comparison, he has very few victories to shout about when it comes to his bankroll.
The final nail in the coffin came for Barkley when Wynn Resorts sued him in 2008. Allegedly, the former NBA star hadn't coughed up his $400,000 debt to the casino, which eventually led to his declaration of "I'm not going to gamble anymore" shortly after the lawsuit was settled.  
Art Schlichter
Last but not least, former pro athlete and NFL quarterback Art Schlichter has had unbelievable problems with gambling throughout much of his life — so much to the point he became more renowned for the fraud and crimes he committed over his actual football career. It allegedly got so bad for Schlichter, he would go to the extent of scamming his friends and family just to fuel his gambling addiction.
In 1987, he received a 6-month sentence for wagering $200,00 in illegal bets, followed by an additional two-year sentence for bank fraud in Las Vegas shortly afterward. Since then, the former Colts player has been in and out of prison for various cases of fraud, theft, and drug-related crimes.
Disclaimer: All images are copyright of their respective owners and are used by USA Online Casino for informational purposes only.