February or April doesn't matter — we've found some undeniably sweet and sometimes  raunchy online slot games to help you fill-up the piggy bank before Cupid arrives.
Immortal Romance
If you're into supernatural as well as hopeless love story themes, the Immortal Romance slot game is the perfect combination of both. The game stars a handsome vampire hunk who falls madly in love with an immortal maiden, and the objective is to match up winning symbols on the 5 reels in order to bring them together.
There are 243 ways to win big in this slot game, along with a bonus round where you can win up to 6x multipliers and 15 free spins. With an RTP of 96.86%, this is a high variance slot that truly packs a bite!  
Dr. Lovemore
You'll either appreciate the raunchiness of this online slot or deem it as straight-up perverted. The game works with 5 reels, 20 adjustable paylines and symbols that consist of fruit-flavored condoms, champagne and ice, Dr. Lovemore himself, a high-paying rose symbol and another icon represented by gender.
So, what dirty deeds need to be carried out before you can start claiming rewards? Simply line up the winning symbols to unlock a whole host of free games, spins, and multipliers, with a sexy 10,000x multiplier as the very top reward. 
Beauty and the Beast
Who doesn't love a good fairy tale? Better yet, who doesn't love a fairy tale with a happy ending? In the Beauty and the Beast slot game, happy endings are imminent when there is a 20,000 gold coin prize up for grabs! Powered by the software geeks at Asylum Labs, the game works with 30 paylines and 5 reels.
As many as 20 free spins can be rewarded when the Prince bonus feature is triggered, and this round awards bet multipliers and bonus games when the symbols are stacked in the winning order. 
Cupid & Psyche
The symbols are Cupid as the scatter and Psyche as the wild, and the game is themed around their underlying love for each other. The bonus feature is triggered when the player matches 3 or more bullseye icons on the 5 reels. During this bonus feature, the player has the chance to win free games and up to 25x multipliers as the top prize!
Dream Date
Dream Date from Microgaming is a game primarily aimed at female players, and gives them the option to teleport back to the historic age to find their ideal man or seek their true love in the modern era. With either option, they must match up the high-paying symbols to unlock prizes and rewards.
Play for a chance to win a hot date with a pirate, gladiator, swordsmen or archer in the past, or a fireman, biker, spy or pool cleaner in the present. During the bonus features, Dream Date awards players multipliers up to 40X, along with 8 free spins!  
Love Island
Get the lotion ready as we head for sun, sea and romantic mystery in the slot game inspired by the acclaimed TV series, Love Island! Just like in the show, the objective is to match up eligible bachelors and bachelorettes and play them against each other.
The 5 reel slot homes 20 paylines to get the party started with big rewards to trigger throughout. When 3 or more scatters match up on the reels, things really start hotting up as the game explodes with free spins and saucy bet multipliers. Love Island is the ultimate boy meets girl slot experience!
Eternal Love
Another Twilight-inspired love story is the Eternal Love 3D slot from the developers at Realtime Gaming. In a love triangle that stars a human, werewolf and a dishy vamp, players have the chance to play for supernatural prize sums up to 50,000 coins!
There are 243 ways to win in this slot game, along with a mass of free spins features and bet multipliers once the right combination of symbols are matched. Eternal Love is a teethy romance of a slot game that's howling with rewards, suspense and fun in every dark corner. 
Oink Country Love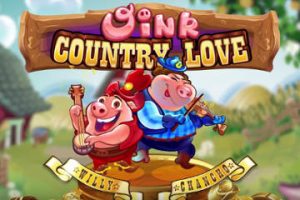 In this adorable online slot set on a colorful cartoon ranch, players have the chance to win a trough of prizes as they try to impress and serenade Miss Southern Charm with their slot spinning skills. But the chase isn't an easy one, for another contender on the farm also fights to claim her coveted heart. Only one of the bachelors will be the victor, and it's down to players to seductively work the symbols and reveal everything from golden tickets to free spins, free games and ginormous payouts along the way!  
Other Slots to Get the Sparks Flying 
If you're still hungry for some romantic slots action, why not re-live the musical rejoice in Andrew Lloyd Webber's Phantom of the Opera slot? Or perhaps you'd rather indulge in the ultimate love affair with the Starlight Kiss slot game from Microgaming? Whatever arouses your slot senses, may it be filled with love, passion, adventure and the sweetest of wins!  
Disclaimer: All images are copyright of their respective owners and are used by USA Online Casino for informational purposes only.