There are poker players all over the United States. However, it is safe to say there have been very few players like Phil Ivey. Phil Ivey is a legendary player—as much for his possible cheating as his playing style. Ivey has been out of the limelight for a while. However, he is set to make his return soon to the World Series of Poker, as long as he isn't banned.
Biography
Phil Ivey was born in Southern California, but lived in New Jersey for most of his life. He stated that his grandfather got him into poker, but his grandfather actually was trying to discourage him from playing. Ivey's grandfather used to intentionally cheat at five card stud to ensure that his grandson didn't play. But if that was his grandfather's intent, it had the opposite effect. Ivey began to tell people that he wanted to be a professional poker player.
No Home Jerome
When he was a senior in high school, Ivey used a fake ID with the name "Jerome" on it to get into casinos in Atlantic City. His nickname became "No Home Jerome" because of his fake ID. The pit bosses and card room players called him Jerome to avoid getting him into trouble. He quickly became known for risky poker play. He had an interesting strategy as a professional poker player. When asked, he said his strategy was to win every type of poker, every game he played. He wanted to play at every limit to win the most money possible.
Ivey's Usual Playing Method
Phil Ivey has been playing to win for over 20 years now. His first choice is the high-stakes games in either Las Vegas or Atlantic City. In these games, it is routine for Ivey to make—or lose—over $1 million in a session. One of his favorite haunts is the high-stakes poker room at the Bellagio, which is known as the biggest and best poker room in the country. But, if he feels the high stakes game is not entertaining enough, he'll cash in and move his game to a smaller stakes game in a different room. The side games of $4,000/$8,000 can be more interesting as far as Ivey is concerned. He plays with people he doesn't know, which raises the stakes for him—and the challenge.
Tournaments and Travel
When he was younger, Ivey used to travel frequently to play at poker tournaments all over the world. He spent a considerable amount of time in Macau at their casino games. However, he has been staying close to his home in Las Vegas lately to spend time with his wife. He currently has the fifth highest earnings of all time at nearly $25 million. He has also earned over $4 million in Australia as well.
Ivey won his first WSOP bracelet in 2000, and his most recent was in 2014. He has won a total of 10. Ivey has two long runs in WSOP tournaments in the Main Event; however, the best he has ever done is ninth. This leads some people to criticize his play, saying he takes too many chances. Ivey scoffs at this, saying that he has always played poker the same way, and has no intention of changing.
Phil Ivey's wins on the WSOP are legendary. In one tournament, he beat out nearly 150 players to win a bracelet. The tournament began with a $2,500 ante, and ended in the six figures. He managed to win seven bracelets in one year. He tied the record for the number of victories won by a poker player in a single year.
While many poker players specialize in one type of poker game, Ivey has not. He has won bracelets in Omaha Hi-Lo, Five and Seven Card Stud, and Omaha Pot, as well as HORSE events. There are very few people, say poker experts, who are good at many different types of poker. This is one reason why people compare Phil Ivey to Tiger Woods, who is apparently good on any type of golf course.
Legal Issues
While Phil Ivey has had a considerable amount of success, he has not been without some scandal. Ivey has been accused of edge sorting: A way of looking at the edges of cards to see if he can tell the differences between cards. The jury is still out in the US and Western Europe on whether or not edge sorting is illegal. Two casinos in particular have accused Ivey of cheating. Ivey was accused by Crockfords, a London-based poker room of cheating. Although Ivey won $12 million from Crockfords, they refused to give him his money. He sued the poker room, but the courts in London agreed with Crockfords and ruled against Ivey. Ivey has appealed. He has also been sued by the Borgata casino in Atlantic City. The casino accused him of edge sorting during a punto banco game. Although he won nearly 10 million dollars in the game, the Borgata did pay Ivey. It was only after the casino reviewed the footage of the game that they sued Ivey for the return of their money. Like the suit against the UK poker room, the Borgata case is still on appeal. It is widely expected that Ivey will most likely lose one or both suits.
Online Poker King
Ivey also plays online, as well as at tournaments and poker rooms. It is estimated that Ivey has won about $20 million in online poker. He has also lost at online poker as well, about 6.5 million dollars in losses. His favorite online poker site was Full Tilt, but he has also played on the Poker Stars website.
Future Tournament Play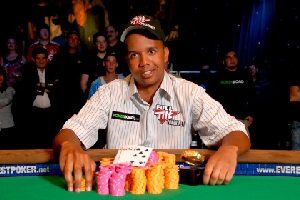 Lately, Ivey is playing in Asia, especially in Macau, Hong Kong, and Singapore. He said he plans to return to the WSOP in 2019. Ivey said although he has won a lot of money, he wants to continue to break records and win bracelets. He understands some casinos will not allow him to play because of ongoing litigation; he wants to play anyway. Ivey also said he doesn't worry about all of the fuss with the publicity. He knows that people are talking about him, but he wants to continue to play the game he loves. Ivey noted he will continue to make money no matter where he plays; online or onsite.
It remains to be seen how the Tiger Woods of poker will fare coming back to the WSOP circuit to open 2019. While we don't know how Ivey is going to do, we do know it won't be dull. Ivey will make sure of that.
Disclaimer: All images are copyright to their respective owners and are used by USA Online Casino for informational purposes only.