Whether you're about to head out on an epic road trip to Vegas or just need some musical inspiration to get your game on, the following casino croons and gambling tunes will make you want to roll the dice, count the cards, and spin the wheel.

Vegas, Baby!
It's time to hit the road on an epic road trip through the desert to Sin City. Bankroll? Check. Full gas tank? Check. Besties and boozes? Check. Epic playlist of songs to rock while gambling? Don't worry, we've got you covered. Check out our list of perfect songs to get your gambling groove on. You're welcome!
If there was one song that completely sums up the Las Vegas experience, it's Viva Las Vegas by Elvis Presley. Play this song on volume 11 while driving through the desert to Vegas for the ultimate inspiration. Or play it backwards for hidden messages bound to make your pelvis quiver and quake.
"Bright light city gonna set my soul, gonna set my soul on fire," Elvis croons and pelvisizes in "Viva Las Vegas." There was no MTV or music videos in the 60s. But the King didn't need music videos; he had entire movies in which to belt out his hits, complete with dancing girls and bongo-jamming orchestras.
And when Elvis left the building, he just went to the casino next door for the buffet. Elvis loved Vegas so much that he set the record for the longest concert run in Vegas: he performed 636 consecutive shows in Sin City. Lawdy, Miss Clawdy! That must have been some buffet!
If you have to ask if you got hitched last night by an Elvis impersonator, you're probably just waking up in Vegas. It's all about the unfettered hedonism which gave the town its global reputation as the World's Playground. And according to Katy, there's a lot of things that stayed in Vegas that she really wanted to hold on to.
"I wanna hold 'em like they do in Texas," Lady Gaga confesses in Poker Face. Whether this song is just a card-themed metaphor for romance is irrelevant. You'll never play Texas Hold 'em again without trying on your best puh-puh-puh poker face. Wild and wacky costumes optional.
For some legendary Vegas-inspired croons and swoons, check out the duet album with Lady Gaga and Tony Bennett.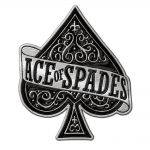 "Read 'em and weep: The Dead Man's Hand again!" Lemmy growls. With a head-banging nod to the famous poker hand found in the dead hand of Wild Bill Hickok, Motörhead rocks the card table like no other.
But they also remind us that it's not all about the money, and "The pleasure is to play." And that they really like the Ace of Spades. Like a lot. Don't we all?
A Little Bit Country
Maybe you like to imagine yourself in a dusty saloon in the Old West trying to outwit professional gamblers and gunslingers. A gambling tune with a country/western theme is just the ticket. Just remember to take the following sage(brush) advice about knowing when to hold 'em and when to fold 'em. Also, playing with the Queen of Hearts apparently ain't really smart.
Another song mixing gambling metaphors with love, but after all, love is a gamble, no? Or maybe this song is just a reminder that if you're unlucky in cards, you'll probably be lucky in love. Fortunately, there's a wedding chapel on every block in Vegas, just in case you want to double down and go all in. Elvis impersonator optional.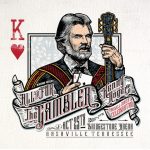 Which came first? The song or the movie? It doesn't matter, because country-pop legend Kenny Rogers put together the perfect primer for playing cards with The Gambler. On a mysterious train a guy meets The Gambler, who advises, "If you're gonna play the game, boy, you better learn to play it right."
Knowing when to hold'em and when to fold 'em is fine and dandy, but we wouldn't recommend trying to run away in a Vegas casino. Just know when to walk away.
The Rat Pack
If you really want to get the ultimate cool cat vibe of the swingin' years of Vegas, check out any song from the Rat Pack, the groovy crooners who lived and breathed that casino town. Frank Sinatra croons and Lady Luck swoons when Old Blue Eyes sings Luck Be a Lady. Dean Martin's tribute to Sin City oozes class and style in his ode to Las Vegas.  And Sammy Davis Jr belts out some swingin' tunes in the original Ocean's 11 featuring the Rat Pack.
And yes, they all sing and swing between robbing casinos. As one does. 
Bond. James Bond.
When 007 isn't fighting flamboyant villains or bedding femme fatales, he's at the casino sipping his signature martini (shaken, not stirred). Baccarat was his game, and Burt Bacharach lounged up his name in the original Casino Royale soundtrack (with a little help from his friends Herb Albert and the Tijuana Brass).
But if you really want to rock the Bond themes, channel your inner Bond with Chris Cornell's "You Know My Name" in the Casino Royale reboot. Jack White & Alicia Keys really crunch the number in another Bond theme, "Another Way to Die."
Well, gamblers… it's time to leave the cards on the table, cash in your chips, and leave the building like Elvis. Sheryl Crow sings us out with Leaving Las Vegas, a soulful pop ballad sung in the desert amid Joshua trees and flying Elvis impersonators.
When she sings about Barstow you can almost imagine the Great Red Shark convertible barreling through at 100 mph toward Vegas with Hunter S. Thompson and his Samoan attorney pouring beer on their bare chests to facilitate the tanning process.
But that's a story for another day.
Disclaimer: All images are copyright of their respective owners and are used by USA Online Casino for informational purposes only.