Video poker is one of the most popular casino games because of its high winning prospects. If you are a slot player, advancing to video poker will provide you with better chances of winning. There are many books by several authors about this highly rewarding game. Most of these books try to explain the tactics you can use to win. The story is told in different ways depending on the author's experience. We are going to review some of the best books that can help you become a pro.
Video Poker Optimum Play by Dan Paymar published in 1998, this book is by Dan Paymar, a video poker expert. While some authors write from their experiences, Paymar based this book on his background in computer programming and engineering. In the book, he tries to explain the strategies needed to win in video poker.
If you do not know about the game, Video Poker Optimum Play is not for you. The author targets recreational players with a good understanding of the game's basics. Going through this book may help you to become a serious player. Moreover, you can use the tactics shared to play professionally.
Unlike some books that have complex explanations that are difficult to comprehend, Paymar uses a simple language. His mathematical strategy uses an understandable format. Some of the variations the author covers include Jacks or Better, Jokers Wild, and Deuces Wild, among others. One major benefit of the strategies he shares is that they are applicable in almost all variations of the game. Readers can refer to the tables provided to improve their understanding.
Casino Video Poker for the GENIUS by Linda Nowell
Linda Nowell has played video poker since 1990. In the early years, she only played it as a hobby. After she retired and, after more than two decades, she started to play more seriously. The author vehemently denies she is a professional despite her influence. She defines herself as just a winner.
This is one of the best books to read when you want to become a successful video poker player. By reading this book, you will learn how you can spend more time in the casino playing. And, you can do it without spending a lot of money. By the time you are through with this book, you will have learned how to be risk-tolerant. You will also learn how to boost your chances of winning a jackpot.
Fundamentals of Video Poker by Mason Malmuth and Lynne Loomis
The two authors of this book have established themselves in the video poker area and the gambling industry, in general. This book is ideal for those who are new to video poker. It can help you to learn from scratch and become a professional player after a short time.
This book begins by covering the basics of the game. This part is very important for those who have never played video poker. Some of the things you will learn at this level include how to play the machine. You will also learn about progressives and the hand rankings, among other things. If you are already familiar with this game, you may choose to skip this part. But, it is very important to new players.
The authors explain the different variations of this game, such as Jacks or Better, Double Bonus, and Deuces Wild, among others. Reading through these variations will help you become a professional and earn while playing any of them.
Toward the end of the book, the authors make other suggestions. Some suggestions include how to manage your money and how to use casino machines effectively. You will also get a chance to learn about video poker terms. This last part is essential given that many authors don't go beyond explaining how to play and win. Malmuth has vast experience in book printing and currently works at Two Plus Two publishing company.
Million Dollar Video Poker by Bob Dancer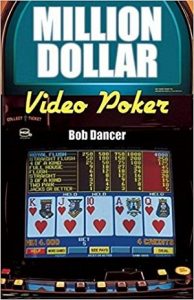 According to Bob Dancer, winning in video poker is not about luck but informed players. In this book, published in 2003, the author shares his story of how he made $1 million from only $6,000. Dancer talks about the strategy he used to succeed.
After explaining about video poker in the introduction, Dancer proceeds to tell his story. According to the book, the author moved to Vegas to become a full-time blackjack player. He started to read various books about video poker while still playing blackjack. He used his computer to make various calculations and that's when he decided to play video poker.
At this time, MGN started a promotion that gave more than 100 percent returns on high-limit games. The campaign lasted six months. Dancer, together with his wife, Shirley, participated in this promotion. By the end of that campaign, the couple had made more than $1 million in profits. This is one of the best books to read given that the author shares the technique he used to win.
Beginners Best Shot at Video Poker by Bob Maxwell
In this book, Maxwell mainly concentrates on Jacks or Better. The reason for focusing on this game is that it is popular and easy to learn. Maxwell published the book in 1995.
Maxwell begins by talking about the history of poker. He proceeds to compare draw poker and video poker and tries to explain their differences. For Jacks or Better lovers, the book extensively covers the variation and explains how to play it to win.
The author of this book knows that many people have developed theories to try to explain gambling. He dedicates a significant part of his work on gambling myths. By reading this amazing work, you can know the best plays to make.
Unlike some books that are large and difficult to carry, Beginners Best Shot at Video Poker is a small book. You can keep it in your pocket and quickly refer to it when you are playing. If you don't know anything about gambling and video poker, this book can turn you into a professional very quickly.
Professional Video Poker by John Ferguson
John Ferguson, also called Stanford Wong, is a respected gambling author. Professional Video Poker is ideal for both novice and experienced video poker players. At the beginning of this book, Ferguson talks about the history of the game. He then proceeds to share its important background information. If you don't know how to read pay tables, going through the book can fulfill this and other needs.
The author proceeds to talk about the best strategy to use when you are playing 8/5 Jacks or Better. He shares more details about these strategies. Moreover, unlike many authors who will stop after explaining these tactics, Ferguson proceeds to justify the various strategies. He uses a more convincing approach in his book. That allows the reader to put himself or herself in that context.
The book also covers other variations of video poker. Ferguson published this book in 1991. Many people have always referred to it as they seek to hone their gambling skills.  Have you been looking for ways to become a video poker player? Then, going through these books can help you to become a professional and earn some money. The stories shared in some of these books are not myths. Other players have used these tactics to earn huge benefits.
Disclaimer: All images are copyright to their respective owners and are used by USA Online Casino for informational purposes only.