Regardless of a huge investment in your home sound system, sometimes a portable Bluetooth speaker is all you will need. However, finding a reliable one can go a long way to enhancing your listening experience. Because of new technology, there are new Bluetooth speaker models hitting the market almost daily thanks. These speakers will allow you to enjoy your favorite music outdoors. But, you must be ready for a drop in audio quality and even limited battery life.
There are so many portable Bluetooth speakers on the market. And, so many choices confuse people when they are trying to find the one that is best for them. However, each comes with its own extra features. You should consider what your needs are. That will help you to identify the best device. For instance, if you like going to the beach, you should consider a device that is waterproof and dustproof. We have prepared a list of some the best portable Bluetooth speakers you should try.
Oontz Angle 3
The Oontz Angle 3 is one of the most popular portable Bluetooth speakers available on the market today. This device has a powerful battery that supports 12 hours of playtime. You can use this speaker almost anywhere. And, because it is dustproof and waterproof, you can enjoy your music while at the beach. This stylish 5-inch-long gadget is less than 10 ounces, which makes it extremely portable. You can easily fit it in a backpack or a bag.
Some of the gadgets that the Oontz Angle 3 connects to through Bluetooth include Chromebooks, laptops, smartphones, and iPhones. When you want clear, high-quality sound, this is your best bet. The device is also popular because it is very loud and does not distort the bass when at full volume. The Oontz Angle 3 has a Bluetooth wireless range of is 100 feet. This makes it one of the best portable speakers to go out with.
Sony SRS-XB41
The Sony SRS-XB41 is one of the most powerful portable speakers you can use when you are away from home. However, at 3.3 pounds, this 11½-inch-long device is a little heavier than other portable Bluetooth speakers. The device has a battery life of 16½ hours.
If you are looking for an immersive 3-D sound experience, the Sony SRS-XB41 should top your list of preferred options. When using this device, loud music with extra bass is not a problem. Given how tough it might be to use a portable speaker outdoors, this IP67-designed Sony device is both dustproof and waterproof.
The Sony SRS-XB41 allows for the use of a wireless party chain. This enables a user to connect to 100 more speakers. The device also has features, including a speakerphone, electronic drum sounds, DJ-style sound effects, and built-in party lights. Having this device is the first step toward having an awesome outdoor party with your friends.
Fugoo Style
The Fugoo Style is another great Bluetooth speaker available on the market today. Weighing only 1 pound, this brilliant device has a battery life of up to 40 hours. Furthermore, you can charge this speaker with a USB charger. When using this speaker, distance is not a problem. Its wireless range is more than 30 feet.
The Fugoo Style comes in three styles: the Sport, the Tough, and the Style. Regardless of your selection, you will enjoy the sound. Despite its small size, there is no other device that equals its sound performance. Listening at a medium volume will enable you to use it for a longer time without having to recharge it. On its highest volume, the music will last for almost 20 hours.
The Fugoo Style is a Bluetooth speaker that you can use almost anywhere without any fear of damaging it. It is dustproof, waterproof, and shockproof. This enables it to withstand most of the conditions you will find outdoors when partying. Whether at the beach or in a field, you can listen to your favorite music with peace of mind.
The Fugoo Style's three styles allow a user to select the one that fits his or her own style. Regardless of your choice, it is a straightforward process to install the jackets. The Sports jacket allows the users to add optional accessories, such as a strap mount.
JBL Boombox
If you are someone who likes to spend the entire day outdoors, then you need a portable Bluetooth speaker. The 20,000mAh battery on the JBL Boombox will allow you to use it from sunrise to sunrise. And, you could also use it to power some of your gadgets. If you want to share your playlist with your friends, then this is the best device for you. It supports multiple phones at a time, thus eliminating the need to have a DJ to enjoy your music outdoors.
Whether you want to hold your party indoors or outdoors, you have nothing to fear. The JBL Boombox is IPX7 waterproof. Furthermore, you can optimize the sound depending on your surroundings for the best experience. In addition, this device can connect to more than 100 JBL Connect+-enabled speakers. It is also easy to carry this device around.
EcoXGear EcoBoulder+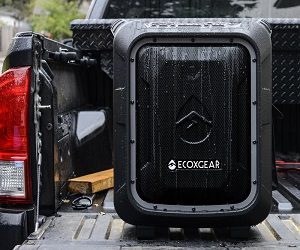 Another excellent portable Bluetooth speaker available on the market today is the EcoXGear EcoBoulder+. At 29 pounds, this device is among the heaviest portable speakers you will find. However, when you want to lug it around, it has a retractable handle and wheels.
When you are looking for a powerful portable Bluetooth speaker for tailgating, picnics, and parties, consider the EcoXGear EcoBoulder+. This device can pump out the maximum volume, which will allow you to have the greatest time away from home.
When you are out with the EcoXGear EcoBoulder+, you do not have to worry about snow, dirt, or rain. It is both waterproof and dustproof. The device also has a wireless range of up to 100 feet. A 10-hour battery life at full volume is not bad considering the quality of sound this device gives. On low volume, you can use this gadget for up to 100 hours without a recharge.
UE Boom 2
The UE Boom 2 is one of the best Bluetooth speakers available on the market today. Weighing only 1.2 pounds, this outstanding device has a battery live of up to 15 hours and supports USB charging. Its wireless range is more than 30 feet. Apart from having a brilliant design, this speaker has a robust set of features courtesy of its companion app.
There is nothing lacking about the UE Boom 2. It is loud enough to allow you to enjoy music as if you were indoors. Even though it's portable, this device is incredibly durable and allows you to enjoy using it for a longer time. Water is always an issue when you are outdoors. It is among the best waterproof speakers available on the market today.
Although there is no battery improvement over the original version, the UE Boom 2 has introduced tap controls. Furthermore, its sound quality is slightly better than that of its previous version. If you are looking for a newer Bluetooth speaker that comes with extra features, you should go for this device.
Disclaimer: All images are copyright to their respective owners and are used by USA Online Casino for informational purposes only.