If you'll be visiting a new city soon and want to make sure you stay active while you're on vacation, bike sharing, and rental may be a great option for you. This is one of the most efficient ways for you to travel in the city, especially if you're staying in an area where many shops and restaurants are within a few miles of each other.
Bike sharing programs have been gaining popularity in North America over the past decade, but bike sharing programs have been popular in Europe since the 1960s. Bike sharing is mostly associated with municipalities throughout the U.S. Some colleges and universities offer bike rental and bike-share programs to make it easier for students to travel on campus and in the city. There are over 50 municipalities in the United States that offer bike sharing programs. Biking has its advantaged as you'll be able to get farther than simply walking the city streets. You'll also be able to take in the natural sites and get a feel for the city.
Bike rental is also pretty simple; many travelers find the process easier than renting a car. You can decide whether you want to rent a bike by the hour or if you want to purchase a pass that allows you to see all the attractions of the city at your own pace.
Want to find out more about renting bikes? Here are some areas that are leading the trend.
Capital Bikeshare
This company is based in the Washington, D.C. area, which is a great area for bike riding because of its flat terrain is flat and open space. Three of the most popular stations in D.C are at the National Mall and there are other Capital Bikeshare locations in Montgomery County, MD, Arlington County, VA and Alexandria, VA. Even if your hotel isn't downtown, you can use the bike sharing company to travel from your hotel room to all the popular tourist sites. This allows you to get an enjoyable workout while you take in the beauty of the area.
Divvy
This bike sharing program is based in Chicago and was started in 2013. Former Chicago mayor Richard M. Daley was inspired to start the company after visiting Paris in 2007 and seeing how often people use bicycles for transportation. Divvy normally operates even when the weather is extremely cold (Chicago winters can be harsh), but the company did shut down temporarily during the polar vortex in Chicago last year. If you're vacationing in the city, you can rent a bike to ride around the Loop. You and your loved ones can also bike along Lake Michigan and even further. This is a great way to ride around downtown Chicago without being delayed by traffic and you can explore some of the neighborhoods in the city to experience the history and architecture of Chicago.
Nice Ride Minnesota
There are several riding paths to choose from when you rent a bike with Nice Ride Minnesota. This bike sharing company covers Minneapolis and St. Paul, which are among the best cities in the nation for bike commuting. If you're vacationing in the Twin Cities and other surrounding areas, you can tour the area on your own terms. With this service, it's easy to travel from downtown to the University of Minnesota. It's worth noting that, because of the frigid winters in Minnesota, Nice Ride Minnesota is closed from December to March.
Citi Bike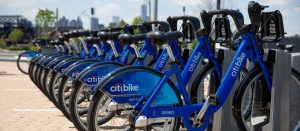 This New York-based program is the most popular when it comes to bike sharing. NYC is the country's largest city, and thousands of people need to commute to and from work on a daily basis, so Citi Bike is pretty popular. There are 6,000 bicycles available for use and lots of people are using them to beat Manhattan's hectic traffic. NYC has even added bike trails that run through Times Square and there are north-south routes that will get you to your destination safely. You can also take a scenic ride through Central Park, which is great whether you're traveling to the city on business or want to engage in some creative tourist activities during your time in New York.
Ford GoBike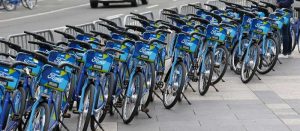 If you're commuting or vacationing in the Bay Area, the Ford GoBike service is a convenient option to try. It began in August 2013 as Bay Area Bike Share covering San Francisco, San Jose and the East Bay. On June 28, 2017, the system partnered with Ford Motor Company and is expected to grow to 7,000 bikes by the end of 2018. With Ford GoBike, riders have access to public bikes 24 hours a day, seven days a week.
Blue Bikes
This Massachusetts bike sharing program operates in Boston and neighboring principalities including Somerville, Brookline and Cambridge. This bike sharing service, originally known as Hubway, launched in July 2011 with 61 stations and 600 bikes. But as of this year, its fleet has expanded to 1,800 bikes in over 200 stations. The most popular station is on the campus of MIT and if you'll be visiting the area often, you should consider purchasing a bike-share membership. Blue Bikes offers an Income-Eligible Program, providing affordable memberships to qualifying residents. The company also offers discounted rates those who have health or weight challenges if the health condition is diagnosed by a physician from Boston Medical Center.
Denver B-Cycle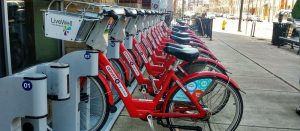 Bike sharing became especially popular in Denver in 2008 and Denver B-Cycle was born in 2010. The program is ideal for residents who are physically active (or want to exercise more). The bike sharing program is also convenient and fun for vacationers who want to see the museums and pubs Denver has to offer. Denver B-Cycle has become so popular that the Denver Broncos offered valet service for fans who came to the game using bike-share. This makes your time at the game even more memorable.
Austin B-Cycle
Texas is one of the best states for bike sharing, and there are several natural landscapes to take in as you travel in the metropolitan and suburban areas of the state. The city of Austin has a rather popular bike sharing program. During South by Southwest last year, Austin B-Cycle broke records when it comes to bike sharing—people rode 10 rides per bike per day.
Charlotte B-Cycle, N.C.
B-Cycle is in several cities and is owned by Trek Bicycles, and Charlotte is one of the newest cities to adopt this bike sharing program. Including Charlotte, Austin and Denver, there are 40 cities in North and South America and memberships are reciprocal in most cases. This means that if you're visiting a city that has B-Cycle, you can take advantage of local rates. You can ride to a number of attractions while you're in Charlotte, including the Carolinas Aviation Museum, the Land of Oz theme park, and the Harvey B. Gantt Center.
Bike Chattanooga, TN
Chattanooga is a small city, but there's lots to see and do, and bike sharing can make this easier if you're planning a Chattanooga vacation. Bike Chattanooga is actually the Southeast's biggest bike sharing system. There are 300 bikes and 33 docking stations. The bikes are a great way to travel to activities in the city like rock climbing, museums, and the city's fascinating, award-winning aquarium.
Disclaimer: All images are copyright to their respective owners and are used by USA Online Casino for informational purposes only.