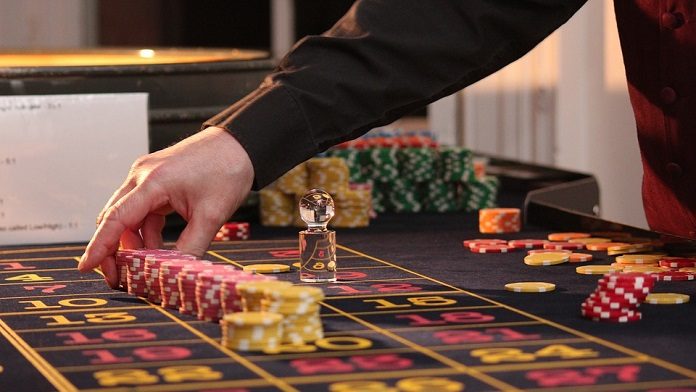 Although having a career as a professional gambler may not be the obvious choice when leaving school. It is, in fact, a path that more people are starting to take in an attempt to attain wealth and success. Thanks to the rise of the Internet, there are more opportunities to participate in gambling than ever. Casinos and sports betting sites are all offering huge jackpots. With mobile apps now allowing access to online casinos and sportsbooks at any time and from any location worldwide, it's easy to see why this career path is so appealing.
For anyone that thinks the lifestyle of a betting pro is an easy one, the reality is pretty different. For a start, there is a lot of training and practice involved, and it goes without saying that the risks are very high. Yet, for those who have the bankroll and are prepared to go out on a limb, making gambling a full-time job could be a move that pays off.

The Appeal of Becoming a Full-Time Gambler
While the main appeal of becoming a full-time gambler has to be the potential of winning huge amounts of money, the fact that winnings are nontaxable has to play a major role, too. Professional gamblers would take umbrage at anyone saying that their employment is an addiction. In fact, most of them view themselves as experts with a true knowledge of the market.
There are many different types of professional gamblers, from those who play poker professionally and make hundreds of thousands of dollars from a single game to those who bet on sports as a 9-to-5 job and bring in a comfortable living for their family without ever hitting the big time.
Most professional gamblers get into their career path because of a love of their favorite game. Poker players, for example, have usually been playing for years and started playing for fun among their friends before moving onto the professional circuit. However, there are some who are purely interested in the odds and the winning potential, with little enjoyment in their chosen activity.
Online sportsbooks and casinos make full-time gambling accessible and convenient, while also opening the possibilities for those who want to start small and eventually work up to placing larger wagers once they have garnered greater experience.
The Most Popular Types of Gambling for Professional Gamblers
There are many types of gambling, however, for professional gamblers. And, there are several activities that come out on top. These include:
• Virtual horse or dog racing
• Online casino games
• Slots
• Online bingo games
• Online spread betting
What Defines a Professional Gambler?
While many people enjoy gambling, there is something that sets apart the professional gambler from social and compulsive gamblers. Professionals always take their bets very seriously, deciding in advance which game to play, which strategy to use, how much they are going to wager, and how long they will spend on gambling each day. All risks are painstakingly calculated, and each day of betting is approached in the same way as any other job. Addiction never forms a part of the picture.
What Do Professional Gamblers Do?

For the majority of their working day, professional gamblers will mostly be checking statistics or forms, watching games if they are sports bettors and conducting research into their chosen sport, as well as working out betting formula. While many professional gamblers work 9 to 5, just like a regular job, others choose hours that better suit their needs. However, none will gamble 24/7.
Some gamblers will work in real-world environments while others work solely online, and although there is no such thing as an average professional gambler salary, the possibilities are endless depending on how good you are at the business.
Training and Education
A certain amount of training and education is required to become a professional gambler. In fact, it's even possible to obtain a gambling degree from educational institutes. Some establishments now offer gambling studies as part of business and economics courses and cover the sociology and psychology of gambling, as well as business economics.
These courses can actually teach students how to bet using probability and chance, as well as offer a deeper insight into the background of the industry. There are also courses on table games, such as blackjack and roulette, which are a useful option for those who are keen to pursue this career path. There are even specialist gambling academies being set up with the endorsement of the gambling industry in certain locations. Professional gamblers can also join the Society for the Study of Gambling to gain access to key resources.
The Qualities Necessary to Be a Professional Gambler
Professional gamblers must have a number of key qualities including:
• Strong money management skills
• Meticulous recordkeeping
• Excellent research skills
• Time-management skills
• Emotional control
• Good stress management
• Persistence and perseverance
• A good memory
• Concentration skills
• Analytical and problem-solving skills
• Comfortable with risk
Although some professional gamblers have a background in mathematics, and this can be helpful in understanding the formula and probabilities that are key to success in this field, some are just self-taught and have learned through practice how best to play the odds.
Some Famous Professional Gamblers
Although very few professional gamblers are well-known, there are some who have hit the big time and have become household names. One of the best-known is Billy Walters. He has achieved enormous success across all kinds of gambling arenas. His career began in the 1980s when he was hired by the Computer Group, an early sports betting group that used algorithms to predict outcomes.
Today, Walters sees himself as a successful entrepreneur rather than as a gambler. His skill with sports betting turned him into a millionaire. In fact, he is so good that he now has to use runners to place bets on his behalf, since the biggest sportsbooks in Vegas set limits on games for top gamblers and are known to close down accounts that are too successful. One of his key strategies is to place some intentionally losing bets alongside those that are intended to win so he can manipulate the odds to his advantage.
It is this kind of analysis that sets this highest level of gambling ahead of the crowd. While he is not the only professional gambler of his kind out there, he is certainly one of the richest and most successful of all time.
The life of a professional gambler isn't for everyone, and, for most people, the high level of risk and the ongoing uncertainty without a regular salary is too much to cope with on a daily basis.
However, for others, the thrill of the chase, and the possibility of being able to scoop enormous profits is enough to persuade them to stick to this career path for the long term. For anyone who has the willpower, commitment, and dedication to keep going and avoid the temptation of betting too much at the wrong time, a career as a professional gambler could be the perfect choice.