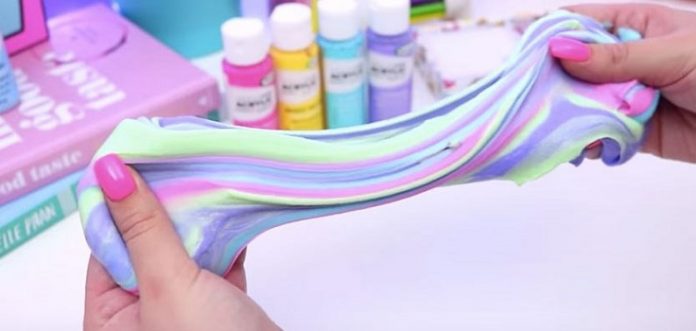 Slime has become a social media sensation and has even caused glue sales to skyrocket. The slime kids make today isn't like the bright green liquid that Nickelodeon made famous on one of its shows. If you recall, celebrities had the slime dumped on them. Of course, they did not expect it to happen. For a number of young entrepreneurs, slime has turned into big business. There are more than 5 million Instagram posts that have the #slime tag. Most of these tags feature brightly colored slime filled with several pigments and glitter. It's clear to see that today's slime is a lot shinier and fancier than Nickelodeon's famous green slush.
Slime has become such a trend that the American Chemical Society recently published a fact sheet about it. There is an elaborate scientific description on how to combine the chemicals to create "magic." Slime has become a fascinating DIY toy and it's obviously taking over the Internet.
Slime Influencers
YouTube is another popular place to see slime varieties and tutorials. The young people who make slime videos online are "slimers." They are part of a significant cultural trend. Recently, the New York Times featured an article about Karina Garcia. Garcia is one of the YouTube influencers credited with starting the slime trend. Garcia has been named the "slime queen" and has more than 6 million YouTube subscribers. People refer to her channel regularly to learn how to make slime. She's also made up to $200,000 monthly from sponsorships.
Surprisingly, Garcia is not the only YouTube and Instagram influencer who has made some serious profits from the slime trend. Several young business people sell the slime they make on creative platforms, such as Etsy. Some of these entrepreneurs are as young as 10. Many of these business-minded kids make thousands per month from slime sales. They then invest the money back into their slime companies or put it into a college fund.
Instagram page owner slime.jewel has more than 500,000 followers. She shares that when she began making slime videos, she never imagined she'd make money from this hobby. She says she had a passion to be creative, and that motivated her. Slime.jewel didn't provide her real name during the interview about her slime business. However, when the profits started to come in, she started to invest in glitter and fragrances to customize the slime.
Slime Varieties and Cost
According to the Times, people have been searching for slime on Etsy at a high rate since last October. The Instagram slime videos, which often go viral, are great marketing tools for slime-based companies. Most batches of slime sell for anywhere between $5 and $10. However, large batches of slime cost around $25. There are thousands of Etsy shops that sell a variety of slime. For example, there's Fruit Salad Clear Slime and Strawberry Champagne Metallic Slime. Both of these slime types have vivid colors. Some varieties have plastic beads and Styrofoam balls inside them. These "extras" not only make the slime more visually appealing but cause the slime to make noises when manipulated.
Why Is Slime Popular With Adults?
The fact that slime can make popping, squishing, and crackling noises has made the "toy" pretty popular with grownups. The late Bob Ross, who hosted, "The Joy of Painting," also made slime videos that some consider ASMR triggers. ASMR stands for Autonomous Sensory Meridian Response. A Facebook group created this phrase in 2010. It refers to a feeling that is a mixture of relaxation, positive feelings, and a sensation on the skin. This sensation feels like tingling, according to a peer-reviewed ASMR study. According to this same study, not everyone experiences ASMR. However, of the people who did, almost all (98 percent) used ASMR as a way to relax. One participant even described the feeling as being in a "relaxed trance."
One of the authors of the ASMR study, Emma Barratt, says that slime videos are ASMR triggers. She shares that slime manipulation has a predictable sensation that is similar to other ASMR videos. Barratt says the fact that slime videos are becoming more prevalent is a good thing. The videos need more study to determine why they are ASMR triggers.
Slime and the Glue Shortage
Now that more people make slime, and most slime recipes require glue, there is a glue shortage in some stores. Both kids and adults buy bottles of glue in bulk to make batches of slime. Some slime and craft forums even warn people to call their local craft store ahead of time. Those who make slime need lots of glue for the slime to have the right consistency. It's common for popular locations to run out of glue.
If your children ask for items, such as Borax and craft glue, there's a good chance they want to make their own slime. While this is a great craft, helping your kids make slime can also be a memorable science experiment.
National Science Week and the Slime Movement
National Science Week is a great time to teach kids about the reaction that slime ingredients have with each other. Of course, there are plenty of videos to reference on social media. Many of the slime videos give detailed recipes for slime, so kids can make the product easily. The videos also provide tutorials for adding little customizable features that make slime especially sellable.
It is also important to note that slime is a trend all over the world, not just in the United States. William is a 10-year-old who lives in Berri in the state of South Australia. He says making the slime and playing with it is especially rewarding. William says that he learned how to make slime by watching YouTube. He makes slime pretty often and says the PVA glue and detergent are the basic ingredients for great slime. He sees the way the ingredients come together to create a new consistency. For instance, William says, if you make slime with Borax, add it slowly to the glue until the slime forms. Once the mixture begins to stick to the bowl, you must knead it to produce the desired consistency.
Rebecca Arnold is the coordinator of the Murray Mallee Regional Science Hub in South Australia. She says she's seen the boom in the slime trend as well. She says it's become more popular with elementary school-aged children. Arnold's own children have seen lots of great slime videos. They've used lots of ingredients to make slime, including baking soda, shampoo, and food coloring. They find the craft process satisfying.
Arnold says she's glad her kids like to try new things. She likes that they mix ingredients and learn about textures and colors. Slime-making is a great learning tool and is great for sparking children's imaginations.
Taking Precautions
Making slime is a great project for kids, but it's best to be careful when creating slime at home. Borax can cause skin reactions. It's also important to wear protective eye gear and gloves to keep the skin safe. Be sure to supervise your kids during the slime creation process. This ensures the entire process is safe. If the slime is of great quality, your child may even want to sell it!
Disclaimer: All images are copyright to their respective owners and are used by USA Online Casino for informational purposes only.