While many people flock to Atlantic City during the summer to take advantage of the beaches and the Boardwalk as a way to deal with the heat, other people love to come to Atlantic City because of the incredible casinos. This summer, the casinos have outdone themselves with the list of entertainers coming to the city, in part because the two casino that have opened, the Hard Rock Casino and the Oceans Casino, have brought world-class entertainment to the area. Here are a few of the great acts that will be in the Atlantic City area this summer.

Britney Spears: July 19, 20, and 21 at the Borgata Events Center
Britney Spears was the highest selling teenage pop star of all time, and that earned her the title "Princess of Pop." Her 1998 debut album, "Baby One More Time" sold 25 million copies, which makes it the highest debut album ever in the United States. She has sold more than 100 million records worldwide and has also been successful as an entrepreneur, with a perfume line that has nearly $2 billion in sales.
Britney has been described as a pop singer with an electric dance routine featuring backup dancers and a large stage show. Her two-year residency in Las Vegas, which was continued until the end of 2017, earned the singer roughly $30 million a year. Spears decided at the end of 2017 to begin a world tour, which is why she will be appearing in Atlantic City later this month. The Borgata Events Center is billed as a small-scale, acoustically perfect venue, with fantastic views of the show. Needless to say, tickets will be hard to come by, but some are available through third-party ticket venues. Reviews of the tour have been positive, and have stated that Britney has managed to scale down her huge Las Vegas show to the smaller venues without losing the entertainment factor.
Auggie Smith: Sound Waves, July 17, 18, and 19
Auggie Smith's comedy is not highbrow or particularly political, but he does extremely well with "everyman" comedy. Some of his most famous routines include this one about smoking in bars from Comedy Central:
"Look, I understand you can't smoke cigarettes in a hospital room – I understand that: it's bad for you, blah blah blah. But, America, we're beginning to make it illegal in bars! I mean, who is concerned about their health in a bar? Exactly what's the complaint on this one? 'Excuse me, Mr. Bartender-Man, I am trying to get drunk, so I can drive home and have unprotected sex with some skank I just met tonight – this guy's blowing smoke in my face. And some more deep-fried cheese, when you get a chance.'"
The Sound Waves venue is a new venue at the just-opened Hard Rock Casino and Hotel. Although the Sound Waves is also a small location, it boasts clear acoustics and a great view from any location, which is important for hearing and seeing comedy.
Other comedians will be in Atlantic City during July, including Howie Mandel, Andrew Dice Clay, and Brad Garrett.
Maroon 5: July 15 at Etess Arena, Hard Rock Casino
Maroon 5, a group that has been active in the pop and rock scene in the United States off and on since 1994, is scheduled to play the remodeled arena at the Hard Rock Casino. The Etess Arena, which under the Trump Taj Mahal days seated 6,000, has been expanded to 7,000, with revamped acoustics and sight lines that give an intimate feel to the venue.
Originally, Maroon 5 was an unsuccessful band named Kara's Flowers and struggled to make an impact in the music industry in the United States. However, when they added a fifth person as a lead guitarist, the band was renamed Maroon 5 and began to use a Motown-like groove in its music. The lead singer, Adam Levine, wrote many songs about his ex-girlfriend, and the album – "Songs About Jane" gradually went platinum, and sold more than 10 million copies. Since 2004, the band has gone on to sell more than 75 million copies worldwide.
Over the years that Maroon 5 has toured, the group has done tours in a variety of forms. At the beginning of their careers, the band members played hundreds of venues from smaller clubs to larger venues that held hundreds of people. Maroon 5 has also played in front of hundreds of thousands of people. The members' skills as musicians make them comfortable in any size venue. Reviews of the band's current tour have been overwhelmingly positive, especially in smaller venues, which allow for Levine and Valentine's vocals to have a solid footing as they harmonize brilliantly together.
Boxing at Etess Arena, Hard Rock Casino, Aug. 4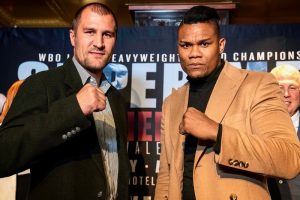 Perhaps your taste in entertainment doesn't run toward comedy or rock music. You can take advantage of several MMA and boxing events occurring in Atlantic City at several casinos during the summer. Atlantic City has a history of famous boxing matches, including Mike Tyson and Michael Spinks; Iran Barkley and Roberto Duran; George Foreman and Evander Holyfield; and Ray Mercer and Tommy Morrison. Boxing in Atlantic City was nearly as legendary as those famous matches in Las Vegas. The revamped Etess Arena is perfect for boxing matches because of the ability of the venue to ensure terrific seating no matter which boxing match was ongoing.
The Aug. 4 card will be televised on HBO. The match is highly regarded. Kovalev is the light heavyweight world titleholder, with a record of 32-2-1 and 28 KOs. Kovalev wants to make another defense of his title, thus making it the second time he has been at the top. Kovalev lost the first title belts when he lost to Ward in 2016 in a disputed decision, and lost in June 2017, also to Ward. Kovalev regained one of his belts in November with a knockout. Alvarez is considered a legitimate threat to Kovalov's belt, with his impressive record of 23 victories, no defeats, and 11 knockouts. Alvarez had been waiting for his shot against another light heavyweight, Adonis Stevenson, but has, so far, not gotten the opportunity. So, this appears to be a good match and worth buying tickets for. Along with Kovalev v. Alvarez, there is an undercard match scheduled, which has been promoted to be a championship fight as well. The fact that HBO is going to televise the matches speaks to the quality of both the main event and the undercard.
Whether you are interested in musical acts while you are visiting Atlantic City, such as Britney Spears or Maroon 5, you really would rather see a comedian, such as Howie Mandel or Auggie Smith, or you are really into boxing, you should be able to find something that is perfect for your Atlantic City trip. Other acts or shows that are also worth checking out include Demi Lovato, who will be playing Atlantic City Beach July 26, Rod Stewart and Cyndi Lauper or Boy George and the Culture Club, both playing in Atlantic City Aug4. Rod Stewart will be at the Boardwalk Hall and Boy George and the Culture Club will be at the Tropicana Showroom.
Disclaimer: All images are copyright to their respective owners and are used by USA Online Casino for informational purposes only.