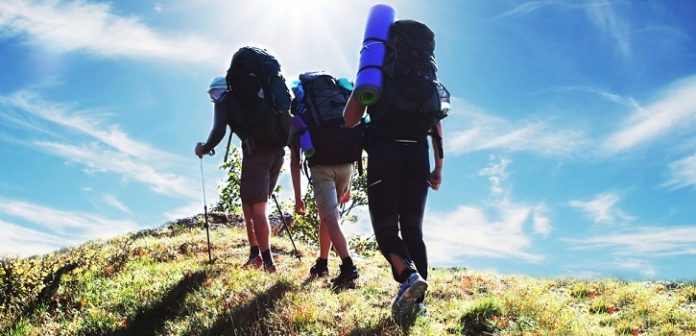 There is nothing wrong with taking a walk in the woods. In fact, many people love taking a walk in the woods to free their minds and work through problems. For some people, however, trekking is more than a walk in the woods. Instead, it is almost a sport. Whether you are interested in trekking as a sport or for leisure, keep reading for more information on trekking.
What is Trekking?
Trekking (usually called hiking in the United States) involves hiking to specific destinations. The greatest part about trekking or hiking is that you can start with simple day hikes. You can hike out on a marked trail, and return using the marked trail on the same day. In addition, to begin trekking, you can start with trails that are relatively flat. You can then gradually increase your strength and speed in trekking. Many trekkers/hikers go on multi-day hikes farther away from the beginning of their destination.
What Do You Need to Begin Trekking?
You may want to begin hiking with an experienced group of day hikers. There are many trekking or hiking clubs, as well as adventure clubs, that are specific to an area. For example, there are adventure clubs that hike in the Appalachian Mountains. These clubs focus on doing one leg of the trail at a time until they complete the entire trail. There are also clubs that concentrate on trekking within a particular state. Hiking clubs also may be training for a specific trek or hike, such as a trek to Mount Everest.
While joining an adventure club is a good idea, you must also have a few basic things to go hiking. Beginning trekkers need to wear some good hiking boots; and a backpack with water, snacks, sunscreen, and a rain poncho. More advanced hikers or those trekkers who are hiking out for multiple days need additional gear. You may want to take a sleeping bag, portable food, a way to purify water, extra water, and high-calorie snacks. To do advanced hikes, you will need to have basic knowledge of camping. You also need to know how to read a trail map. Working knowledge of first aid is essential as well because sometimes accidents happen on a hike.
Before you leave, you need to have as much information as possible about the area you will be hiking in. Get information on the people in the area, the geography of the area, and the culture in the area. Also get information about possible places to stop along the trek and the weather forecast for the area.
Equipment for Trekking
When you start out on your trekking or hiking journeys, there is a list of necessary equipment. Your equipment list will differ depending on where you are trekking and for how long. Here are some things you might want to consider:
A backpack, knapsack, or rucksack for your supplies
Sleeping bag—as light as possible
Tent
Personal hygiene needs
First aid kit
Trail maps
2 liters of water per day
Flashlight or headlamp
Swiss Army knife
Sunscreen
Glasses (sunglasses as well)
Lighter
Emergency food
Cord or rope
Plastic bags for packing or disposing of things
Trekking Trips in the United States
There are many great hiking trips in the United States. A few of the best trekking trips can be found below.
Teton Crest Trail, Wyoming – This trail is not for the day packer. Depending on your route, the trek is at least 35 miles long and can be as long as 45 miles. The trek cuts through the Grand Tetons. There are views of mountain passes; clear, cold-water streams; meadows filled with wildflowers; and huge lake basins. The elevation is quite high, and not to be attempted by the beginning hiker.
Blood Mountain, Georgia – This day hike stretches 8 miles nearly at the beginning of the Appalachian Trail. The elevation at the peak of the hike is about 4,000 feet, but you begin at about 1,200 feet. So it is not a difficult climb, although it is strenuous. The view at the top of Blood Mountain is spectacular. Beginners can attempt this trek.
Buckskin Gulch, Utah – This trek is a slot canyon hike, which means that you need to be aware of previous rain. It is a 13-mile trek; not bad for a beginner. You can also stretch it out to 20 miles for a more advanced hiker. Be sure on this hike you bring plenty of water because you need more hydration in the desert. The canyon is breathtakingly beautiful in shades of red or brown.
Trekking in the United States
Hiking in the United States has been a pastime since the country was colonized. British colonists often walked for pleasure after work was completed. In addition, many colonists walked to their destinations, because they did not have a spare horse. As the country grew, many people walked for recreational purposes. In other countries people hiked to religious locations and battle sites. In the United States, the history of hiking has revolved around the many natural wonders within the country. Today, people in the United States are able to take advantage of all different kinds of treks. People can day hike in a state park or take 6 months off to hike the Appalachian Trail.
Trekking Tips for Beginners
Here are some things you need to keep in mind if you are a beginning trekker or hiker:
Do not forget to bring water or a way to get or store water. You will get very thirsty hiking.
Make sure you have the proper clothing and dress in layers. The higher you go, the colder it gets.
You need to pace yourself and rest when you feel you need to.
Start early on the trail, so that you can leave before nightfall, or make preparations to camp. It is never good to be out on the trail at night.
Never hike alone. It is dangerous to hike alone anywhere because you might get injured or lost on the trail.
Always be aware of the trail ahead of you and the possible wildlife you might encounter on the trail.
Trekking in the Future
Many people find geolocation to be a fun way to trek. Geolocation is a game in which people try to travel and identify places on a map via the internet. There are geolocation clubs all over the world. All of them involve some kind of trekking, whether it is urban geolocation trekking or rural geolocation trekking. Geolocation contests throughout the world offer prizes when individuals or teams get to a particular place. While hiking or trekking may always be a popular pastime, geolocation may represent trekking in the future.
Trekking is an amazing activity for people of any age, so why not try your hand at trekking today? With the proper equipment and the right group of people, trekking can be a fantastic new hobby.
Disclaimer: All images are copyright to their respective owners and are used by USA Online Casino for informational purposes only.