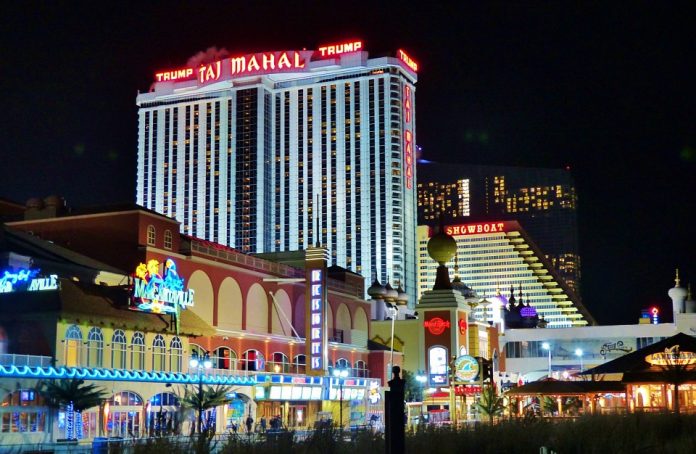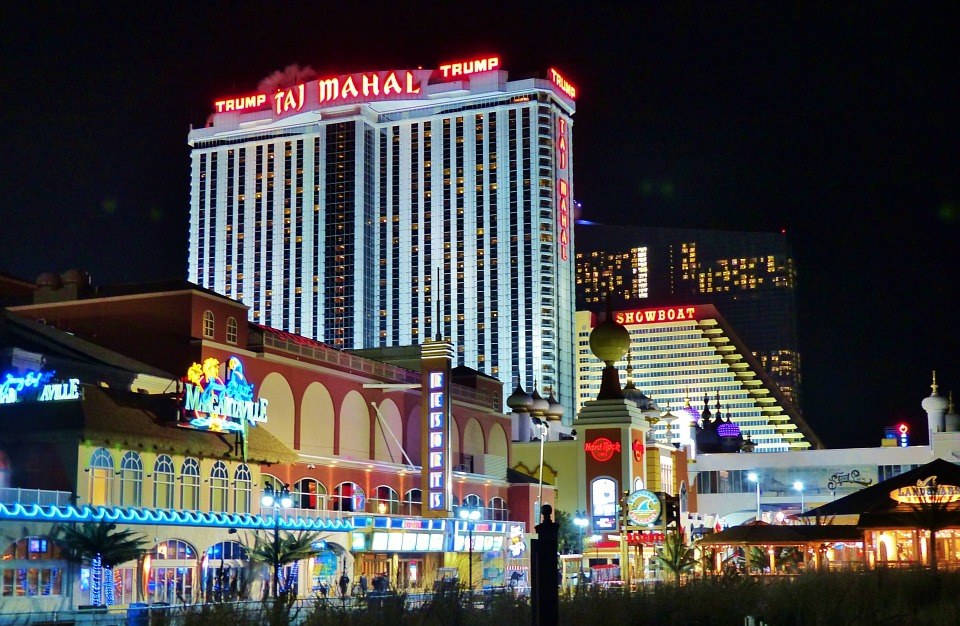 The difference between a Trump casino and Donald Trump is that one is a dilapidated ruin with a crumbling façade of faux luxury, barely hiding an empty shell clearly showing its cracks and age amid a mountain of debt. And the other is a Trump casino.

End of an Era
Once upon a time in America, the name Trump appeared on everything from buildings to steaks. A brash, young, real estate billionaire's son was led by the hand through the business world and given the keys to the kingdom. But running New York City slums and driving out the tenants was not enough for Donald Trump. He soon set his sights on the casino world.
Now, the last fading reminder of the Trump casino legacy is about to be imploded. The abandoned Trump Plaza resort in Atlantic City slowly crumbled into ruin, a bankrupt empire nobody cared to take over.
The failed Trump Taj Mahal was bought and rebranded as Hard Rock Atlantic City, the Trump Marina Casino was sold to become the Golden Nugget, and all his other Trumpian ventures fizzled out over the decades.
But Donald Trump's disastrous casino story begins decades ago in the gambling town of Atlantic City.
Building a Casino Empire
Trump began his casino career in Atlantic City in the 1980s. It was the beginning of the biggest era of greed in American history, where yuppie larvae blossomed into the materialist messiahs of the Gordon Gecko crowd, and their unifying mantra, 'Greed is Good', rang loud over Wall Street and beyond.
Trump grabbed control of some prime real estate in Atlantic City after the casino town had fallen on hard times. Trump was unable to obtain a license to open his own casino, so he partnered with Harrah's in the Holiday Inn Casino. After earning his chops there, he was awarded a casino license, became a majority shareholder in the Holiday Inn, and renamed it Trump Plaza Hotel and Casino in 1986.
Trump went on to acquire the Atlantic City Hilton and Taj Mahal for a combined fee of $555 million and soon renamed the venues Trump Marina and Trump Taj Mahal.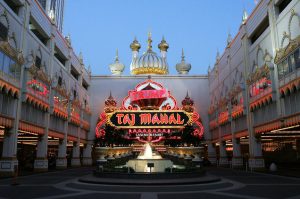 At the peak of Trump's casino kingdom, he opened Trump Taj Mahal and dubbed it the Eighth Wonder of the World. The lavish casino was the largest in the world at the time.
Trump's aim was to develop Atlantic City to the point that it would take over Las Vegas as the U.S. casino capital. Grandiose speeches and business bravado ruled Trump's day, and all you needed was a golden credit report to open doors. Trump relied on other people's money to build his empire, never risking a penny of his own.
Unlike Las Vegas moguls who built their empires slowly over decades, Trump wanted it all, and he wanted it now. With partners like boxing baron Don King, he drew all the major title fights away from Vegas and into the rings of AC.
House of Cards
Trump's casino house of cards was built on shaky foundations. He took on massive debts at high interest rates to finance his fledgling casino empire, all the while telling casino regulators that he would not overextend himself. Next on the list was junk bonds, which Trump initially frowned upon due to the risky nature of the investors behind them.
But soon he reversed himself and issued $675 million in junk bonds at a 14% interest rate to continue building his empire. By the time he finished the Trump Taj Mahal, the total debt was $820 million.
Financial analysts said Trump would need to earn $1.3 million per day just to make the interest payments, something no casino had ever done before. But Trump has always been the master of spin, and his audacious words and overinflated self-confidence carried him – for a while.
Then, inevitably, the house of cards began to crumble.
Road to Ruin
As Trump's casinos began to run up huge debts, he did what any young billionaire would do: he ran to daddy for help. His father, Fred C. Trump, sent a lawyer to one of Trump's casinos, the Castle, to buy $3.3 million in chips. The cash infusion was meant to give the appearance of solvency to the younger Trump. But the Casino Control Commission saw it as an illegal loan and fined the Castle $65,000.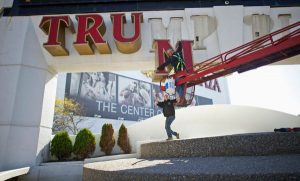 The entire time Trump was busy running his NYC real estate holdings and AC casino empire into the ground, he made personal profits. By paying himself a salary, living expenses, and perks like yachts and private jets, he could live the billionaire life while his casino ship was sinking like the Titanic.
Trump saw his debt-ridden casino cash cow as all part of the golden era of casinos. "Early on, I took a lot of money out of the casinos with the financings and the things we do," Trump said. "Atlantic City was a very good cash cow for me for a long time."
Just a year after opening the Taj Mahal was in bankruptcy court, and the Plaza and the Castle followed in 1992. Trump's three casinos were competing against each other, and the Taj cannibalized the smaller two casinos. None of them were winners.
Bankruptcy
Trump failed to make any of his interest payments, let alone the principal. His lenders insisted on a business plan, hire a CFO, and sell off his personal assets like his plane and yacht. They also recommended a meager $450,000 monthly budget to cover personal and household expenses.
In bankruptcy court, Trump gave the lenders a 50% stake in his failing businesses in return for lower interest rates. They also agreed to hold off filing personal claims against Trump for a five-year period.
The debt never went down. With some legal sleight of hand, Trump shifted ownership of the Plaza into a new, publicly traded company: Trump Hotels and Casino Resorts. Ten million shares were sold at $14 in the initial public offering, and Trump sold another $155 million in junk bonds at a 15.5% interest rate.
Instead of paying off his massive casino debts, he used the $300 million raised to clear only his personal debts, leaving the casino empire in ruin. He also found a clever way to stay on top. He paid himself $1 million per year and a $5 million bonus.
Politics
What does a failed casino mogul do when the chips are down? Go into politics. And in America, they will hire almost anyone with a cowboy swagger and a confident grin. Cowboy actor Ronald Reagan presided over the biggest Wall Street greedfest known to humanity, staring down the slippery slope of trillions in Cold War deficit.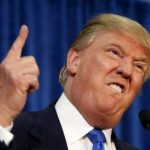 Donald Trump did the same. With audacious lines and a bravado that would put Mussolini to shame, Trump managed to pull off his ultimate sleight of hand, and became the President of the U.S.
And once again, while America faces staggering national debt, a deadly pandemic, and a crumbling economy, Trump is doubling down. He smiles in the face of failure, continues to milk the cash cows and simple sheep, and fiddles while Rome burns.
Because billionaires never lose in America.
Disclaimer: All images are copyright of their respective owners and are used by USA Online Casino for informational purposes only.