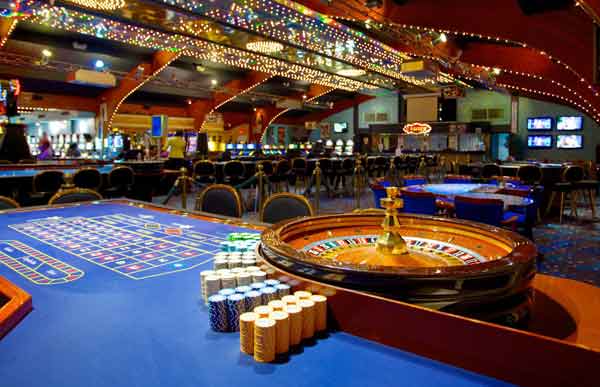 Have you ever wished to combine your love for the high seas with your love for gaming? Well, here is some good news for you. Casino cruises are becoming increasingly popular, and while it is true that not every journey puts an emphasis on gambling, you may rest assured that the gambling facilities on board Carnival Cruises, Royal Caribbean, Holland America, and Costa Cruises are all sophisticated and decked out to meet all your needs. You may be idly browsing through the selection of games or waiting for night to fall, which is when the tournaments kick off in earnest. So, what can you really expect from cruise ship casinos?

Impeccable Gambling Facilities
You may tell yourself that the casino on board a cruise ship would most likely be a few flimsy tables with a poor selection of games and an even poorer crop of players actually wishing to participate in the activities. Well, that's not quite true. As it turns out, casinos have their charm and magnetism among cruise-goers. Whether you are on a quick getaway for a few nights or have opted for the full-blown around-the-world experience, it makes little difference.
The casinos are always primed and running. Most of them feature tournaments in virtually every game, from baccarat to poker and blackjack, and video slots are also on a pedestal – both in terms of the number of titles you have and the number of dedicated tournaments.
And, so, the stylishly dressed hosts and hostesses will keep you company while they deal you cards. Exchanging friendly banter with your fellow gamers is often an option, as the convivial atmosphere is intensified by the remoteness of your adventure at sea.
Picking You Games – Reveling in Choice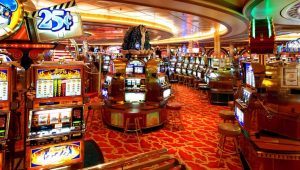 Not every cruise company advertises its casinos as broadly as hardcore fans may want them to. However, Royal Caribbean has done an excellent job of bringing an authentic experience to gamblers at all ends of the spectrum. Novices and accomplished pros will all be excited at the opportunity of sitting down to a quick-paced game of poker or blow off some steam with a few spins of the slots.
Make no mistake, the selection is plump. You can enjoy every aspect of a casino that you would normally experience in a land-based property. Video slots, craps, video poker, and baccarat are all on the menu. Many more are to follow, and flagship developers, such as NetEnt and Playtech, are pondering whether it would be worthwhile to bring more exclusive offers to cruises as the industry is slated to grow. Meanwhile, you would be able to play all the video slots you want.
As the casino aficionado knows, it takes more than a good host of titles to keep a person interested and, potentially, come back for more. Not in the slightest.
The Goodies and Promos
Casinos have come up with elaborate loyalty programs designed to incentivize you and award your efforts. The more often you play, the more benefits you accrue. Special VIP bonuses and private lounges are available, and you can experience the sophisticated pleasures of whatever game you prefer in a slick and dedicated environment.
Cruises have decided to do the same. Of course, they have been modified to reflect the simple fact that cruises tend to be briefer and not as easily accessible. But, the experience can be just as fulfilling as the one you can have at a normal land-based venue. Play and become a loyal client to knock off the costs all over the place.
Promotions vary, but they are distinctly cruise-focused. Most of the time, you stand a chance of winning exclusive packages for your future travels, which allows you to ride the high seas without respite to your heart's content.
Find yourself short of cash right now? This is quite all right. All cruise casinos offer credits so that you can get yourself on your feet and start playing right away, without having to look for your wallet.
The Cruises Worth Going On
If only there were more than a handful of cruise companies. Let's take a moment and consider the industry leaders. Celebrity Cruises, Norwegian Cruise Line, Royal Caribbean International, Carnival Cruise Lines, Holland America Line, and Princess Cruises are all established leaders, and, not surprisingly, they all run their exclusive gambling parlors on board.
Holland America Line
With HAL, you will end up playing the popular Wheel of Fortune and Super Jackpot Party – two games that whip up communal excitement and have you notch up a respectable sum, or failing that, add many fond memories to your cruising.
Princess Cruises
Princess Cruises may have steep gambling rules on board, with the legal age being 21, but the casinos are still a spot for some stellar plays. You can get smoke-free casinos with the Princess Cruises fleet, which is arguably a pro or con.
Carnival Cruise Lines
Carnival is one of the largest companies out there. Its Italian subsidiary, Costa Cruises, is strong on the European market, whereas CCL focuses on the Americas. Never mind the regional restrictions, you can still fly over to a pick-up point and join the bonanza of available poker games, roulette, and craps!
Carnival Cruises may be particularly well-poised to benefit from the legalization of the gambling industry across the United States.
Celebrity Cruises
We love Celebrity Cruises. At the beginning of the year, the company announced a downloadable app allowing you to navigate its ships. With the latest arrivals to its fleet resembling small cities, the app navigation is definitely helpful! The latest ships also have sections that are covered with greeneries, helping land lovers or mechanics to feel relaxed.
Royal Caribbean International
It's difficult not to love Royal Caribbean International. The company has done a sterling job of providing you with one of the most accomplished casino experiences possible. If you are not sure what that involves, you will be happy to know that its website is dedicated to the casino section.
You can unpick every bit of the casino online before making a purchase. From what we have seen, it's one of the most authentic gambling experiences at sea that you may have. Make no mistake, it's an experience well worth your while!
A Word of Mouth
We can guarantee you that the brands named in our review are all worth your while. All you have to do is decide which destination tempts you the most and act on it. If you want to make sure that the casino is up to snuff, make sure to drop by a dedicated community board. Cruise-goers, who also have a flair for gambling, love to share their experiences, especially if they win. What you may win varies, of course. But, you could get up to $6,000 from a single slot alone, and that's already something.
Casino cruises will become even more elaborate in their offers. As the gambling industry is about to be legalized in the United States, we may expect an onset of operators trying to claw their way into this new and daring crop of players who are willing to take to the sea and explore a beloved pastime. Certainly, it may take some time to learn, but, in the interim, there's plenty of loyalty points to be amassed!
Disclaimer: All images are copyright to their respective owners and are used by USA Online Casino for informational purposes only.