When you think Valentine's Day, there are certain things that come to mind. You may buy flowers for your special someone. Jewelry is also really popular. In addition, you might buy your sweetheart a lovely dinner at a restaurant you don't normally go to. Are you getting tired of the same old Valentine's Day celebrations? You might want to try something different. Why not think about spending Valentine's Day with your love at a casino? It might sound crazy when you first hear it. However, nearly all casinos offer special games, concerts, meals, beverages, and prizes for the big day. Casinos are willing to go all out for you. For that reason, they make excellent places to visit on the big day of love.
Valentine's Package Stays at Casinos
First, you may want to look at Valentine's getaway packages at casinos all over the United States. Packages are especially good when Valentine's Day happens in the middle of the week. Casino resorts offer three-night stays at much cheaper rates than you would usually find. These discounts might be the offer of a free night or a night at 50 percent off the going rate. In addition, the resort might offer you a room upgrade. Instead of getting the "usual" room, you could receive a free upgrade to a spectacular suite with a view.
Special Package Offerings
In addition to discounted room rates, casinos also offer special packages to use during your stay. One popular package includes couples' massages and facials at the spa. Other spa packages could include body treatments, hydrotherapy or steam, and manicures or pedicures. If the spa isn't your thing, you may want to look for casinos that offer sports packages. For example, a casino may offer golf packages with lessons from a pro and lunch on the green.
Casinos also lure you in for Valentine's treats by offering sightseeing packages for couples. If the casino is close to a vineyard, for example, vineyard tours may be available. The package could include a bottle of wine as a gift, or even a tasting party. If the casino is close to the shoreline, it may offer picnics on the beach. It might also offer a sunrise breakfast by the beach, or a beach party for couples. Look at what the casinos are offering at a destination you like. This might help you decide where to go.
Concerts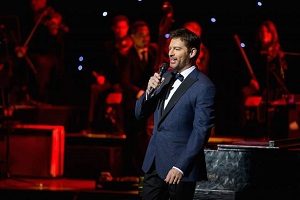 Casinos may offer special dances or concerts in honor of Valentine's Day. For example, many Vegas casinos offer special celebrity DJ-cured music for a Valentine's Day dance. There are also legendary romantic song performers who may play on the day. Harry Connick Jr., Smokey Robinson, and Lionel Richie are examples of people who have performed concerts on V-Day. Casinos that hold dances on Valentine's Day go all out. There are usually reserved seats, party favors, and special treats. Your sweetheart may really like dressing up and going out to a dance.
What if you are not a romantic concert-goer, and you think the whole thing is kind of lame? No problem. There are actually casinos that offer an anti-Valentine's Day theme. This comes complete with a rock concert or a hip-hop DJ spinning tunes. On Valentine's Day at the casinos, there is a little something for everyone.
In Your Room
If you booked a room for the day, the casino will ensure you and your date have a great time. You can call ahead and have chocolates, strawberries, champagne, flowers, or many other things waiting in your room. Casinos offer some amazing room service specials on Valentine's Day as well. There are opportunities for you to have a fancy dinner waiting for you when you arrive. This is part of the lover's package. That way, you and your honey can eat in your pajamas. You can also arrange with the casino to flood your bed with rose petals. Or, you can have the casino draw you a bath decorated with roses. There may even be robes for you to keep.
Food Specials
When it comes to food for the big day, no one can beat a casino. Many casino resorts have top-shelf food and beverage service at their restaurants. They usually offer food packages for Valentine's Day. The packages could include an appetizer, a soup or salad, main course, side dishes, and dessert for an all-inclusive price. Whatever food you want to serve for your special day, the casino is most likely going to have it. Restaurants in casinos also offer music for romantic dining, candlelight, and off-the-menu specials with romantic themes.
Special Games and Prizes
Last but not least, casinos often have special games, prizes, drawings or giveaways on the big day. Casinos could have special slot machines just for Valentine's Day. They may also be offering special games on the floor, such as hearts, which are not normally offered. You could also use a special roulette wheel so you can spin for prizes with a Valentine's Day theme. Romantic cruises or trips are some of the prizes offered on the wheel.
You might also get the opportunity to play some casino games. The casino may have a special prize-grabbing box for lovers to stick their hands in. There might also be a lover's cash grab. Many casinos offer trivia games and other mind games for cash prizes. Another popular game is a version of the Newlywed Game, where couples answer questions about their lives.
Casinos offer special perks for loyalty as well. If you are a member of the casino's player's club, you may get to participate in great giveaways. For example, casinos may offer double bonus points, extra spins on the slots or free money. Valentine's Day might mean special V-day currency for player's club members as well. That means you can cash it in for gifts and prizes. Wouldn't it be nice to play on the slot machines, win some money, and a pair of diamond earrings? You might also be able to trade your player's cash in for more cash to spend on the games.
There are casinos that really go all out on the Valentine's game playing. For example, one casino offers a Valentine's progressive jackpot slot machine game. Hundreds of thousands in cash is up for grabs for the right pull. Who wouldn't want to have that thrill on the big day—talk about romantic!
We know Valentine's Day at a casino isn't the first choice of lovers on their big day. But it should be. Where else can you book a great room at a great price but a casino? You can eat from some of the best offerings of the season at five-star restaurants. Your love can have flowers, chocolates, or champagne in the room. You could have couples' spa treatments and really relax. You could also take a little getaway to the beach, or the mountains. You can also participate in a contest or sporting event if you want. There are so many things to do at casinos on Valentine's Day. Therefore, they should be the most romantic spot in the world to celebrate the day of love. Don't let us say we didn't warn you.
Disclaimer: All images are copyright to their respective owners and are used by USA Online Casino for informational purposes only.