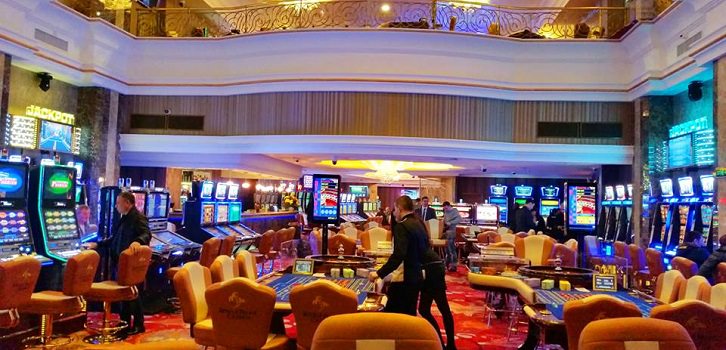 Have you ever noticed that you enjoy going to a particular type of casino? It seems everyone has his or her favorite. There are some poker players who enjoy smoky little backrooms, where they can sit in silence and play several hands. Other players prefer the penny slots at small casinos that have relaxed atmospheres. However, there are a lot of people who prefer to gamble at large casino resorts with hotels. Not sure why that is? We have some information for you on why all really successful casinos have hotels.
History of the Hotel Casino
Hotel casinos are the products of Las Vegas. After World War II ended, the state of Nevada experienced an economic boom. The government established several military bases in the state so it could conduct nuclear testing. Casinos were legal. However, the owners of the emerging casinos in Las Vegas wanted something new. They wanted something different than the casinos in Europe had. At the time, there wasn't much Las Vegas could offer to visitors. There really were no tourist attractions. The casinos decided to incorporate entertainment and lodging into a casino hotel. The hotels in the 1950s offered table games, slot machines, and lounge acts big enough to draw visitors. The state did not need tourist attractions—if it could create them.
When Atlantic City began to revitalize its portion of the Jersey Shore in the 1970s, it followed Las Vegas' model. It began to offer casino hotels along the Boardwalk. Like Vegas, Atlantic City decided to offer inclusive entertainment and resort-style attractions. However, Atlantic City did have the added advantage of the ocean to lure customers to the area.
Many modern casino resorts have been following the model set by Las Vegas and Atlantic City. They have included large hotels along with their casinos. And, most contain entertainment complexes. In fact, instead of casinos and hotels shrinking, they have been growing larger over time.
Reasons Why Hotel Casinos Rank the Best
Security
In today's world, many people are concerned about privacy and security. When gamblers travel to a new destination, they want to be safe and secure. One reason people really like staying at casino hotels is because of the security they offer. Casino hotels have the reputation of being one of the safest and most secure hotels worldwide. Casinos are very conscious of keeping their licenses. Therefore, they often employ independent security, have a police force, or hire police officers. Because so much money is floating around in a casino, any hint of questionable activity immediately gets a gambler removed. If people are acting suspiciously, such as following a gambler, they are also removed. The casino will also quickly remove those people who are loud or overly aggressive This gives the gamblers a sense of safety and security not found anywhere else.
All Inclusive Packages
Another reason people love casino hotels is because they offer all-inclusive packages. That means you don't pay for food, drinks or tips. Often, you can add other packages to the hotel resort, such as spa packages or sporting packages. Casinos have packages that cover tipping as well. Therefore, you won't have to worry whether you have tipped the driver enough per hand. Recently, casino hotels have been trying to attract more families. Therefore, they have begun to offer family packages.
Entertainment
One of the largest reasons people want to stay at casino resorts is because of the entertainment. In many cases, people can eat, drink, visit spas, and watch concerts or sporting events all under the same roof. Casino resorts have become huge sprawling complexes with swimming pools, water parks, and amusement parks on-site.
In Sydney, Australia, there is one of the most famous buildings in the world—the Sydney Opera House. More than 8 million people visit the opera house each year as a tourist attraction. The nearby Crown Casino Resort, on the other hand, draws 2 million more visitors each year.
The Comps
Hotel casinos can offer more comps than any other industry. If you are a high roller, and the casino hotel knows you, you may get your room for free. You may also get free meals or free services, depending on how high a roller you really are. If you're a regular high roller, you can bet the casino will give you plenty of gratuities for your money. Suppose, however, you aren't a high roller, but a member of the player's club. There may be some free stuff in the mix for you as well. All you have to do is ask.
How Successful are Casino Hotels?
There are currently four casino hotels that take in revenue that is more than a billion dollars every year. First, is MGM's Bellagio Casino Resort. The huge resort offers nearly 4,000 rooms and more than 116,000 square feet of gaming space. The casino's VIP poker room is the best in Vegas, and it holds many tournaments. The resort offers 14 restaurants, a botanical garden, and a fine art exhibit. It also offers spa services. In fact, the spa takes up one floor of the resort. There is also a shopping center.
The second casino hotel that grosses more than $1 billion a year is another MGM property: the MGM Grand. The Grand pulls in $1.13 billion in revenue each year. If it's possible, the MGM Grand is even bigger than the Bellagio. It has more than 6,800 rooms and more than 171,000 square feet of gaming space. The MGM Grand has a convention center attached to the resort. There are five pools in the complex, a spa, and a concert venue that can seat thousands. It is the largest casino in Las Vegas. If gamblers can't find a way to play here, they can't play anywhere. MGM Grand boasts bars, comedy clubs, restaurants, a shopping center, and the biggest high-limit slots gambling area in Vegas.
The third and fourth casinos together take in revenue of $1.61 billion. They are the Venetian and the Palazzo. The two hotels, which are adjacent to each other, combine to make the biggest joint property in Las Vegas. A river with real gondoliers punting gondolas joins the two casinos resorts. The properties have more than 7,000 rooms, and half of them are suites. The casinos have 225,000 square feet of gaming space between them, including high-limit rooms. The properties will also have the use of an 18,000-seat auditorium. This will open in 2021. Both the Venetian and the Palazzo have pools, shopping, restaurants, bars, and entertainment venues. Two of the top nightclubs in Vegas operate on the property.
It is clear hotel casinos are successful for a variety of reasons. The hotel casinos have attractions that other facilities can't offer. Their sheer size means you can eat and drink at fine restaurants. You can see the latest concerts. You can attend a pool party—or an art exhibit. You can shop for hours. All this and you never have to leave the property. Also, people can gamble and walk around the casinos' properties feeling safe and secure. Casino hotels are also able to offer hotel and spa packages that no one else can match. No wonder they are so profitable.
Disclaimer: All images are copyright to their respective owners and are used by USA Online Casino for informational purposes only.