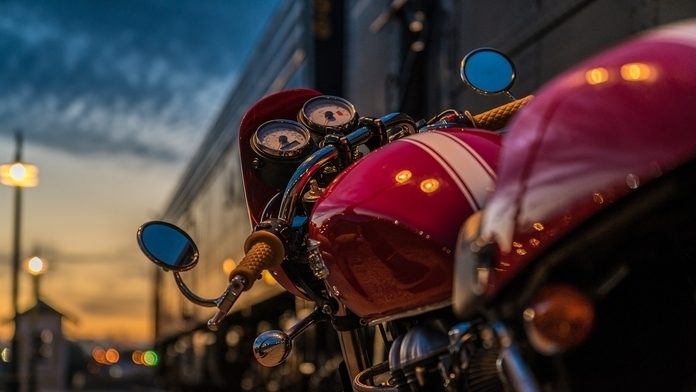 There's nothing wrong with dreaming a little, is there? When many people think of a luxurious lifestyle, one of their first thoughts is of buying an expensive and powerful motorcycle that they can enjoy riding around and show off their wealth! The motorcycles featured here are sure to make you wish you had a few spare thousands to spend, and that all that mattered in the world was the open road, you and your incredibly fast motorbike, and no work or social obligations. So, take a trip with me into a fantasy world in which you can afford these insane speed machines and take a look at which one you would pick up in an instant if you could.

Ducati 1098S
Top Speed: 173.3 mph (278.9 km/h)
Class: Sport bike
Also Called: Ten-nine-eight
Production: 2007–2008 (1098R: 2007–2009)
This superbike makes the bottom of our list. Its maximum speed is 169 miles per hour. This bike is one of the fastest superbikes in the world, with its 1099cc engine and its 160 horsepower. It is able to reach speeds of up to 169 miles per hour easily, depending on its torque-to-weight ratio.
Originally manufactured from 2007 to 2009, this bike was available in three versions; the 1098, the 1098S, and the 1098R. At first, the bike was available in a sleek red, black, or yellow color, with a special edition manufactured in the colors of the Italian flag. This bike can reportedly reach zero to 60 miles per hour in less than three seconds and has a reported top possible speed of 173 miles per hour. This bike is also said to have the highest torque-to-weight ratio of any sports bike ever produced.
In the world of racing, Ducati has used this bike to its full potential, winning the 2008 and the 2011 superbike world championships with the 1098. Overall, Ducati has won 17 world championships since the superbike world championship began in 1988. Ducati is a brand that you can rely on when it comes to speed.
This bike was remodeled in 2009 to modify and upgrade the performance even further, adding Ducati Traction Control, which improves the bike's handling, and improves upon the engine, making it a higher horsepower.
Suzuki Hayabusa
Top Speed: 186 mph (299 km/h)
Class: Sport bike
Also Called: GSX1300R, 'Busa
Production: 1999 – Present
Next on our list is the Suzuki Hayabusa. This boasts a top speed of 194 miles per hour, making it almost as fast as its namesake. The Hayabusa, or Japanese Peregrine falcon, is the fastest bird in the world. It can reach a top speed of 203 miles per hour while in the air.
The Hayabusa is the fastest sports bike in Suzuki's extensive catalog, featuring a 1397cc, four-cylinder engine that has 16 valves and is liquid cooled. This powerful engine gives the bike a horsepower of 197 at 6,750 rpm. This is a truly remarkable feat of engineering on Suzuki's part.
With the original being made back in 1999, Suzuki has cemented itself over time as one of the world's leading manufacturers of fast bikes. Immediately winning the world's fastest production motorcycle on its first arrival in 1999, this bike is a remarkable one that should not be taken lightly.
Despite the bike's speed, it still has some of the best handling, reliability, comfort, and fuel efficiency on the market, thus making it an all-around success on Suzuki's part. Usually, with motorbikes, it is hard to have an all-around experience without sacrificing the speed of the bike. But, the Hayabusa does it gracefully. It offers top speeds that would rival the best on the market and provides an excellent performance all around. It also provides excellent comfort and fuel efficiency, a much-desired aspect when looking into purchasing a motorbike.
In 2008, Suzuki refined its remarkable design by making minor adjustments to the bike's body and by fine-tuning the engine's exhaust and pistons. This, somehow, further increased the bike's horsepower, thus making the engine even more powerful than its previous model while also complying with new emissions requirements.
Kawasaki Ninja H2R
Top Speed: 206–249 mph (331–400 km/h)
Class: Track-only sport bike (H2R)
Production: 2005 – Present
This exceptionally fast hyper sports bike holds the title of fastest production superbike to date. This means it is the fastest superbike on the market. At an incredible 300 horsepower, this bike can hit up to and over 249 miles an hour, an astonishing feat of engineering. This beast of a machine also boasts a 998cc DOHC supercharged inline-4 engine.
Unfortunately, because of the bike's insane speed, this motorcycle is for track use only. It is illegal to drive it on the roads. There is a street-legal version of this bike, but, it is, of course, a lot less powerful than its racing counterpart. It only offers 200 horsepower, which is a 100 less than its counterpart, and, therefore, its speed is dramatically reduced to 183 miles per hour. This is still relatively high when compared with others on the market. For 2017, Kawasaki produced a limited run of 120 units globally, named the Kawasaki H2 Carbon. It had special a carbon-fiber plating and a new sleek paint job. In 2017, the original design was also refined and re-released. This made it more easily available on the market. In 2018, Kawasaki plans to release a new sport touring version of the H2, named the Kawasaki H2 SX, which will boast revised throttle bodies, crankshafts, and pistons, as well as the cylinder itself and the cylinder head. The exhaust system has also been redesigned to increase the mid-range torque. The bike's weight will also be increased by 19 pounds because a new gas tank and rear trellis frame will be added.
Dodge Tomahawk
Top Speed: 420 mph (680 km/h)
Class: Concept vehicle
Production: 9 units total, 2003–2006
Coming in at the top of our list is the fastest motorbike in the world to date — the Dodge Tomahawk. Its top speed comes in at a staggering 420 miles an hour. Originally unveiled in 2003, this ultimate superbike has reportedly only sold nine units in its entire lifespan. This is the ultimate bike to own if it's ever possible.
Dodge's ultimate feat of engineering features an 8.3-liter, V-10 SRT 10 Dodge Viper engine that is capable of producing a maximum 500 horsepower. Unlike most other superbikes on the market, the Tomahawk has four wheels, two in the rear and two in the front, which offers the bike a great deal of handling and stability along with the unparalleled speed of the vehicle. The Dodge Tomahawk has no competition when it comes to speed and agility. And, because of its insanely high horsepower, this bike can reach 0 to 60 miles per hour in less than 1.5 seconds.
However, because of its unparalleled and truly remarkable speed possibilities, this bike has been declared not-street legal, somewhat unsurprisingly. And, because there have been no actual road tests for the vehicle, its true top speed or horsepower cannot be confirmed. Dodge itself has called the superbike a "rolling sculpture," because it doesn't really intend for it to ridden.
However, despite this, the Dodge bike still remains on top 10 lists all over the Internet and in the minds of motorbike enthusiasts worldwide, thus cementing Chrysler as a bold and ambitious company that can take risks when it needs to. It was successful in its original goal when it unveiled the Tomahawk It wanted to create a buzz and cement its name as one that millions will remember.