Atlantic City has been through some troubled times recently, and some of its casinos have had to close their doors amid falling revenues and poor performance. Yet, with several new properties set to open their doors over the course of this year, it looks like some of the existing casinos will have to work harder to impress the punters if they are going to be able to compete.
It's pretty difficult to get everything right if you are running a casino. After all, gamblers are a pretty demanding crowd. They demand polite and friendly dealers, a positive and welcoming atmosphere, the latest cutting-edge slots, a great range of table games, lots of comps and free plays, and, of course, plenty of opportunities to win. And that's just on the gaming floor. When it comes to the rest of the resort, stylish and modern hotel rooms with all the latest amenities are an absolute requirement, as well as outstanding customer service, a choice of quality eating establishments, bars, swimming pools, and great entertainment. Then, of course, there are other essential requirements that need to be met, including super polite staff members who show respect for all customers, extra rewards and perks for loyal customers, and cleanliness throughout the resort. Good security on the casino floor and throughout the resort is essential, and, then, we get to issues around honest and fair prices and the honoring of comps and rewards.
Yes, it goes without saying that we expect a lot when we go to one of Atlantic City's gambling establishments. However, with the price that you pay to go there and the amount of money that you spend at the tables and machines, it isn't surprising that some people are so angry when their expectations are not met. While some complaints are quite minor – a lack of free drinks while playing the slots, or a long wait to check in – others are a lot more serious and include worries about thefts, cheating dealers, and rigged machines. And, although every casino around the world is sure to receive some complaints, some definitely come out worse than others.
While not every gambler is going to love every casino on the boardwalk, some of Atlantic City's establishments have come out decidedly under par when it comes to guest satisfaction. Here, we look at some of the worst casinos that the New Jersey resort town has so you can either avoid them or try them out to see if you agree!

1 – Tropicana Atlantic City
Yelp Rating: 2.5/5
Latest Tripadvisor Review: Terrible slot machines and promotions
"slot are terrible and the casino control act needs to investigate this place. Just look at the display of fireworks they put on. Just greedy! SO WISH TRUMP CASTLE OR TRUMP PLAZA WAS STILL OPEN! THAT'S WHEN MONEY WAS BEING MADE!"
Almost universally, it seems that the winner for the worst casino in Atlantic City should be awarded to Tropicana Atlantic City. Not only do the hotel rooms attract plenty of criticism from discerning travelers, but the gaming floor itself has come under fire.
Although the Tropicana Casino and Resort is one of the biggest names on the boardwalk, its hotel is failing to deliver on customers' expectations. Punters complain about poor customer service, a lack of a laundry service, and even, in some cases, bed bugs! One of the biggest problems that has been expressed is that the resort is trying to move away from the traditional gambling crowd that has kept it going all these years and, instead, is trying to attract a youthful 20-something clientele. The old-school gambling visitors has been less than impressed about the move toward rowdy crowds of Millennials roaming the resort and dancing on tables after partying the night away at one of the many nightclubs that have been opened.
When it comes to the gaming floor, dissatisfied customers have pointed out that staff members are unavailable to deal with issues surrounding out-of-service slot machines, and with large numbers of machines not functioning at any one time, it is no wonder that punters are expressing their concerns. Other complaints cited included old machines with out-of-date games, difficulties in redeeming comps, rude staff, and potentially rigged machines. It looks like the Tropicana may have work to do to compete with the new Hard Rock resort.
2 – Bally's Atlantic City Casino
Yelp Rating: 2.5/5
Latest Tripadvisor Review: Casino getaway
"extremely disappointed this time!!!! Pool was closed, had resorts credit but wasn't informed and can only be use for food and drinks. mice ran around in hallway!!!! at least the buffet was good, even thought it is located next door at Caesars."
Another huge name in Atlantic City, Bally's may be a big gambling resort brand, but it has faced recent accusations about not being open and honest with customers. With extra charges for everything and poor customer service, punters on Tripadvisor.com have been complaining about unprofessional dealers, stories about staff being fired for cheating, and rude employees. Visitors have cited problems with broken machines, a lack of security on the floor of the casino, and a serious shortage of comps.
Other criticisms include old slots, a bad atmosphere, and dirty premises, and that's before you start on the hotel rooms at the resort. The rooms have been slated for being dated, with a lack of housekeeping, dirty bedding, and safes that don't work, which has led to worries about thefts and security. Perhaps it's time to look for a different boardwalk resort!
3 – Harrah's Atlantic City
Yelp Rating: 2.5/5
Latest Tripadvisor Review: Never again
"Terrible experience!!! They forgot to take our credit card when we got there, and then refused to give us any of the amenities that we were promised. We saw 2 huge cockroaches running across the casino floor. We will NOT be going back!!!"
Harrah's is another premium gambling resort brand, and with many people giving high praise to its Las Vegas property, it might come as a surprise that this name is a contender for the title of the worst casino in Atlantic City. However, even though this high-rise hotel-resort has all the modern amenities, such as a spa and poolside nightclub as well as great views, customers aren't happy. Not only are there complaints about poor quality Wi-Fi, dirty rooms, and a lack of security, there are also plenty of punters moaning about rowdy partygoers and terrible customer service.
When it comes to problems on the gaming floor, some of the complaints are pretty serious, especially for craps players. Among other concerns were issues about uneven table surfaces that could affect the outcome of a throw. A lack of working slots, limited open tables, and unprofessional dealers are among the other issues that have been raised. Maybe, this is another property that needs to be avoided.
4 – Wild Wild West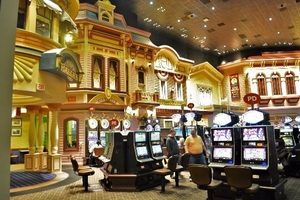 Yelp Rating: 3.5/5
Latest Tripadvisor Review: BORING and lame
"It could be a really cute concept, but instead the opted for cliche and cheesy. Not a great variety of games. Not a great design pattern. Perfectly Eh."
A fifth of the visitors to Wild Wild West casino rated their visit as either poor or terrible on Tripadvisor.com, which doesn't bode well. From complaints about the public drunkenness and rowdiness from the patrons to lame and limited machines, it seems like this Wild West-themed casino has a few problems that need to be addressed. Punters have expressed concerns that many of the popular machines have gone, staff members are rude, and the atmosphere they used to enjoy in the past has changed. It seems like some work is going to be required to bring this venue back up to scratch to compete with AC's new additions.
Of course, it is important to remember that, while a number of people have expressed their dissatisfaction about their stays at these four hotel-resorts, many other people have really enjoyed their experience. As they say, one man's garbage is another man's treasure, and what suits one punter won't suit another. Whether you are keen to see whether these resorts do have the problems that people say, or whether you don't believe a word of it, maybe you should try them out and see if you have a similarly poor experience or whether you have the best gambling experience of your life!
Disclaimer: All images are copyright to their respective owners and are used by USA Online Casino for informational purposes only.