The iGaming Asia Congress celebrated its 10th year of bringing a worthwhile gaming experience to corporate-level entrepreneurs in mobile gaming, sports betting, and online casino from March 13 to 15 at the Grand Hyatt Macau.
Among those present at the event included C Level executives, industry leaders, as well as Andrew Scott, chief executive officer of Inside Asia Gaming, and Sue Schneider, editor-in-chief of the Gaming Law Review.
The affair, which also happens to be the longest-running C Level event on the continent, discussed the growth of the industry in the ASEAN market, as well as tackled topics on how to successfully initiate online strategies that will contribute to the growth of mobile gaming in the Asian landscape.

More Work to Do
According to Schneider, Asia still has a lot of work to do to gain ground in the industry, such as strengthening the security of betting sites to prevent anything catastrophic from occurring and legalizing betting across the entire continent.
Unlike other continents, online betting is strictly prohibited in some Asian countries, specifically in Pakistan, Bangladesh, and India.
However, there have been a few advances to legalize online betting in Asia. Countries, such as Japan, Korea, Macau, Taiwan, China, Thailand, Hong Kong, Malaysia, Vietnam, and Singapore, have allowed some form of betting, with a few limitations.
Schneider believes that legalizing online betting in these countries would not only generate a lot of income but also bring the continent into the forefront of gaming.
"The reason people come to Asia and market to the set of people is that the numbers are huge. Feel free to have just like a niche offering," Schneider told Calvinayre.com.
However, Schneider stressed that pending concerns in the iGaming community, such as payment processes and government controls, should be addressed first to help its growth.
Next Gambling Powerhouse
While banking withdraws and deposits hold back the rampaging rise of the betting industry in India, the Indian panel members, Ranjana Adhikari and Pariekshit Maadishetti, believe that the country will soon rise to the top of the gambling industry following a revenue of U.S. $59 billion.
Experts predict that the value of the Indian gaming industry will continue to rise in the next few years. They project an incredible 71 billion rupees in revenue by 2021. As of two years ago, India is in sixth place in the global market when it comes to the share of mobile game installs.
Both Adhikari and Maadishetti reiterated that with an estimated value of U.S. $470 billion in underground betting alone as well as a population of more than 1 billion, investing in the Indian market would be a smart move.
The Rise of Sports Betting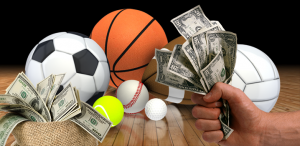 Fantasy sports and eSports have been known to create excitement and joy to their players, and throughout the years, the sports-betting market has been creating a buzz in the gaming industry with its sudden increase in revenue.
SportsRadar's Alex Higerty told Calvinayre.com that eSports have become the hottest trend lately, especially with more people inclined to invest in teams.
The eSports that have vast following include "League of Legends," "Dota 2," "World of Tanks," "StarCraft," and "Overwatch."
Statista.com reports that sports betting has been making strides lately, generating a total market revenue of more than U.S. $90 billion in the last year alone.
Mark Sutcliffe, chief executive of the Hong Kong Football Association, was part of the panel as well. He said that the relationship between the association and football betting in Asia is expected to create opportunities for the followers of the industry.
Disclaimer: All images are copyright to their respective owners and are used by USA Online Casino for informational purposes only.