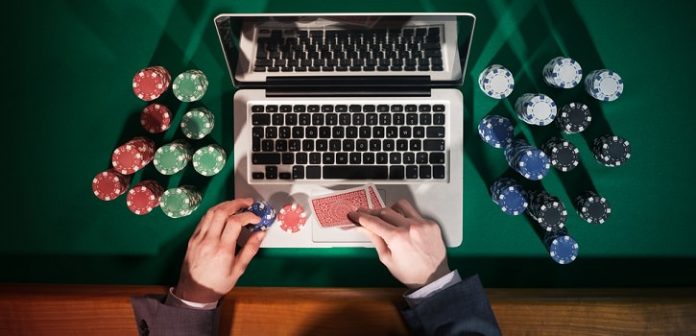 A former congresswoman from Arkansas, Blanche Lincoln, who served the state in both the House or Representatives and the Senate, has called on the U.S. Department of Justice to scratch an opinion the Department issued back in 2011 on the 1961 Wire Act that opened the doors to online casino gambling if state legislatures chose to permit it.
Back in 2011, the Obama appointed Department of Justice (DOJ) Assistant Attorney General, Virginia Seitz, issued an official opinion in response to enquiries from both the New York and Illinois lotteries who had asked for DOJ clarification as to whether they would legally be able to sell their lottery tickets online. In the opinion issued by Seitz, she explained that the Wire Act applied to sports betting only, not all forms of gambling.

Opening the legal doors
The opinion opened wide the doors to online casino gambling across the US as long as any given state legislature chose to allow it. It would not be until earlier this year that the U.S. Supreme Court would overturn the Professional and Amateur Sports Protection Act in the case of Christi vs NCAA, to open the flood gates on legalized sports betting across the United States and further legitimate online betting activity.
Prior to the legal opinion issued by Seitz, most legal experts had presumed that the Wire Act prohibited all known forms of electronic communications to transmit betting-related information no mater what type of betting. As the Wire Act was written and came into force in 1961, long before the internet, most legal experts has simply presumed the Act applied to betting-based communication across the internet as well.
As a result, by 2013 New Jersey, Deleware and Nevada had all legalized online casino gambling in light of the Department of Justice opinion. Pennsylvania passed its own legislation last October as well, with fully legalized online casino gambling to become a reality across the state in the coming months. In light of the increasing demand for online gambling services it is expected that many more states will follow suit in an attempt to tap into the tax dollars licensed online gambling can bring.
Writing in an op-ed piece in the Financial Times out of London, Lincoln argued, "That decision not only defied decades of legal precedent and circumvented Congress, it deprived minors and addicts of protection from the industry's predatory practices. A single opinion emerged as the entire legal basis behind the expansion of US online gambling,"
Adelson's crusade
Las Vegas Sands Chairman, the flamboyant billionaire, unflinching Trump supporter and rabidly anti-online gambling lobbyist Sheldon Adelson has set out on a crusade to persuade the Department of Justice and President Trump (a former, failed casino owner himself) to completely reverse the DOJ opinion issued by Seitz and shut down online gambling in the US completely. Adelson has said he feels it is his "moral obligation" to do so, even as he expands his global land-based casino empire, lobbying both Brazil to legalize casino gambling and Japan in hopes of picking up one of the three integrated casino resort licenses the country has recently put on the block.
Faux morality
Known as the single largest donor to the Trump campaign, doling out some $82.5 million in the last election cycle to support Trump and his cronies, Adelson's buddy-buddy relationship with Trump has already paid off in spades for him personally.
After the Trump tax breaks handed Las Vegas Sands a $670 million windfall, in the form of a corporate tax payback, as CEO and Chairman of the Board, Adelson kindly decided to double his own salary, to $26.1 million per year, as a reward for his political influence peddling well done.
Worried that online casino gambling will effect the already egregiously rich billionaires bottom line – the Las Vegas Sands reported $1.5 billion in first quarter earnings, up 31% year-on-year in large part thanks to the Trump tax breaks – Adelson has gone on a tireless crusade, saying that he was "willing to spend whatever it takes" to shut the industry down.
Adelson's army
Lincoln, for her part, has answered Adelson's call and pocketed a sweet bit of chump change in the process. After leaving Congress, Lincoln launched the Lincoln Policy Group, a Washington D.C. based lobbying firm. Moreover, it seems that Adelson's Sands is a welcome client, being billed some $760,000 over the last four years according finance records.
Obviously, Adelson's money has well oiled the lobbying PR machine, with Lincoln writing, "Given the industry's relentless marketing schemes, it is no surprise that the UK's gambling regulator found in 2017 that around 370,000 children and young people were gambling every week. The DOJ can prevent America's kids from visiting online casinos … by revisiting its 2011 opinion as soon as possible."
With Adelson continuing to rake in billions and his political connections paying off in spades in the air of crony capitalism that surrounds the Trump White House, his morality plea rings truly hollow, but there seems to be no shortage of political actors, from former Senators like Lincoln to a growing list of former governors and mayors, more than willing to sing the billionaire's tune for the right price.
Disclaimer: All images are copyright to their respective owners and are used by USA Online Casino for informational purposes only.