In the wake of the U.S. Supreme Court's decision in Christi vs NCAA earlier this year, which overturned the Professional and Amateur Sports Protection Act of 1992, in essence opening the floodgates to legalized sports betting across the U.S. by placing the decision to allow sports betting in the hands of state legislatures, a congressional subcommittee is slated to hold a hearing on the issue this Thursday, with anti-online gambling groups given a seat at the table.
Irrespective of the progress made across the United States in bringing online gambling out of the shadows and into the light, the subcommittee will hear testimony from a group backed by casino mogul Sheldon Adelson, a staunch Trump supporter, Republican donor, 21st richest man in the world according to Forbes and intent on an outright ban of all online gambling activities, which he sees as a direct threat to the immense wealth he has accrued through his land-based casino empire.
The hearing is set for 10 a.m. EST on Capitol Hill and will be conducted by the House Subcommittee on Crime, Terrorism, Homeland Security and Investigations. The hearing is to be live streamed and can be watched here.
Jon Bruning, former Nebraska Attorney General and a Republican, will be representing the Coalition to Stop Online Gambling, the group set up and funded by billionaire Adelson to lead his crusade by lobbying to have all forms of online casino games banned across the United States, including traditional online poker rooms.

Adelson's crusade
Over the past six years Las Vegas Sands Corporation owner Adelson has made banning online casino games one of his core political priorities, saying in the past that he would "spend whatever it takes" to accomplish his goal.
Adelson has been arguing that online casino gaming is a grave threat to society, which is why it should be banned outright, despite the fact that numerous offshore sites have long been available to U.S. players with no notable societal problems ensuing as a result.
Eager to protect his money-spinning global casino empire from the competition, in particular Caesars Entertainment Corp and MGM Resorts International, Adelson's crusade is likely far less about the potential societal harm wrought by gambling (after all he owns and operates a multi-billion-dollar land-based casino empire) than his fears of the competition undermining his cash cow.
"Three states have already legalized internet gambling and many more are actively considering following suit," says the Coalition's website. "Given the potential for money laundering, terrorism financing, fraud and other criminal activity, participation by minors, exploitation of individuals with a gaming addiction, and the impact on jobs and economic activity, Congress must act now to protect American families from predatory internet gambling."
The sports betting question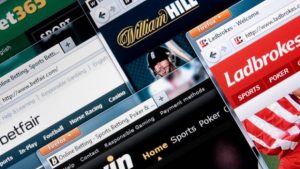 Unfortunately for the crusaders, their website is outdated, as four states have now legalized online gambling, Pennsylvania, Delaware, New Jersey and Nevada, with many more likely to follow suit, especially in light of the recent Supreme Court decision allowing for legalized sports betting.
Currently 14 states have tabled laws to legalize the activity and get in on the estimated $150 billion market.
The market for sports betting, which is expected to grow by $15 billion annually if all the states sign on according to research group Eilers & Krejcik Gaming, will need online sports books, especially bets taken via mobile devices, to be able to reach such heights, a factor already coming into play in both New Jersey and Nevada, where Adelson's casinos are located.
Exactly where his Coalition to Stop Online Gambling stands on internet sports betting remains unclear and is expected to be clarified in Thursday's hearing.
One of the coalition's main areas of focus has been attempts to reinstate the 1961 Wire Act to criminalize online casino gambling nationwide. Draft legislation in part sponsored by the group has put in loopholes to protect existing state lotteries, a move that many say has dramatically weakened Adelson's attempts to take the moral high road.
With such manifest hypocrisy being bantered about, the possibility that the coalition will also call for exceptions for sports betting is very real, particularly as the industry has gone all in on sports betting and with previous opponents such as the nation's major sports leagues now on board and hoping for a slice of the billion-dollar pie.
As well as Adelson's coalition, the Nevada Gaming Control Board, the American Gaming Association and the National Football League (NFL) are all slated to give testimony.
The NFL, long a staunch opponent of legalized sports betting has done a 180 degree turn in light of the Supreme Court ruling and now seeks to have its own say over sports industry betting. The industry, as a result, has commissioned a report that elucidates how the league could make upwards of $2.3 billion even without added oversight at the federal level.
Disclaimer: All images are copyright to their respective owners and are used by USA Online Casino for informational purposes only.