An attorney in Atlanta who defrauded the law firm where he worked out of tens of millions of dollars has recently received a 15-year federal prison sentence.
Nathan Hardwick IV, was convicted of wire fraud in October 2018, conspiracy and making false statements to a federally insured financial institution. Hardwick was a partner with real estate law firm Morris Hardwick Schneider, based in Atlanta.
A federal jury discovered that Hardwik, 53, embezzled $26 million from law firm accounts. He also used much of the funds to support a lavish lifestyle and fund his gambling habit.
More on Hardwick
Hardwick had a hand in building Morris Hardwick Schneider into one of the largest real estate closing firms in the United States. The firm has 800 employees in 16 states. Federal prosecutors stated that although the lawyer helped to make the firm successful, he used much of the firm's earnings for himself.
During a period of three years ending August 2014, Hardwick arranged for millions of dollars to be wired to his bank account from the law firm's accounts. Hardwick used a lot of the money to pay off debts he had acquired from gambling. He also used the funds for alimony obligations, private jets, and personal loans. Over $5.9 million was wired to a number of casinos: Beau Rivage, Venetian, Harrah's, and Cosmopolitan. This information came from evidence used in Hardwick's trial, which occurred last fall and lasted for a month.
Hardwick, along with his law partners, sold off a portion of their firm in early 2007. Hardwick took about $11.8 million for his own personal use. According to prosecutors, Hardwick quickly blew through the money. By the time 2010 had ended, the lawyer was deeply in debt.
According to the law firm's financial statements, the company's combined net income from 2011 to 2013 was about $10 million. In those same three years, Hardwick stole over $20 million out of the law firm's bank accounts, according to the Department of Justice.
U.S. Attorney Byung J. "BJay" Pak stated in a release concerning the case, "this attorney violated the trust placed in him by his clients and his partners. As a result, he is now facing a lengthy prison sentence. Lawyers who steal client money and embezzle from their partners can expect years in prison for their violation of trust."
At the trial, Ed Garland, Hardwick's defense attorney, stated to jurors that Hardwick was tricked by Asha Maurya. Maurya was the law firm's chief financial officer, and reportedly stole at least $900,000 from the firm.
However, federal prosecutors said that Maurya and Hardwick were in on it together, and that the two made several false statements to Hardwick's partners about the amount of money Hardwick had stolen in an attempt to cover up the fraud.
Hardwick forfeited almost $20 million in criminal proceeds and was sentenced to 15 years in prison. The former lawyer is also ordered to pay restitution to everyone he took money from, according to a released from the Department of Justice. Upon Hardwick's release, he will serve six years on supervised release.
Maurya received a seven-year prison sentence, and was court-ordered by forfeit $900,000 in criminal proceeds. Maurya's sentence also included three years of supervised release.
Gambling Regulations in Georgia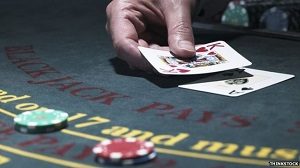 Georgia a traditionally conservative state and is not known for being gambling-friendly. Georgia is actually considered the third least gambling-friendly state in the US, behind Utah and Hawaii. There are strict laws against betting that come with harsh punishments in some cases.
There is, however, a Georgia lottery for residents. Gambling in charity bingo games and poker games are also allowed, as long as there are no player buy-ins. Georgians who wish to gamble in casinos have to cross state borders or board one of two casino cruises that operate off the coast in what is considered international territory.
Disclaimer: All images are copyright to their respective owners and are used by USA Online Casino for informational purposes only.