An Atlanta suburban woman was sentenced earlier this month to two years in prison. She pleaded guilty to being a part of a national fraud scheme that spanned across the country. The woman, who is 55, was facing as much as 20 years in prison and a $2 million fine.
Is There Gambling in Georgia?
Georgia is one of the most restrictive states in the country when it comes to gambling. Gambling is not permitted in Georgia, except for the Georgia lottery and charitable bingo parlors. There are no casinos, horseracing or dog racing venues in the state, and no plans to have any either.
The Crimes
Between 2008 and 2014 Vivian Wang, 55, and a 49-year-old co-defendant defrauded casinos and credit card companies out of over $1.1 million. They used names and social security numbers, some of them fake, to get credit from casinos and credit card companies. The pair applied for casino credits, which means they got cash up front. At first, the couple was paying off several of the cash advances, which they got at casinos in California. When they stopped paying, they caught the attention of the casinos. They also caught the attention of the California Board of Gaming Control and the FBI. The casinos were in three different counties in California: Yolo, Placer, and El Dorado counties. Most of the casinos were located in the Lake Tahoe area. Another casino was located north of the capital of Sacramento.
Other Victims and Criminals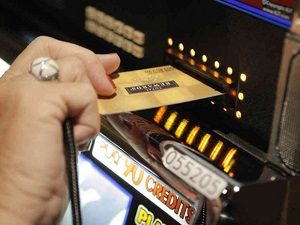 The pair had other victims and recruited other people for their scheme as well. They asked other people to borrow money from casinos and credit card companies using fraudulently-obtained IDs. The migrant workers who were also victims worked for Ms. Wang or relatives throughout the Atlanta metro area.
Wang and Luo were coordinating their gambling activity to make sure that it appeared they were losing money. When the they lost, the credit card companies and casinos would give them even more money. He would pretend he lost money, while Wang claimed she won the same amount to keep authorities off their trail.
At the time of her arrest, Wang was living in a five-bedroom house in an upscale suburb of Atlanta, Georgia. The FBI suspects they spent the money on jewelry, gold and silver bars, home appliances and electronics, among other things. The FBI also suspects that additional fraudulent activity took place, but they did not have the evidence to prove it. Mr. Luo pleaded guilty last year to fraud and was sentenced to five years in prison.
The Treasury Department is also investigating other fraudulent activity. If additional charges occur, the pair could face additional fines and jail time. The casinos and credit card companies said they will beef up their investigations on credit extensions. However, most gambling experts do not see casinos changing their credit policy anytime soon.
Disclaimer: All images are copyright to their respective owners and are used by USA Online Casino for informational purposes only.