The founder of the widely popular online casino, Bet365, saw a significant level of success last year and continues to see even more monetary triumphs this year. In 2016, Bet365's profit increased by 15 percent.
The online casino made a profit of £527 million and reached a record high in total bets (£47 billion).

Who is Denise Coates?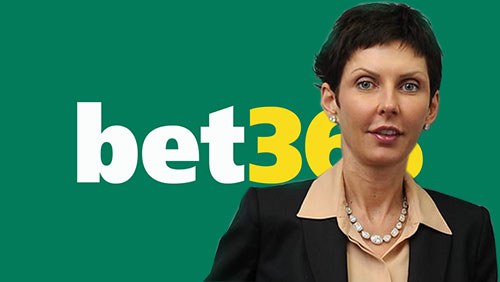 Denise Coates, founder and CEO of Bet365, is dubbed "the highest paid boss" in the United Kingdom. Coates earns a staggering $1 million a day.
She started in the betting industry while still in high school, working as a cashier in her father's betting shop. After graduating from Sheffield University with a major in econometrics, she took over some of her family's betting shops and turned them into small fortunes.
With these significant successes under her belt, Coates then set her eyes on the online casino world. It is here where her success story started to develop.
After realizing the potential of online betting, Coates would purchase, and then launch, the 365 domain website. In 2000, Coates purchased the Bet365 domain on eBay for $25,000, a decision that caught her family off guard. She would later launch the website in 2001.
She managed to turn a small online casino into one of the most popular online casinos. Despite her success, she has come under a cascade of criticism.
Online addiction and donations
Perhaps some of the most vocal adversaries are those who say she makes too much money. Critics say it makes no sense that she receives about 22 times more than the company gives in donations.
In addition to this, because her family owns 93 percent of the company's shares, there is also the "online gambling addiction" that has troubled many.
A minister at the Department for Digital, Culture, Media, and Sport, has warned that about 600,000 Britons have become "problem gamblers." They are either full-blown gambling addicts or are in the process of becoming addicts.
This issue has, of course, raised a storm of debate. Who is responsible for the gambling? The casino or the individuals?
Coates has expressed her concerns and had stated her company is currently researching ways in which it can provide a gambling experience that is both fun and profitable.
Becoming one of the U.K.'s richest families
Since Coates entered the online casino world, her family has become one of the wealthiest in the United Kingdom. According to The Sunday Times' "Rich List," the Coates are the 22nd richest family in the U.K., with a net worth of £5 billion.
Although her family has become very affluent, it continues to be targeted by many activist groups that seek to end gambling addiction.
This scenario begs the question who is responsible? The online world offers a variety of entertainment media, which are given too much exposure. However, that exposure is not forcing individuals to participate in anything.
Coates has justified her earnings, citing the significant growth her company has achieved over the years. Despite the outcry over her profits and the means to which she has obtained them, it cannot be argued that she had the intelligence to see the potential in the online casino industry in its early stages.