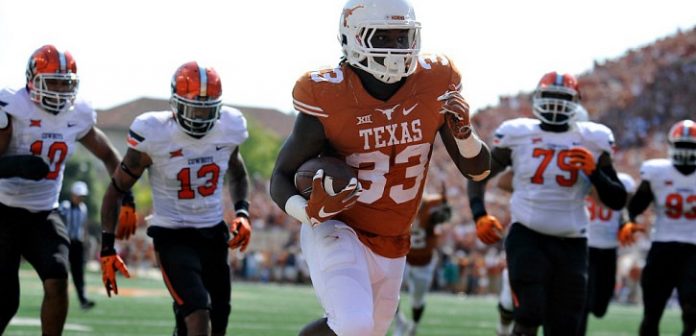 So far this year, the Big 12 Conference has not really lived up to expectations. In fact, the conference as a whole has been fairly underwhelming. Who could explain the seven-point victory by Oklahoma over Navy last week? No one expected Oklahoma to be as good as last year since the departure of Baker Mayfield. There are a couple of teams that have had interesting seasons so far. And, a quick perusal of the odds demonstrates some places where money could be made.
West Virginia (-4) at Texas Tech
In an underwhelming season, there wasn't much expected of either West Virginia or Texas Tech. However, Texas Tech beat Oklahoma State handily last week. West Virginia has two wins over major conference teams – Tennessee and Kansas State. Although neither team has brand-name offenses or defenses, both have enough solid players to continue to win games. Both teams are covering the spreads handily over the last three games. However, West Virginia looks to be the better team. Texas Tech has a history of a great start to its football season. It then follows that, in many cases, with a letdown. This pattern affects both the team's fans and the wagerers. Take the Mountaineers to beat the spread, even though they are the visiting team.
Baylor at Oklahoma (-23.5)
So, Baylor has notched three victories on its belt. That sounds great, except it has played the University of Texas at San Antonio, Kansas, and Abilene-Christian. In other words, the team has three victories over throwaway teams. Baylor's offense has been solid. But, again, its record is against teams that are not win-worthy. Oklahoma is the team's first real challenge. While Oklahoma is more talented on offense and defense, the team struggled last week to win against Navy. Neither team is on fire defensively, which explains why Oklahoma struggled last week against Navy. Expect Oklahoma to take the spread, and possibly more.
Texas (-8.5) at Kansas State
Despite the odds, there is no telling how this game is going to go. Both teams have suffered from inconsistencies in their games. There have been times that Texas has been impressive. It won against TCU, one of the team's largest rivals of late, and USC, which was a surprise. The quarterback for Texas has improved over the last two weeks, but the defense is still suspect. And, over the last decade, Texas has been inconsistent.
Kansas State has struggled to come up with any sort of offensive routine. It lost to West Virginia by 29 points. Bill Snyder, nicknamed "the Wizard," may have finally lost his mojo because his team has no spark. However, Kansas State has always matched up against Texas well. While Texas most likely wins this game, it is also likely to be a close one. Don't bet on Texas to cover the spread.
Oklahoma State (-18.5) at Kansas
If there is a no-brainer, this is it. Kansas finally got out of a million-game (it seemed) losing streak and managed to win two games in a row. And, while this delighted Jayhawk fans, it was not meant to last. Kansas, contrary to popular belief, isn't even close to becoming a team that wins more than two games a season. Kansas' offense and defense are not ready for the likes of Oklahoma State. The Cowboys could easily put up a half-hundred on Kansas. To make matters worse, the Cowboys are looking for revenge for their loss against Texas Tech last week. That makes the Jayhawks extremely unlucky. This makes the bet against the spread the lock of the conference for this week.
Disclaimer: All images are copyright to their respective owners and are used by USA Online Casino for informational purposes only.