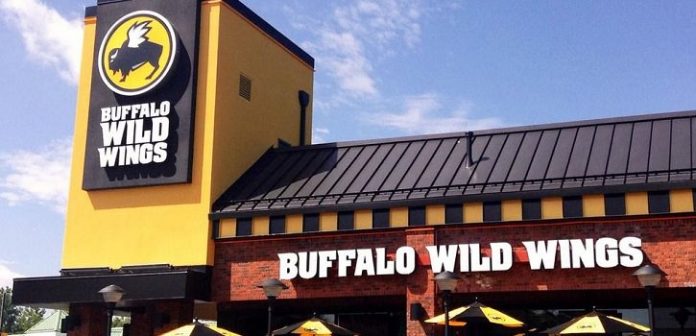 As more and more states are opening their hearts (and wallets) to the possibility of sports gaming, restaurants that emphasize sports television and a sports bar atmosphere are looking into having sports gaming in their establishments. One restaurant chain, Buffalo Wild Wings, thinks it could potentially be big business for its locations.

About Buffalo Wild Wings
Buffalo Wild Wings was founded in 1982 by two men who had been figure skaters in the top amateur leagues in the Midwest. The company has more than 1,200 locations in all 50 states, as well as Canada, India, Mexico, Oman, Panama, the Philippines, Saudi Arabia, the United Arab Emirates, and Vietnam. More than 44,000 people are employed by the chain. The specialty of the restaurant has been Buffalo wings, which are chicken wings dipped in a hot sauce. There are currently more than 12 dipping sauces for the chicken on the menu, as well as chicken legs and chicken tenders, and other foods, such as fries and cheese sticks, that are commonly found in a sports bar. The restaurant has branded itself as a great place to watch sports with friends because of its good food, reasonable prices, and lots of televisions that show a multitude of sports games.
The company was bought in 2017 by Inspire Brands, which also owns Arby's, for $2.4 billion and debt acquisition.
The Interest in Gambling
The company, which bills itself as the largest sports bar in the United States, has discussed an interest in sports gaming, and the possibility of pairing up with an already-established sportsbook to offer gaming at its locations that are in states where gaming is legal. Currently, four states allow sports gaming: Nevada, New Jersey, Delaware, and Mississippi. However, it is expected that many other states will jump on the sports gaming bandwagon because of the promise of multibillion-dollar revenue. There are 43 states that currently have casinos. The states that do not, however, could still legalize sportsbooks. But, the sports bar chain cannot open a sportsbook without licensing guidelines, which may take additional time.
The owners of Buffalo Wild Wings have said that because the restaurant is marketed as a sports bar, it is uniquely suited to have legal sports betting. Rather than open a sportsbook itself, the restaurant chain is looking to have a partner to help with sports gambling. No one in the restaurant chain currently has experience with sports gaming and licensing, especially if the restaurant wants to have online gaming. Many experts believe that online gaming is the future of gaming in the United States.
Deal with DraftKings?
Currently, it is thought that Buffalo Wild Wings is negotiating with DraftKings, which is looking to expand its brand from fantasy football and other sports into sportsbooks. Because some states will most likely allow on-site rather than online sports betting, Buffalo Wild Wings could reach an agreement with DraftKings that allows the restaurant chain to collect money for the sportsbook in its restaurants, which would, in turn, bring in additional foot traffic.
If Buffalo Wild Wings makes a deal with DraftKings or another sportsbook, it will mark the first time a restaurant chain the size of Buffalo Wild Wings will have made a deal for all its restaurants to possibly have an on-site betting parlor. The franchise is hoping for an increase in sales, both from food and gaming proceeds, which would help to make up losses by the chain. The restaurant has been accused of overcharging for its food, and for a lack of service to established clients who are eating and watching sports games.
Disclaimer: All images are copyright to their respective owners and are used by USA Online Casino for informational purposes only.